Wet 'N' Wild Splashtown21300 Interstate 45
Spring, TX
Up until now, I avoided visiting water parks for many reasons. For starters, I have small children (ages six and three) who are not strong swimmers. In my experience, many water parks have attractions that are great for older kids, but the little kid section ends up being not much more than a glorified splash pad. Certainly not something that is worth the admission price or interesting enough to hold our kids' attention all day! However, when the newly renovated Wet 'N' Wild Splashtowninvited our family to visit the park for a sneak peak, the line about there being "something for all ages" caught my attention.
Wet 'N' Wild Splashtown boasts 42 slides and attractions on their 80-acre property in Spring, Texas and has been in business for more than 30 years. In 2015, the park underwent a multi-million dollar renovation with the aim to become an inclusive experience for the whole family. They expanded the Wet 'N' Wild Jr. area, which caters to the under 50 inch set, added a family raft thrill ride called Big Kahuna and a FlowRider surf attraction for kids over 42 inches. The Hula Bar is also new this year, and will feature a signature alcoholic drink called "Shark Bite."
Here's everything you need to know before your first visit; the park opens for the season on May 7!
---
For the littles (under 50 inches)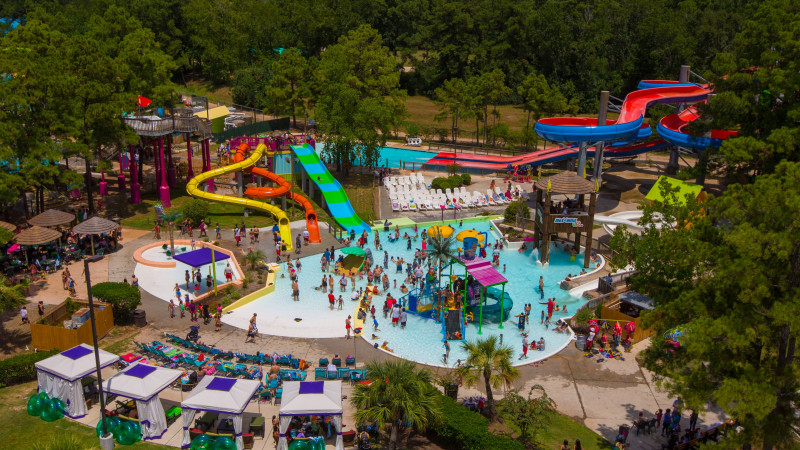 I was really impressed with how much there was to do here for smaller kids! The Wet 'N' Wild Jr. area was amazing, and our kids could have actually played there all day and been happy. It's designed for kids under 50 inches to splash around with the accompaniment of an adult. The water level varies from six inches to two feet, and there were plenty of lifeguards on hand.  There's a play structure with a small slide that dumps and sprays water as well as the shower waterfall features. The biggest hit with our kids were the four, nicely sized water slides. Two of the slides are open and you can accompany your kids down them, and two are closed tubes for single riders. After some initial caution, all three of our kids fell in love with these slides and rode them over and over again. They were slow enough that even our twin three-year-olds could do them solo. All three kiddos loved having some autonomy and the ability to do something that the "big kids" do.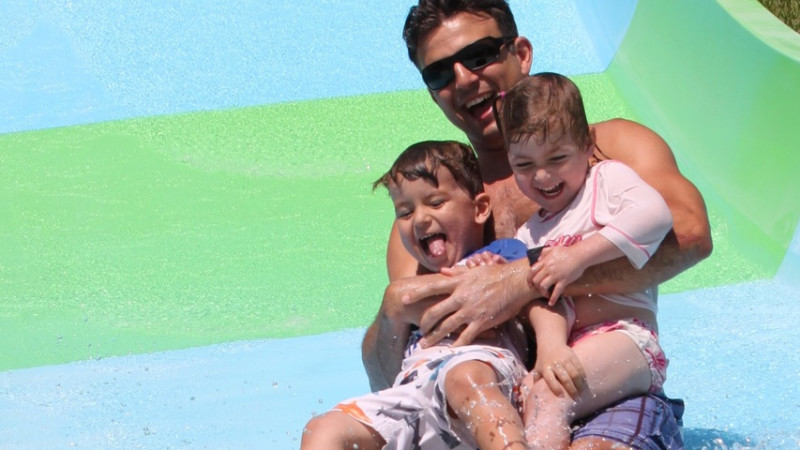 If you have an infant, there is a smaller section with a few splash pad type features and some bucket swings were you can push your little one and let their toes splash in the water.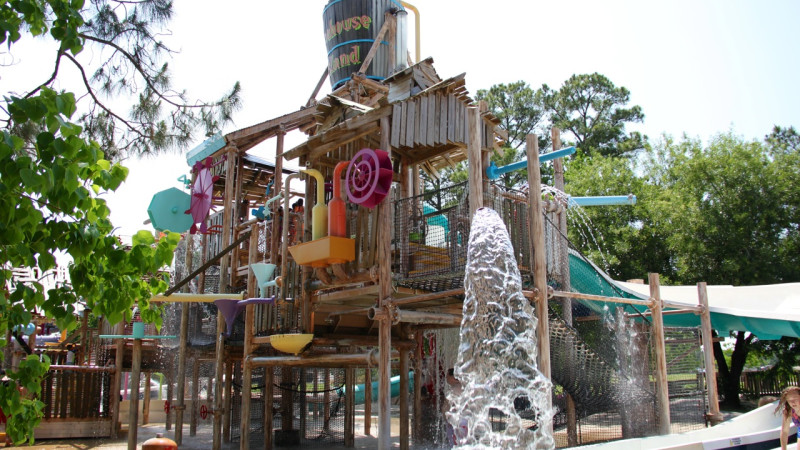 Another attraction here is the Tree House, a three-story interactive space with net ladders and a few slides. One thousand gallons of water are splashing through the whole structure at various intervals soaking everyone in its reach. This one is also right off the path of the Paradise River, which made for a fun pit stop.
---
For the middles (over 42 inches)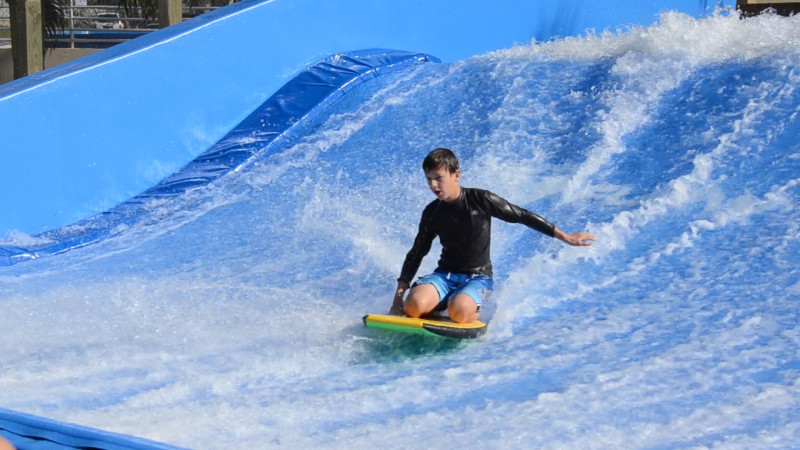 For this height range, there are two solo rides—the new FlowRider surfing area and the Stingray Racer. Both looked like a lot of fun! If you're looking for things you can do together, there are a ton of family rafting rides for this height. The highlight of the trip for me was riding the new Big Kahuna with our six-year-old. I watched her face light up as we rode the raft in and out of tunnels and up and down the walls. She loved every minute of that ride and begged to go again. The other Rafting Rides include Runway Rapids, Thunder Run and Zoom Flumes.
---
For the bigs (over 48 inches)
Once you are a "big" all of the park's thrill rides are at your disposal! The kids were having so much fun with Wet 'N' Wild Jr., that my husband and I were able to sneak away individually to try out Wala Wala Falls, Texas Freefall (seven stories of water slides!), Brain Drain and The Big Spin. RipQurl and Tornado are the only two we missed, and both looked awesome!
---
For the entire family
The whole family can get in on the action with the Wild Wave Pool, Paradise River (the park's "lazy river") or splashing around in the Blue Lagoon Activity Pool, which is home to geysers, a rope swing and waterfall.
Other features
There were plenty of restrooms around the park as well as stations with life vests of different sizes that are free for patron use. They have two bars and a variety of summer treats like Marble Slab Creamery, an Icee station, Dippin' Dots, a sweet shop as well as funnel cakes and soft serve. For meals, there is a fajita tent, a café and a grill restaurant.
Check the calendar for special events with bands and festivals that happen throughout the summer. There is also a small surf shop if you forgot things like sunscreen or have an emergency need for a new swimsuit.
---
Tips for your visit:
• You can't bring in any outside food or drinks, but they will make exceptions for guests with food allergies.
• There's a charge for lockers and tube rentals for the Paradise River. You can bring in your own life-vests and puddle jumpers, which is nice.
• They charge $10 for parking, but you can buy a slightly discounted ticket online.
• While our family had a great time visiting Wet 'N' Wild Splashtown, this was definitely a two-parent kind of adventure. I don't believe I would have been comfortable with three small kids solo. One of the reasons we enjoyed our afternoon so much is because we could take some one-on-one time with our oldest to enjoy the bigger rides while the other parent stayed with the smaller kids. If I was by myself that would not have been possible and I think our six year old would have tired of the Jr. section faster.
---
Hours and Admission
---
Location: 21300 Interstate 45, Spring, TX
Hours: Varies during the season; check the calendar here.
Admission: Adults: Weekdays $35.99, weekends $39.99. Kids 48 inches and under are $30.99; children under two free. They also offer season passes if you plan to visit more than once.
Photo credits: Amanda Sorena, Wet 'N' Wild Splashtown, Amanda Sorena (2), Wet 'N' Wild Splashtown (2)
Originally published at Mommy Nearest