Let Your Dinosaur-Loving Kid Roar at These Houston Spots
My six-year-old daughter was recently "Star of the Week" at school. She had to say what she wanted to be when she grew up. After lots of discussion on everything from a dog walker and a rock star to professional ice skater (odd since she's never been ice skating), she settled on paleontologist. We promptly went off in search of images of female paleontologists for her to add to her poster. I was pretty proud, but I know this possible career choice is no accident. Houston is a dinosaur-loving town, and we have been taking our kids to explore the local dinos for years. Here are our favorite prehistoric spots in the Bayou City.
---
Houston Museum of Natural Science, Museum District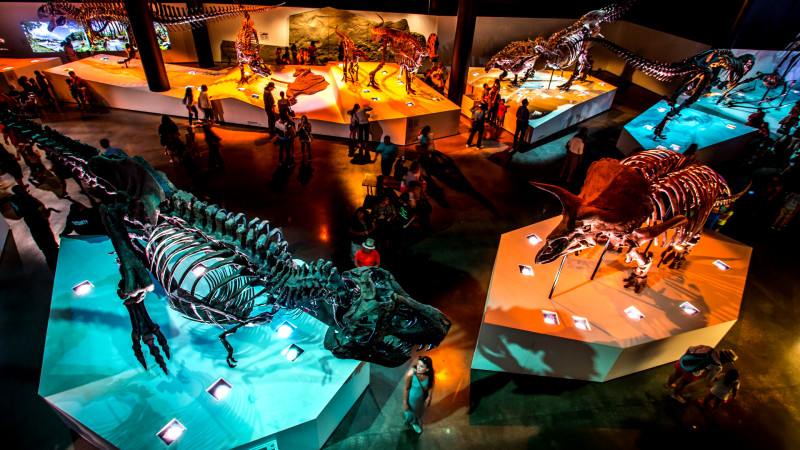 Houston Museum of Natural Science5555 Hermann Park Drive
Houston, TX
The Houston Museum of Natural Science is one of our favorite museums to visit overall. But what keeps us coming back time and time again is their permanent collection of fossils! The Morian Hall of Paleontology opened in 2012 and is one of the largest paleontology collections in the United States. With more than 60 major skeleton mounts, it impresses visitors young and old. My kids love the vast trilobite collection, the three T.rex displays and the most complete Triceratops skeleton ever discovered!
Keep an eye out for "Raptor Rich," during your visit. He specializes in kid-friendly tours and is a favorite of our family. Whenever the kids see him roaming the exhibits, they try to flag him down because he almost always has T.rex stickers and sometimes carries dinosaur poop in his pocket. He also knows everything about the exhibits. For extra-curious kids, consider a Discovery Tour, an additional $5, but super in-depth look at the Hall of Paleontology.
Insider tip: If you have a dino lover in your family, consider a membership. Ours has paid for itself multiple times over with how often we visit. HMNS also opens at 9am, earlier than many other museums in the district!
---
Houston Museum of Natural Science, Sugarland
Houston Museum of Natural Science at Sugar Land13016 University Blvd
Sugar Land, TX
The Houston Museum of Natural Science at Sugarland has its own small Hall of Paleontology as well as a few other fun dinosaur-focused activities. For an extra $5, your kids can enjoy the Dino Dig Pit. Children ages three to 11 can dig with pails through rubber "dirt" to reveal dinosaur bones. Your little ones ages two and under can play right next-door in their own dino ball pit. There's a printed dinosaur skeleton on the floor of the ball pit that they can dig for.
Insider tip: I find this museum to be a great fit for younger children. It's smaller and many of their exhibits are interactive and hands on. There's also a focus on Life Sciences, Earth Sciences and Space—all kid favorites!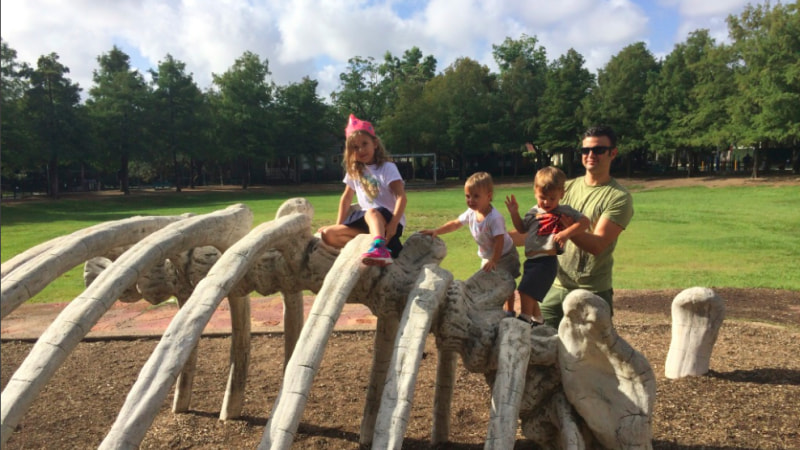 Travis Spark Park3311 Beauchamp Street
Houston, TX
We love Travis Elementary Spark Park because we get to climb on dinosaur bones instead of just look at them! The park was originally designed by kids and features a large Triceratops structure that young visitors just can't get enough of. There's also a sandpit, rock wall, spinning area and play structure so you can really tire out your tots. We easily spent a few hours exploring it all on a nice Saturday morning.
Insider tip: Since the park is on school property, it is only open to the public on weekends and during school holidays.
---
…Or check out the summer exhibit at the Houston Zoo!
Houston Zoo6200 Hermann Park Drive
Houston, TX
Back by popular demand, Dinosaurs is returning to the Houston Zoo! The exhibit features 10 animatronic dinosaurs that move their heads, arms, tails and even spit out water. Visitors can wonder along a path, discovering each of the different creatures and imagining what it might have been like when they walked the earth. It opens May 28, 2016 and runs through September 5. Tickets to see these dinos are $3.95 per person in addition to your zoo entry. We missed this one the first time around and are so glad it coming back!
Photo credit: Visit Houston (2) and Amanda Sorena
Originally Published on Mommy Nearest