All Aboard! 6 Train Adventures for Houston Kids
Stop me if this is a familiar scene. You're driving around Houston and get stuck at a train crossing. You're slightly annoyed at the delay to get to wherever it is you are going, while your kids, on the other hand, are elated! "TRAIN! TRAIN! TRAIN!," they shriek.
My kids love all things "choo choo" and luckily, so does Houston. Here are a few spots near and far where you can take your train lover to get his or her locomotive fix. Not picky about train, plane or automobile? These spots are all transportation-themed, and not far from our city limits.
---
Visit Rosenberg Railroad Museum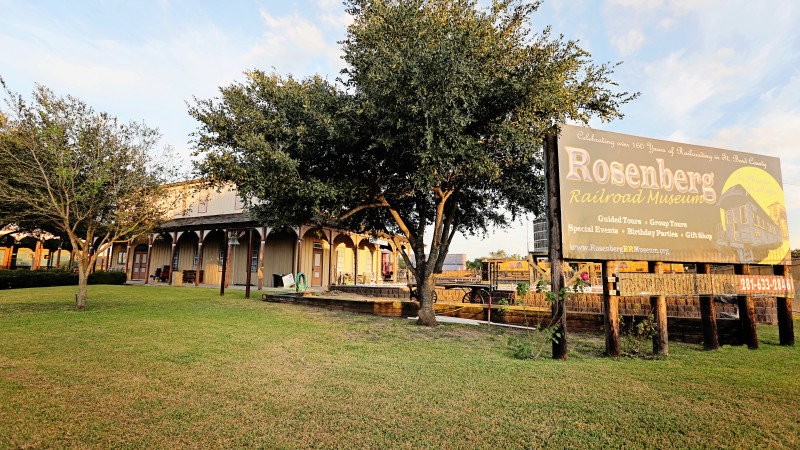 Rosenberg Railroad Museum1921 Avenue F
Rosenberg, TX
Located in the heart of the train hub in Rosenberg, Texas, the Rosenberg Railroad Museum is full of attractions to please a train lover of any age. The main museum building is modeled after the original train depot, and features a collection of railway history memorabilia. The museum offers a free scavenger hunt worksheet that our oldest enjoyed completing, especially when she was awarded a small prize for finding all the answers!
Once you're finished in the museum, find a volunteer to escort you to the other buildings and trains including Tower 17 (where you can pretend to be a towerman) and to experience train travel luxury in the 1879 "Quebec" car. The museum also features a model train display, a miniature Garden Railroad as well as a playroom with trains and WaWa's Big Wooden Train outside. I was impressed with the knowledgeable staff and how much there is to see and do here. Every time I thought we had explored it all, we were taken to a new feature. To top it all off, the property backs up to three active railway tracks and you will see real trains coming and going throughout your visit.
---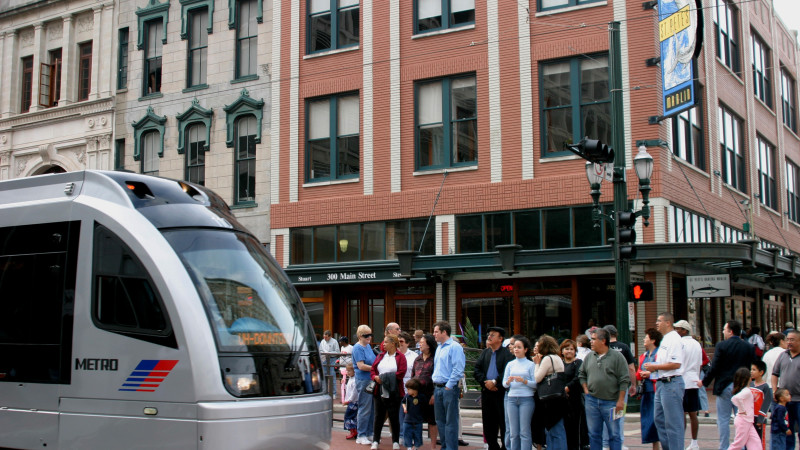 For only $1.25 each way, the Houston METRORail  is an inexpensive way for your train lover to ride a real-life train. The rail has three lines—Red, Purple and Green—that all connect at a central main station in the theater district. We have ridden the METRORail to get to the rodeo, but it is also a great transportation alternative for hard to park locations like the Houston Zoo, Theater District or Downtown. Turn your rail trip into a whole adventure with our list of the best things to do along the rail with kids.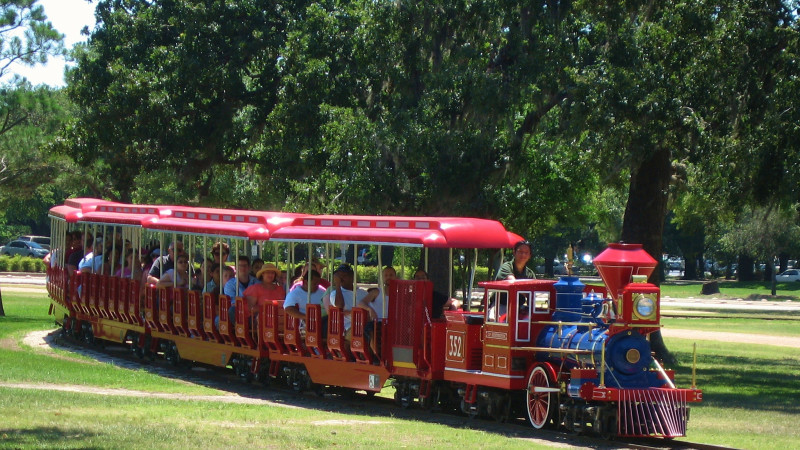 Hermann Park6001 Fannin Street
Houston, TX
The Hermann Park Railroad is one of our favorite ways to end a trip to the zoo or visit to Hermann Park. Tickets are $3.50 a person and purchased at the Hermann Park Conservancy Gift Shop at Kinder Station. Snacks are allowed on the train and we usually enjoy a bite while we take the leisurely 18-minute ride around Hermann Park. The train makes three stops at points of interest in Hermann Park—the Houston Museum of Natural Science, Rice University near the METRORail and the Buddy Carruth Playground for All Children. Though be aware, trains can get full and finding a seat on the return is sometimes tricky depending on the time of day.
If you're looking for an extra special treat, once your little one is seven-years-old, they can be "Engineer For A Day." From 8:30am to 12:30pm, your child will work along side the Hermann Park Railroad team doing safety checks, maintenance in the barn and a private test run on the track. When the train opens to the public at 10am, they will greet passengers, ride upfront in the locomotive and, of course, blow the whistle and ring the bell! Cost is $150 for the day and an additional $50 if they want to share the experience with a friend, parent or family member.
---
Sleep in a caboose
If you want an overnight train adventure, consider making the 3.5 hour drive to The Antlers in Kingsland, Texas to sleep in a caboose! There are three cars to choose from, and all were once property of the Norfolk & Western Railroad. Each car sleeps up to four people and features a love seat, a kitchen, a bunk bed and a queen size bed. In addition to the sleeper cars, The Antlers offers a Train Depot, Coach, hotel, cabins, a lake and an orchard perfect for a weekend get-a-way.
---
Visit a local playground
Maybe a mini road trip isn't in the cards for you, and you just need some low-key everyday train excitement. Donovan Park in the Heights has a fantastic wooden train for climbing and playing, and Bellaire Town Square Park has a small train play structure perfect for small children.
---
Go to Papa Ben's Train Place
Papa Ben's Train Place4007 Bellaire Blvd
Houston, TX
Papa Ben's is a small train store tucked away in West U. They have a large inventory of all things toy train and also buy and sell on consignment. You'll find starter kids, electronics, building kits, scenery and even items for serious train builders. For us, it is a place to let our little ones explore and admire all the different kinds of toy trains!
Photo credits: BAC Photography & Design (2), Greater Houston Convention & Visitors Bureau, Hermann Park Conservancy
Originally Published at Mommy Nearest