Houston's Best Swimming Pools (Not in Your Backyard)
School isn't out for long before our crew is already sporting tan lines…despite the 70 SPF I slather on them whenever they are standing still long enough. Spending the afternoon at the pool is a Houston summer staple for us. While we are not lucky enough to have our own pool, we still manage to spend a fair amount of time splashing around. (You kind of have to to survive this heat.) Swimming provides a much needed energy release for our kids, keeps us cool in melting Texas sun and manages to get my kids tired enough to go to sleep before sunset. Add in some friends, lunch al fresco and it's the perfect summer day.
Here are a few of our favorite pools that aren't in our backyard (even though that would we awesome).
---
Community Pools/Gyms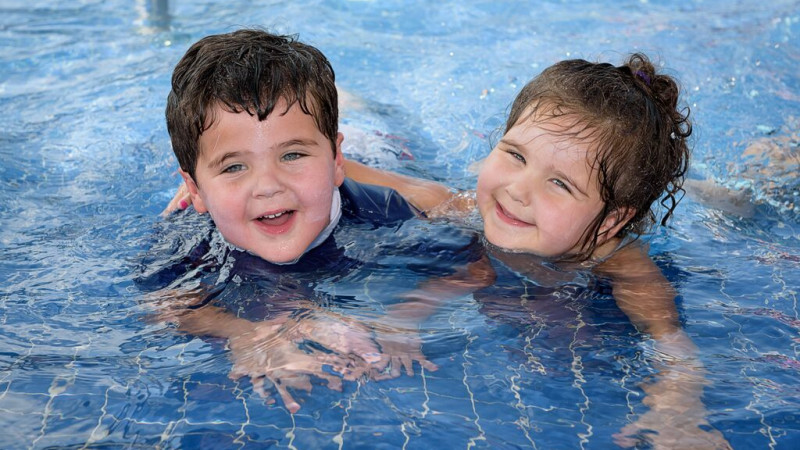 Houston is hot and we know it. As a result, there are many different community and HOA pools around town. The rules for visiting these pools vary. Some require memberships, some you can attend as a guest of a member/resident and others you can access for a daily fee. Don't forget about the gyms and community centers, which often have fantastic pools, too. Ask around and I am sure you will find something close to your own neighborhood. Just be sure to read the fine print before you go so you're sure to get in! A few local favorites include:
Willow Pool: Swimmers will find a children's wading pool, shaded decks with picnic tables and tons of green grass to play in. This pool does require membership; guests can accompany a member for a $4 per person fee.
Maplewood Pool : Little fish can register for lessons at this pool, which also features a kiddie wading pool and a splash pad! Membership (resident and non-resident) is required; guests can accompany a member for a small fee though!
Evelyn Rubenstein JCC: This pool really has it all with an aqua rock wall, spray park, beach-entry teaching pool and an 18-foot slide. Join as a member for acccess either year-round or just for the summer!
Colonial Park Pool: Play on the lily pad crossing, slide and rock wall at this pool. There's also a zero-depth entry pool for little ones. Membership is required, but guest passes are also available for a small fee.
Weekely Family YMCA: This pool features a beach-entry pool with two spray and splash features, a water slide and a "fitness" or lap pool for serious swimmers. Membership to teh YMCA is required; guest passes are available to members for their family and friends.
Tellepsen Family Downtown YMCA: Sun-averse? The pool at this YMCA is indoors and a great spot to cool off. YMCA membership is required, with guest passes available to members' friends and family.
---
Noah's Ark Pool at Quillian Center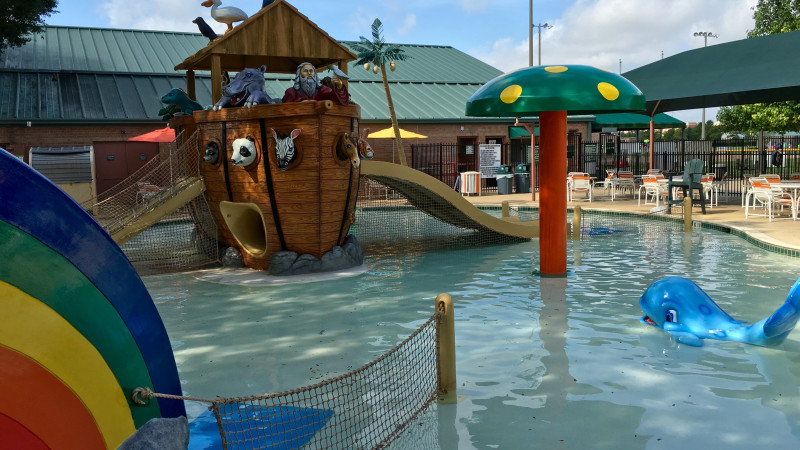 Quillian Center10570 Westpark Dr
Houston, TX
We love Quillian Centerand Noah's Ark Pool! Daily admission rates are $7.50 a person, so we do our best to get there early, pack a lunch and spend the day at this pool. If you forget food, there is a concession stand and they do offer discount packs if you plan to visit multiple times over the summer. There are two sections—Noah's Ark splash area for the littles and a full pool with slides/diving boards and a floating alligator for the bigs, though kids of all ages love climbing all over the huge Noah's Ark and sliding on the mini slides. We typically bounce back and forth between the two sections until the kids are ready to crash.
---
Bellaire Town Square Family Aquatic Center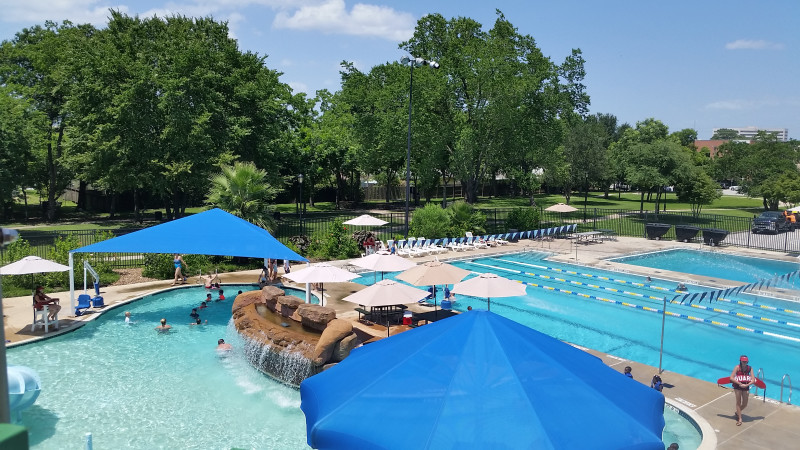 Bellaire Town Square Family Aquatic Center7001 5th St
Bellaire, TX
While this is technically not a community pool, the Bellaire Town Square Family Aquatic Center is cool enough to highlight on it's own. There are splash pad features with fountains, dumping water buckets and a small kid slide. Then there is the fun activity tower with sprayers, a slide and a huge bucket dumping water all over the kids. We like this area because it is shallow enough for our three to walk around freely. There are two other pools for laps and playing for older kids, as well as a waterside. My husband's favorite feature is the two large diving boards. This pool is pricey if you are not a Bellaire resident—$16 for those ages three to 59. The daily fee goes down to $8 if you attend with someone who lives in Bellaire, so it might be time to make friends at the local park and score a play date at the pool!
Houston's Free Pools
Did you know that there are 37 free pools around Houston? Neither did we, until recently! The city of Houston has a complete list herealong with a map of where to find them. These pools also offer "first come, first serve" free swim and water fitness classes. All of the details on the classes and hours for each pool are listed online. These pools are spread all over the city, so one is bound to be close to you.
Photo credits: City of Bellaire, Evelyn Rubenstein JCC, Quillian Center, City of Bellaire
Originally Posted on Mommy Nearest