Where to See Houston's Funky Landmarks and Art Work
Austin, Texas doesn't have a monopoly on keeping things weird. In Houston, a town that is the unofficial Art Car capital of the world, explorers are bound to find some amazing and kooky works of art. Here are a few of our favorite outdoor pieces to visit (and photograph!) around the city.
Looking to expand your artistic horizons? Check out Houston's best street art, kid-friendly art museums or the always-artsy neighborhood of Montrose.
---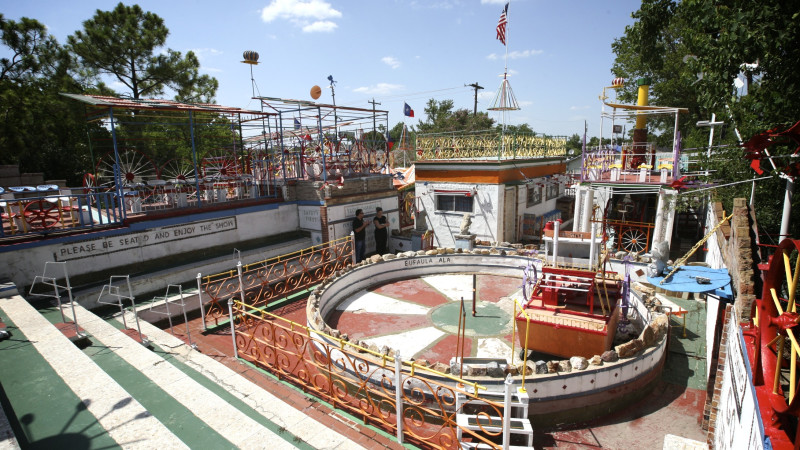 Created by Houston postman Jeff McKissack in honor of his favorite fruit, The Orange Show Momument is made from "found" objects that create a maze of walkways, arenas and balconies. The 3,000-square-foot space was handmade between the years of 1956 and 1979 by McKissack, and features a stage, wishing well, a pond and several upper decks. Children under the age of 12 are free and adults are just $5. Hours vary depending on the season, so check the website for the most up-to-date info.
Pro tip: Some of the stairwells and edges are steep. If you have new walkers, this might be a bit tricky for them.
---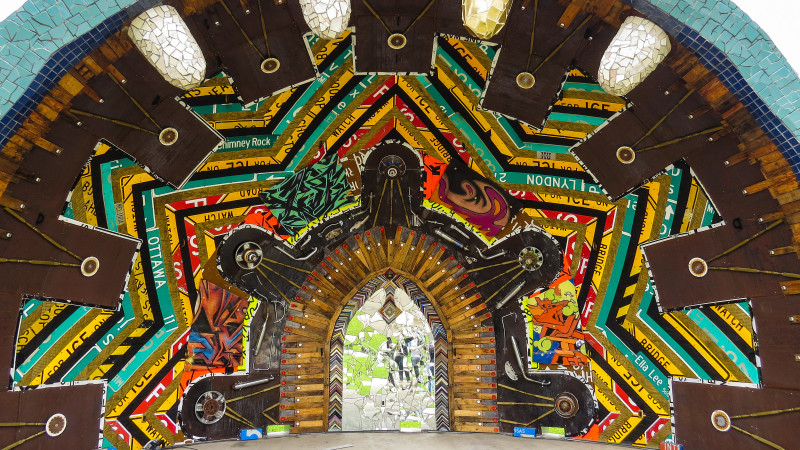 Smither Park2402 Munger St
Houston, TX
Right next-door to The Orange Show Monument is Smither Park, an urban space full of colorful mosaic murals. Builder Dan Phillips partnered with Stephanie Smither to design the park in memory of her late husband, John H. Smither. My favorite part of Smither Park is the "memory wall," which spans the length of the park and features 60 different mosaic panels created by artists from all over the United States. You'll also find bench swings, a stage and a covered pavilion that is perfect for picnics. New pieces are always being contributed, which makes if fun to come back to again and again.
Pro tip: Saturdays are work days at the park and your best chance to catch an artist in action!
---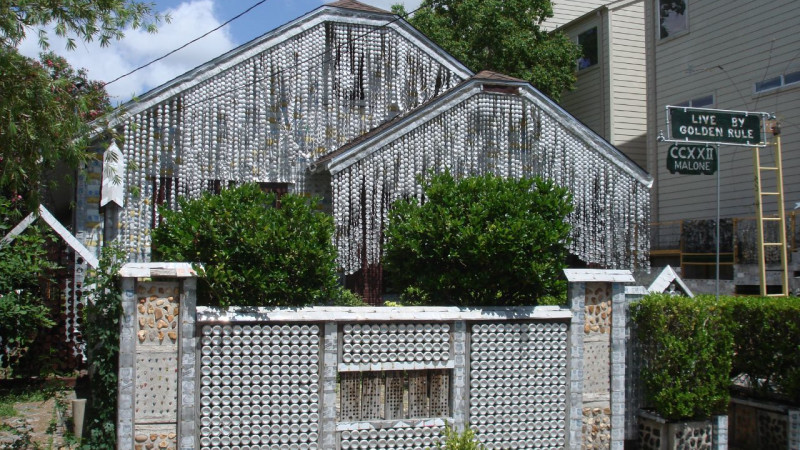 The Beer Can House began in 1968 when retired upholsterer John Milkovisch began using beer cans to create a DIY aluminum siding. Over the next 18 years, Milkovisch inlayed thousands of marbles, rocks and metal to completely cover the house and the grounds. Ripley's Believe It or Not estimates that more than 50,000 cans of beer were used to create the  "monument to recycling." This spot also has limited hours, so check the website for information. Adults are $5 and kids under 12 are free.
Pro tip: Bring the nice camera! There are so many different interesting backgrounds for photos and the kids could not get enough of the porch swing and the can curtains.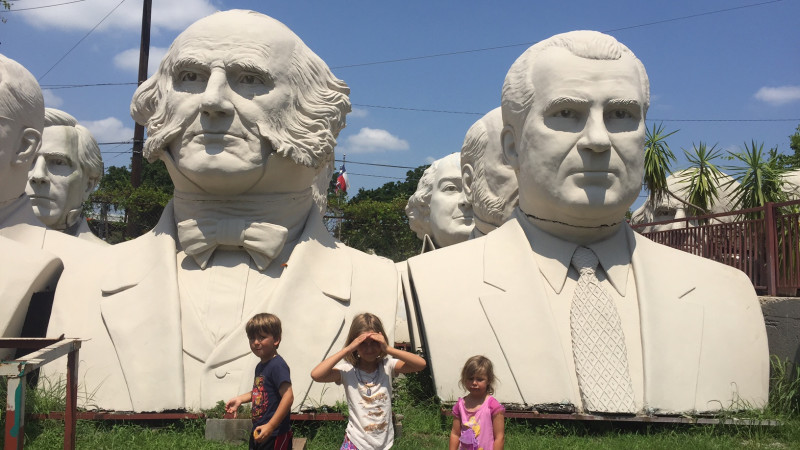 Artist David Adickes is famous for his giant sculptures of historic figures. You can find many of his Presidents Heads in this small, gated parking lot in the Heights. Visitors will find a few Beatle's heads, a huge Charlie Chaplin, Lincoln, Obama, Washington and plenty more. Remember to be respectful of the art and the property as it is private.
Pro tip: There is a gate around the work and it is hit or miss on if/when it will be unlocked. If you go and can't get in, you can still see a number of the heads through the gate. To avoid disappointment on a locked day, head over to American Statesman Park.
---
American Statesman Park (aka Mount Rush Hour)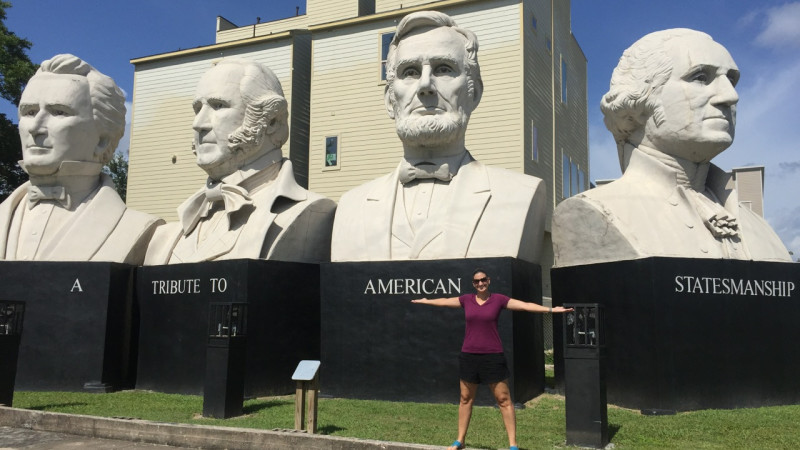 American Statesman Park or "Mount Rush Hour" features four giant busts of George Washington, Abraham Lincoln, Sam Houston and Stephen Austin all created by artist David Adickes. They were donated to Harris County Precinct 2 in 2012, and are located on a sleepy corner of a neighborhood in the First Ward with limited parking in front. You can see these statues from the intersection of I-10 and 45 too!
Pro tip: This one is best to visit during daylight hours and is a bit tricky to find on GPS in a neighborhood with lots of dead ends, but it is worth it when you do arrive.
---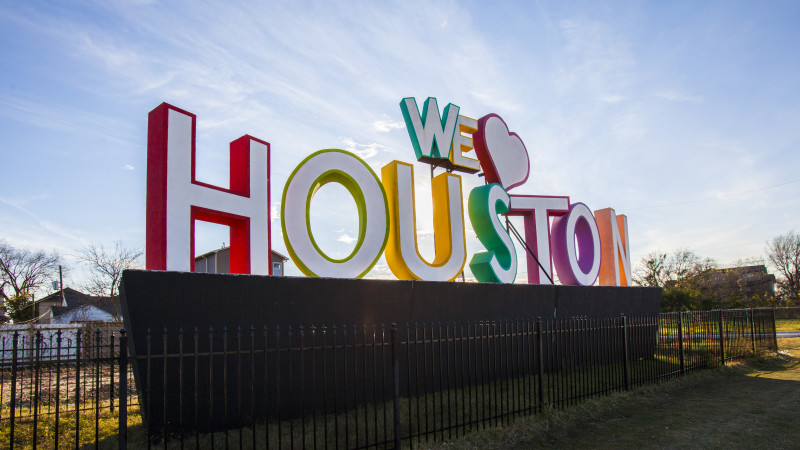 The "We Heart Houston" sign was first installed at its public location in 2013. It stands 28 feet tall and can be seen from I-10. It was also created by artist David Adickes, of President's Heads fame. While it is super fun to see the sign, this is strictly a pit stop and go photo opp. Also be aware that there is a gate around the sign to discourage people from climbing on the work.
Pro tip: This can be a challenging one with small children. The sign is located on a very busy feeder road. Photos are welcome, but be safe and find parking in the neighborhood and walk over as there is no parking right next to the sign.
Photo credits: Amanda Sorena, Visit Houston/Greater Houston Convention & Visitors Bureau, Flickr/nadine, Amanda Sorena, Flickr/Andrew Wiseman, Amanda Sorena (2), Visit Houston/Julie Soefer
Originally Published on Mommy Nearest