The Best Places for Ice Cream Treats in Houston
Temperatures keep climbing in Houston and that can only mean one thing—it's time to seek refuge in all things cool. Nothing hits the spot quite like a frozen treat on a hot afternoon. I did some crowd sourcing and found a few of the best spots in town to enjoy refreshing, cold confection on those Texas summer days. A few other ideas to beat the heat? Visit our favorite indoor play spaces or take a dip in these amazing pools around town.
---
All We Need Farm Goat's Milk Gelato Popsicles, Houston Farmers Markets
Goat dairy farmer Stacey Roussel of All We Need Farm partnered with Houston gelato maker Trentino Gelato to make All We Need Farm Goats Milk Gelato Popsicles. The pops have just a few natural ingredients—milk from non-GMO fed goats, no gums or preservatives and they are super tasty. These pops even won first place in the 2016 Rodeo Houston's Best Bite Dessert Award for their Cajeta goat's milk pops. They also carry chocolate, vanilla, honey and "straight up goat," to name a few. You can find All We Need Farm at Rice Farmers Market (Tuesdays) City Hall Famers Market(Wednesdays) and Eastside Farmers Market (Saturdays).
Insider tip: All We Need Farm gives tours of their dairy in Guy, Texas on request. They are $10 per person and you get a pop at the end! Just contact owner Stacey.
---
Amy's Ice Creams, Upper Kirby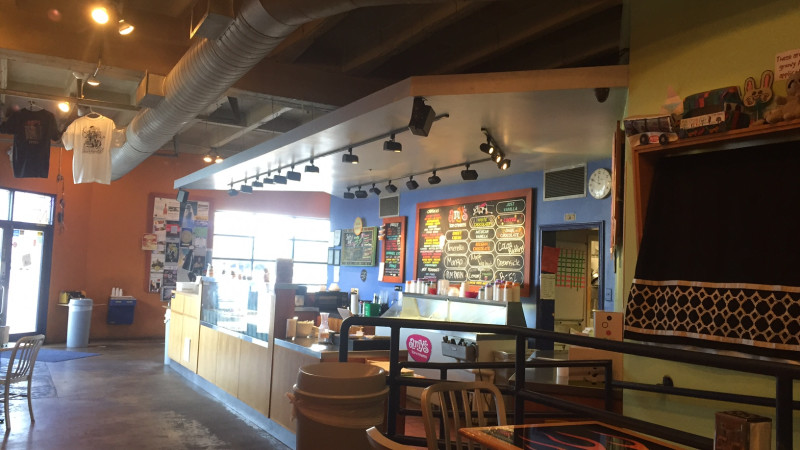 Amy's Ice Creams3816 Farnham St
Houston, TX
Originally from Austin, Amy's Ice Creams now has shops in Houston and San Antonio. They feature seven standard flavors, including their famous Mexican Vanilla, and offer more than 350 other flavors in a rotation. Amy's also carries dairy-free choices if ice cream isn't your thing. The shop has lots of seating and the staff is more than willing to let you try out a few before making your selection.
Insider tip: A number of Amy's flavors are of the adult booze variety. Yay for parents!
---
Cloud 10 Creamery, Rice Village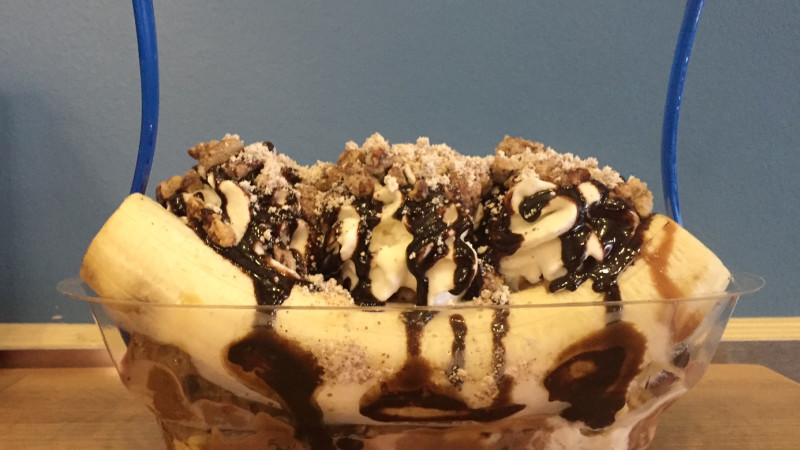 Cloud 10 Creamery5216 Morningside Dr
Houston, TX
If you're looking for something a little more adventurous, try Cloud 10 Creamery. The ice creams and sorbets are all hand crafted a half-gallon at a time by award winning Pastry Chef Chris Leung. Each season they offer 10 new flavors in addition to their 10 original flavors. Their best seller is the delicious Nutella & Marshmallow, but flavors like Toasted Rice, Greek Yogurt with Candied Cucumber, Sesame Oil with Black Garlic or Peanut Butter and Jelly are sure to peak your interest. They also make an amazing banana split.
Insider tip: You can ask them to split a two-scoop small into two cups, which is more than enough to satisfy two small children.
---
Fat Cat Creamery, The Heights
Fat Cat Creamery1901 N Shepherd Dr
Houston, TX
Fat Cat Creamery is a boutique parlor in the Heights with a focus on small batch ice cream made with local ingredients. The milk and cream all come from Mill-King Creamery, eggs from Ole Dad Farms, and The Barry Farm provides figs, citrus and other fresh ingredients. Even their packaging has a focus on sustainability! Plus, the ice cream is amazing. They have five year-round flavors and a rotation of seasonal flavors that change daily. Favorites include Salted Butter Caramel, Waterloo Strawberry Buttermilk and Hardcore Chocolate.
Insider tip: If you're in the Heights, you can have Fat Cat delivered to you! For $8 they will meet you at home, work or even a park. You can be the coolest mom at Donovan Park when you call 713-869-1080 for a Fat Cat delivery.
Gelazzi, The Heights
3601 White Oak Dr
Houston, TX
Gelazzi is where to find traditional gelato favorites like pistachio, spumoni and chocolate macadamia. With 40 flavors to choose from, this is a treat spot where everyone can be happy. After 4:30pm, the shop is also a restaurant with a number of beloved Italian standards. There's also a patio out back that is perfect for enjoying evening gelato treats.
Insider tip: On the side of the store you'll find the "Greetings From Houston" mural, which is makes a pretty sweet photo opp.
---
Hank's Ice Cream, SW Houston Near NRG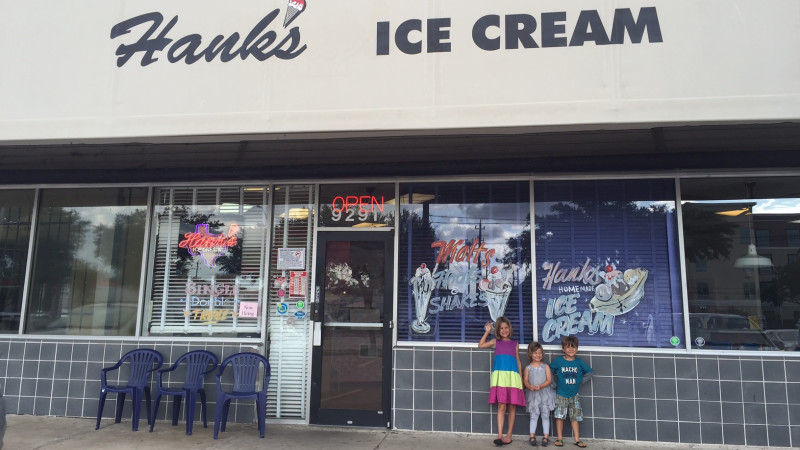 9291 Main St
Houston, TX
Hank's Ice Cream is a family owned and operated shop that has been in business since 1985. They specialize in Southern-inspired flavors like banana pudding, sweet corn and sweet potato pie, but always have classics like butter pecan, cookies-n-cream and rum raisin on the menu. Hank's has more than 100 flavors, although you will only see 16 at a time on any given visit. This makes it worth coming back time and time again.
Insider tip: Hank's is rumored to be one of Beyonce's favorites. You can even find a picture of the teenage Queen Bee with Destiny's Child on the wall of the store.
---
Kwality Ice Cream, Sugar Land
13425 University Blvd
Sugar Land, TX
For some ice cream with ethnic flare, you'll need to head to Kwality Ice Creamin Sugar Land. Ice creams are broken up into three categories—Fruity, Nutty and Fusion, plus some sugar free options. There are 56 flavors all together with classics and items like almond dates, gaajar halwa and zesty ginger.
Insider tip: Their most popular flavor is the Indian treat Malai Kulfi!
---
Smoosh Cookie Sandwiches, Rice Village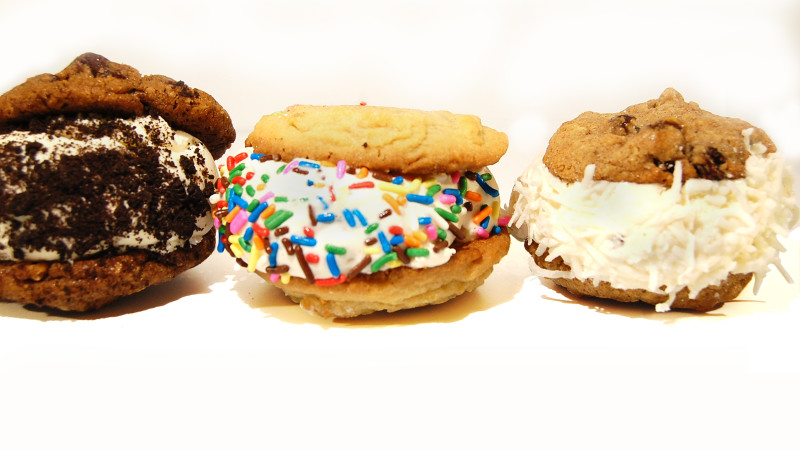 Warm cookies with yummy ice cream in the middle? Yes, please. Smoosh is the food truck responsible for these delectable treats. Choose any two cookies, then pick the ice cream and any additional toppings you want to make your very own "smooshie." They also serve milkshakes, sundaes and floats. Check the website for their schedule to find them around town.
Insider tip: Most days you can find Smoosh in Rice Village, but you can also hire them for private parties!
---
SweetCup, Near Montrose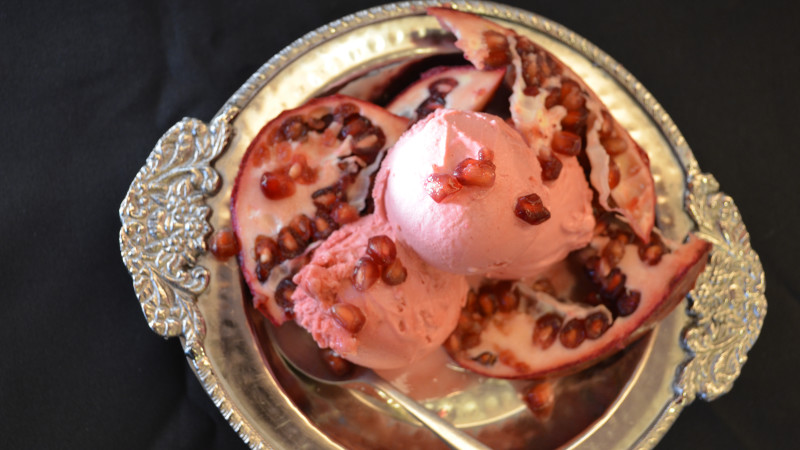 3939 Montrose Blvd
Houston, TX
SweetCup the perfect blend of old world gelato meets culturally diverse Houston. You'll find everything from mocha, almond honey and mint chocolate chip to roasted ricotta peach, Kashmir rose or lemon rosemary! They also have an allergy chart on their website so you can see what's in each flavor before visiting—super handy for anyone with food sensitivities. You can also check their Facebookpage to know what they are serving each day.
Insider tip: Parking can be tight, but it is worth it! You can also get up to three flavors in a small cup if you are hoping to try many different varieties.
Photo credits: Amanda Sorena (4), SMOOSH, SweetCup
Originally Published on Mommy Nearest