15 Best Attractions for Families in Houston
There's a saying that goes, "I may not have been born in Texas, but I got here as fast as I could." In fact, you might see it on the bumper of a pick-up truck or two during your next visit. For those of us with families, this saying couldn't ring more true about the city of Houston. The Bayou City is the fourth largest city in the country, and sprawls south to the Galveston Bay where you'll find NASA's Mission Control Center. Downtown, you'll find thriving theater and museum districts, lush parks and a city skyline to rival any of the greats. Whether you're a local hoping to explore with fresh eyes, or considering a Texas destination for your next vacation, here are 15 attractions that make Houston so exciting for families.
---
1. Children's Museum of Houston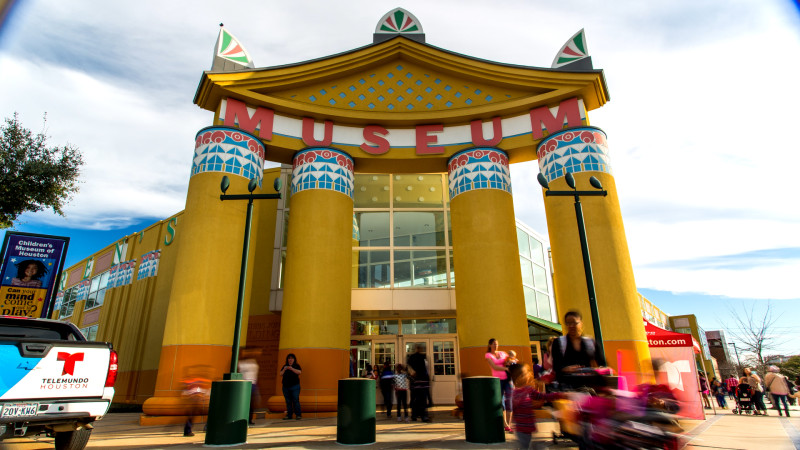 Children's Museum of Houston1500 Binz Street
Houston, TX
One of the best parts about the Children's Museum of Houston is that your family can grow into it. With each passing year, different exhibits appeal to kids, and you discover new aspects of this 90,000-square-foot museum. Families start at the Tot Spot, a space that features toys and imagination builders perfect for the under three set. As kids get older, venture to Kidtropolis where they can pretend to be chefs, vets, make trips to the bank or visit a grocery store. School-aged kids are consistently wowed at the How Does It Work?area full of science demonstrations, and everyone has fun getting soaked outside at FlowWorks. The calendar is full of special events, too. Never leave your visit without checking out the baby chicks, and partaking in some DIY face painting action!
Tip: Experience the museum on a smaller scale by visiting the Fort Bend Children's Discovery Center in Sugar Land. It's a project of the CMH, but is much smaller, and may be more manageable for families with really little ones!
---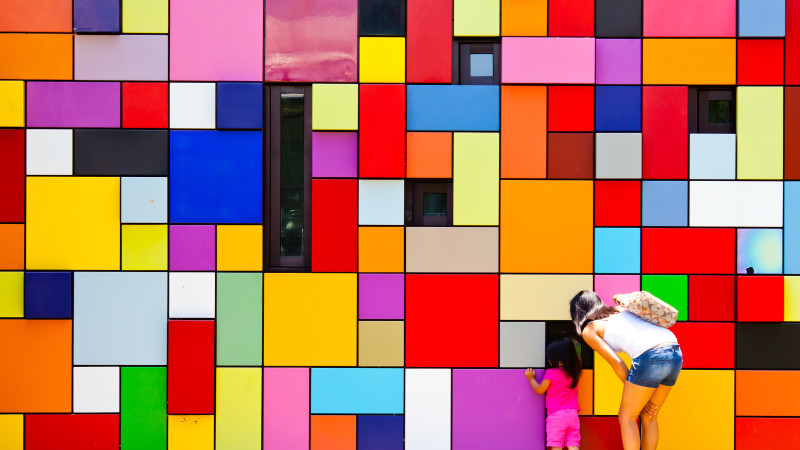 Discovery Green1500 McKinney Street
Houston, TX
Open since 2008, the Discovery Green is a beautiful urban green space in downtown Houston (so special that we have a whole guide on it). Here, you'll find the John P. McGovern playground, the Gateway Fountain splash pad and a Mist Tree, which have saved many families on hot Houston days. There are tons of free, special events from fitness classes to Toddler Tuesdays with story times and special character visits. Past family fun has included a meet and greet with Elsa and Anna, a foam party and a slew of kindie rock concerts. No matter when you stop by, you're likely to catch something special.
Tip: Discovery Green's public art, like the Synchronicity Of Color art box walls, make a perfect back drop for your next great Instagram.
---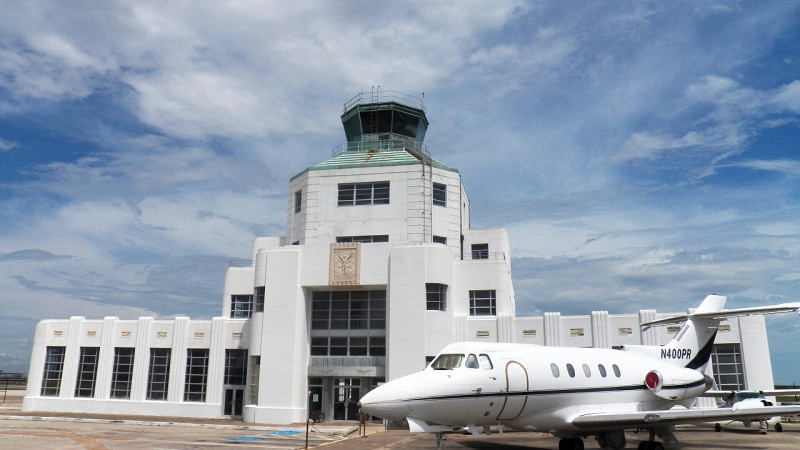 1940 Air Terminal Museum8325 Travelair St
Houston, TX
The 1940 Air Terminal Museum is housed inside the original art-deco arrival terminal of the first Houston airport. Located right beside the active Hobby Airport, this museum is a hidden gem in the city. You can watch planes coming and going while you peruse through memorabilia from many now defunct airlines including PAN AM and Trans Texas Airlines. Humphrey Bogart, Elizabeth Taylor, James Dean, Bette Davis and Bob Hope all passed through this beautiful building in its hay day. In addition to the main museum, you can ask to be taken to the 1928 Carter Airmail Hangar. It is a short walk from the main museum and is the highlight of the trip! This hanger holds the airplane collection—a Hawker Business Jet, a St. Louis Helicopter and the Lockheed Lodestar. Your kids can climb all over most of these aircrafts and they have a flight simulator—every button pushing toddler's dream!
Tip: Every third Saturday of the month, the museum hosts Wings & Wheels. They open up the gate for a great view of Hobby Airport. Each event has a different theme, so check their website for the latest information.
---
4. Donovan Park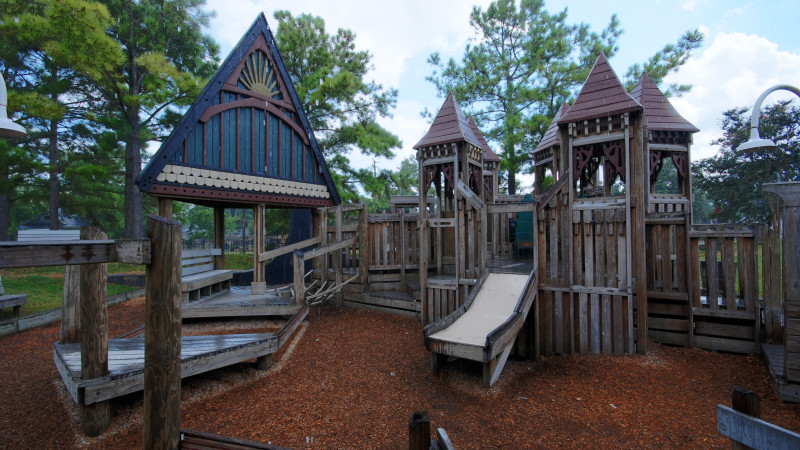 Donovan Park700 Heights Boulevard
Houston, TX
According to Visit Houston, our city has more than 56,405 acres of parks. Many of them share space with awesome splash pads or are walking distance to other Houston attractions. One stand out though is the wooden park in the Heights, Donovan Park. The wooden structures make it unique from most of the other local playgrounds, and it has a number of different areas to keep kids entertained, including the popular wooden train. It's the perfect play time pit stop while exploring on of the city's trendiest neighborhoods.
Tip: For an $8 delivery charge, you can even have Fat Cat Creamydeliver you some ice cream directly to Donovan via bicycle!
---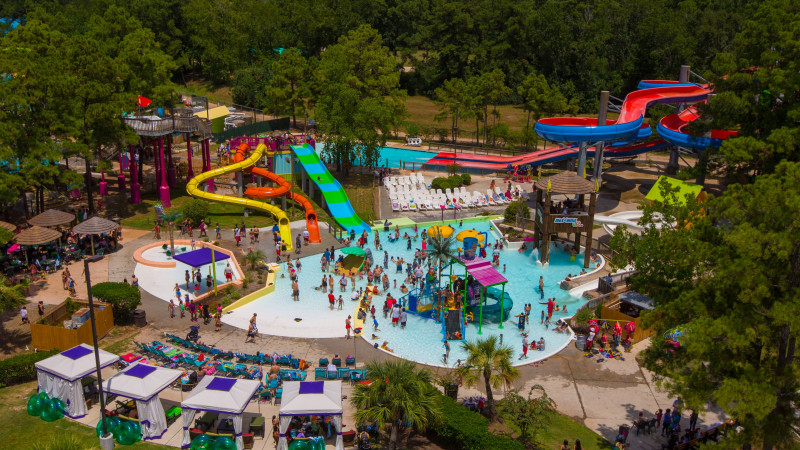 Wet 'N' Wild Splashtown21300 Interstate 45
Spring, TX
Chances are, when you're in Houston, you're sweating. That's why Houston's largest water park, Wet 'N' Wild Splashtown, makes our list. The park boasts 42 slides and attractions on their 80-acre property in Spring (just north of Houston proper) and has been in business for more than 30 years. In 2015, the park underwent a multi-million dollar renovation to become an inclusive experience for the whole family. They expanded the Wet 'N' Wild Jr. area, which caters to the under 50-inch set, added a family raft thrill ride called Big Kahuna and a surfing attraction. There is truly something for every age and stage of swimmer here. Plus it's a fantastic way to beat the infamous Texas heat.
Tip: There are life jackets in a variety of sizes free for visitors to use!
---
6. Hermann Park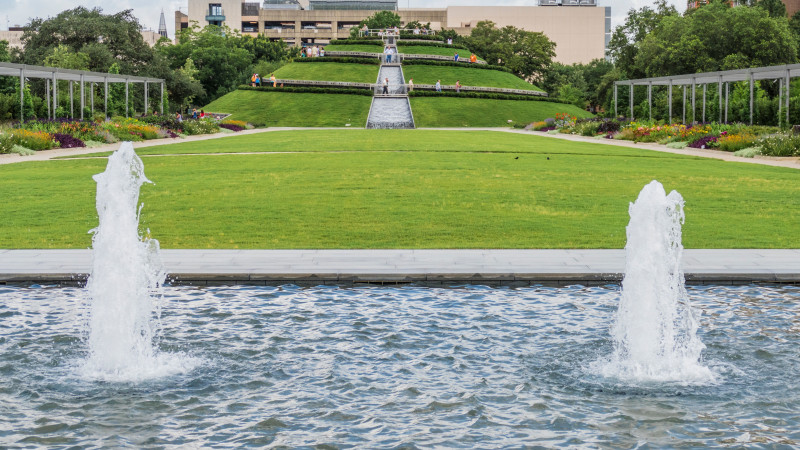 Hermann Park6001 Fannin Street
Houston, TX
Hermann Park's proximity to the zoo and Miller Outdoor Theater make it easy to tack on to another outing in the Museum District, but it is worth visiting all on its own. Start your visit with a ride on the park's train, then enjoy a picnic in the Japanese Gardens and let your littles run wild at Buddy Carruth Playground for All Children. If you have stroller age children, it's a great spot to meet up with friends for a walk along the trails. For older kids, go ahead and rent pedal boats and explore McGovern Lake!
Tip: If you head out early in the morning, bring stale bread to feed the ducks and birds before going to the Houston Zoo. Getting there a bit earlier allows from prime parking, and you'll get to leave the zoo before it gets too busy (and hot).
---
7. Houston Museum of Natural Science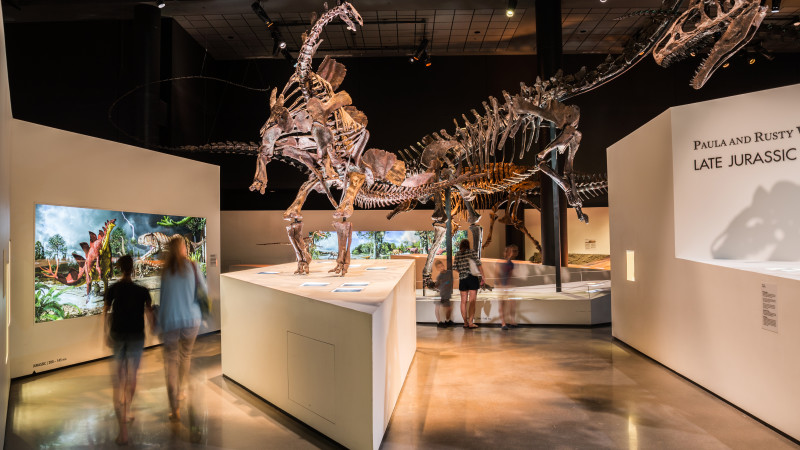 Houston Museum of Natural Science5555 Hermann Park Drive
Houston, TX
Not only does it have world-class exhibits, the Houston Museum of Natural Science staff is also extremely knowledgeable and welcoming to children. With 60 major skeleton mounts, The Morian Hall of Paleontology is enough to impress any dino loving kid. But don't skip the Cockrell Butterfly Center either. There are so many permanent exhibits to choose from, but no visit is complete until you see the mummies in the Hall of Ancient Egypt. HMNS is also fantastic at bringing in traveling exhibitions from the gems of Bulgari and the Magna Carta to the secrets of the Samurai.
Tip: The HMNS is one of the only museums open on Mondays, and you can visit them as early at 9am. If it's a cooler day, it is worthwhile to pack a lunch and head across the street to picnic in the McGovern Centennial Gardens.
8. Houston Arboretum & Nature Center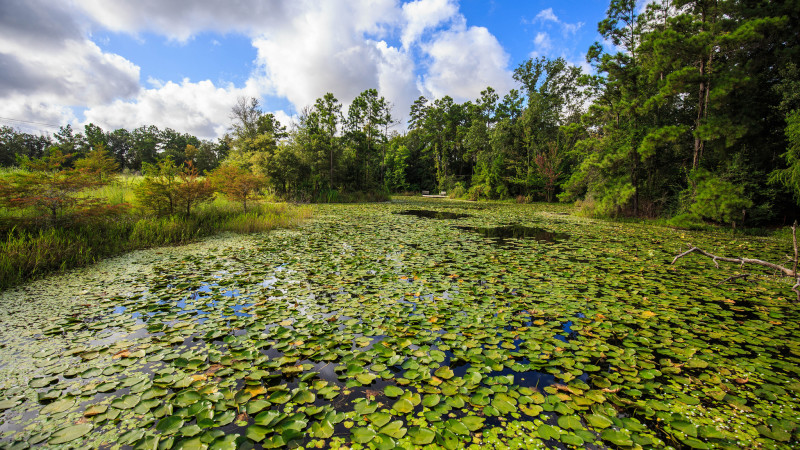 4501 Woodway Drive
Houston, TX
The Houston Arboretum & Nature Center is where you go to pretend you're on a "hike" and not in a big, flat city. The trails around the center are manageable, even for little legs, and the reward at the end is a cute pond stocked full of turtles. There are family programs like "Arboretum At Night," complete with night hikes and animal encounters. For pre-school aged children (18 months to 3 years), the center offers free Tyke Hikes on select Mondays. In years past, they've also had a few blue bonnet patches in the spring for photo ops. The arboretum has a Sensory Garden and a small sand playground, too.
Tip: The mosquitoes can get bad, especially in the summer, so don't forget your bug spray! Also be sure to print out this checklist ahead of time for an animal scavenger hunt.
---
9. Houston Zoo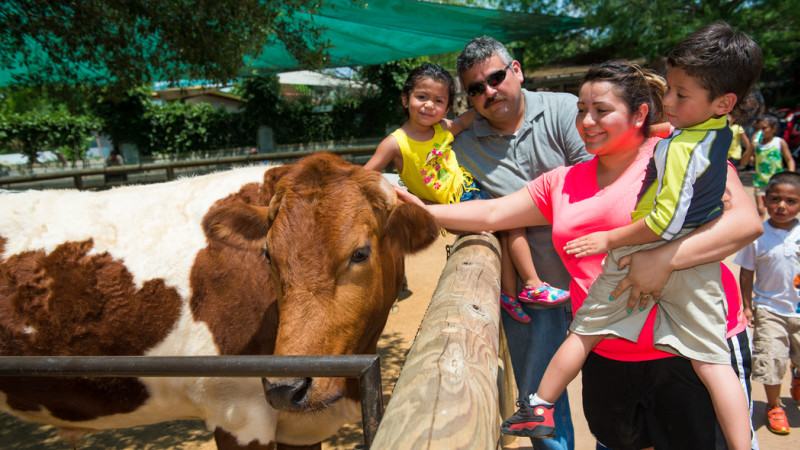 6200 Hermann Park Drive
Houston, TX
With 6,000 permanent animal exhibits and more than 55-acres, it is easy to see why the Houston Zoo is a favorite. Must dos include seeing the elephants take a bath and visiting the gorillas and chimps in the African Forest. Make time for a spin on the carousel or a stop to feed the giraffes, too. The Houston Zoo has large Children's Zooarea, with a playground and a petting zoo that little ones love. They've also taken the Houston heat into account with their design, featuring several indoor, air conditioned "cool zones" to keep you from burning out too quickly.
Tip: Be sure to check out Mommy Nearest's family-friendly guide to the zoo!
---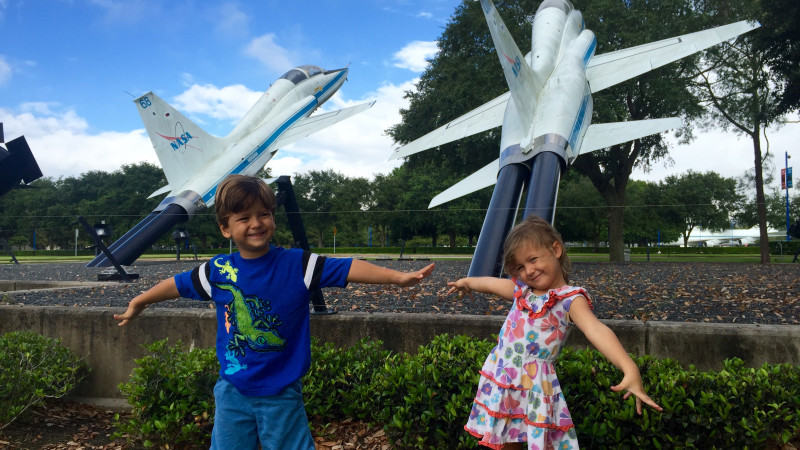 1601 NASA Parkway
Houston, TX
You can't really think of Houston without hearing the famous Apollo 13 quote, "Houston, we've had a problem." That makes visiting Space Center Houston a must do for locals and visitors alike. While there are a number of great shows, and a stunning amount of space travel history, memorabilia and artifacts to explore, one of the best parts is the tram tour. There are two tours to choose from, one where you visit Historic Mission Control (it's smaller than you expect) and the other to the Building 9 Astronaut Training Center (larger than you'd think). You can try for both tours, but chances are you will only make one, so choose wisely! All the tours end at Rocket Park where you will have unlimited time to check out the huge Saturn V rocket, which is one of three left in existence and is more than 36 stories tall. Mind blown.
Tip: Get there right when it opens to maximize your day; pick up a schedule to see if any of the live shows are of interest. If you want to plan ahead, consider reserving a free timed ticket for the most popular activities: the shuttle replica Independence and the tram tour.
---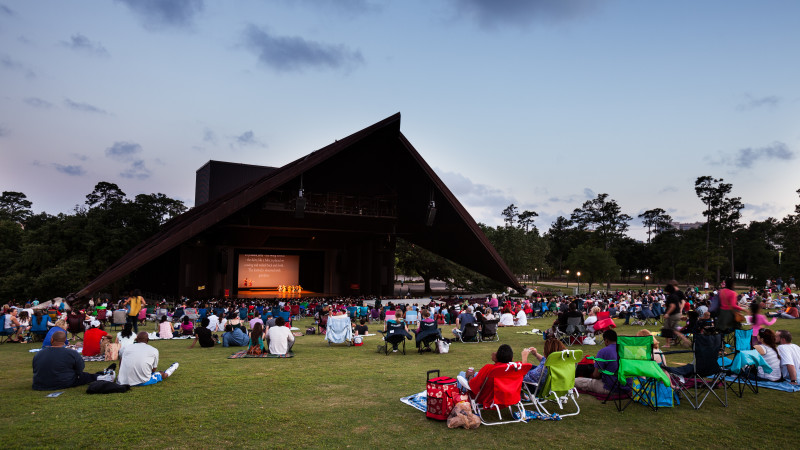 6000 Hermann Park Drive
Houston, TX
This free, outdoor stage in the middle of Hermann Park offers a wide selection of cultural offerings from plays and live music to movies and classical ballets. And it's a family favorite for seeing a kid-friendly performance. Grab a spot on the lawn and kids can roam around when they get antsy. (This makes is a really popular spot to take your little one for their first live performance!) Be sure to check the calendar for events and seasonal shows; much of the kids programming takes place in the summertime.
Tip: If you are going to a daytime show, arrive early to grab a seat. During the summer, many camps bring a number of kids and it can fill up quickly.
---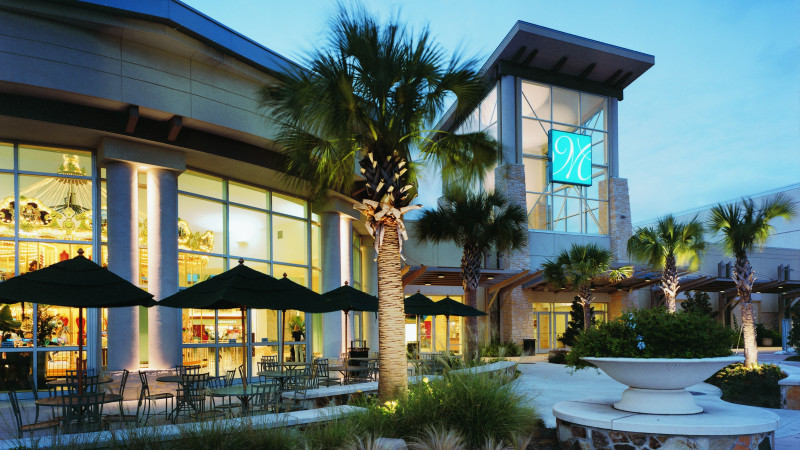 303 Memorial City Way
Houston, TX
Houston has a lot of great shopping centers, including the Galleria, but our pick is still Memorial City Mall. With all the activities you'll find here, this spot lives up to the slogan of being "Much More Than A Mall." Just look at the calendar of family-friendly events! When you need to shop Texas-style (in a massive, sprawling mall), kids can be rewarded with open play at Frolic's Castle, a lap on the ice skating rink, a spin on the carousel or a ride on the mall train.
Tip: For a special treat, visit the American Girl Doll store inside the mall. It includes a beauty salon and a café. If you eat there, your doll "eats" along side you with her very own chair, cup and saucer.
---
13. NRG Stadium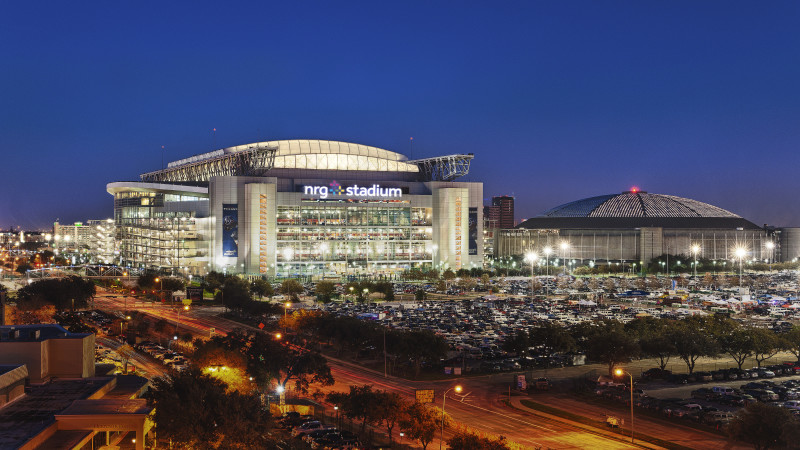 It may seem odd to have a huge sports stadium on this list, but the NRG Stadium plays host to so many amazing events in the city that families and tourists really should keep this spot on their radar. Sure NRG stadium is where you can catch a Texans game, but it's also home to the Houston Livestock Show & Rodeo. When the Circus is in town or Disney on Ice is hitting the rink, you will see them at NRG. Not to mention there's a little thing called the Super Bowl coming to Houston in 2017!
Tip: Park in Midtown and ride the METROrail to the stadium. Not only do you avoid the traffic mess, but you will also save some money on parking.
---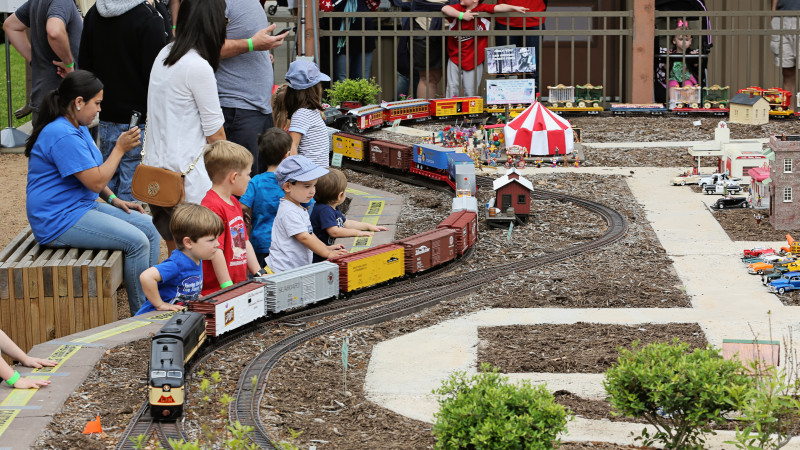 1921 Avenue F
Rosenberg, TX
Just down the road in Rosenberg, there is a hub to multiple active rail lines, and the museum of any train-obsessed kid'sdreams. The museum is modeled after the original train depot, and inside there's a scavenger hunt that gets kids pumped about exploring train history. Once you have completed your hunt and collected a small prize, a guide will take you to the other attractions—Tower 17 (where you pretend to be a towerman), 1972 Mopac Caboose (to see how conductors lived) and the 1979 Quebec Sleeping Car (to see what luxury train travel looked like). Don't skip the train-filled play room or the chance to sit in WaWa's Big Wooden Train.
Tip: Every year the museum hosts a RailFest with music, food, games and, of course, trains! It's one of the most fun times to visit the museum.
---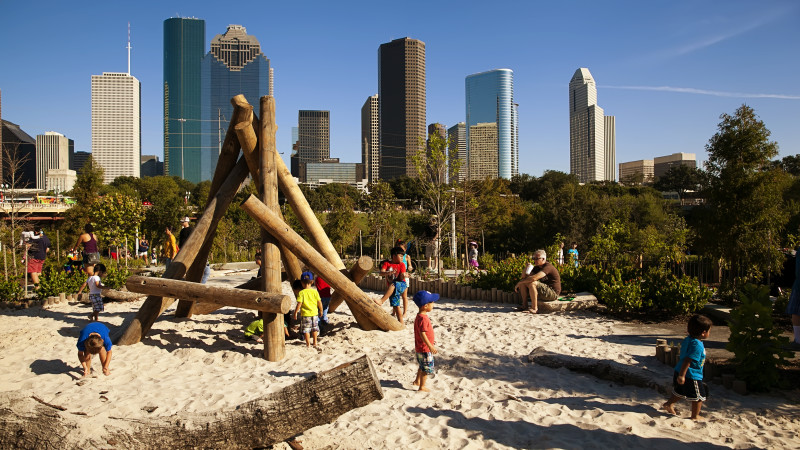 1800 Allen Pkwy
Houston, TX
Houston is the Bayou City for a reason. And the renovated Buffalo Bayou Park really helps us live up to that name. The 52-mile bayou has become a destination for outdoorsy types looking for new ways to experience Houston…that aren't sitting in traffic. Families can kayak, see the best skyline views in the city, hit the bike trails or entertain four-legged family members at a really cool dog park. Don't skip the incredible Nature Play Area—one of the most innovative playgrounds in the city! We've got a complete guide to everything you can do here (there are delicious eats, bat sightings and some hidden art, too).
Tip: You won't regret going for a stroll at Eleanor Tinsley Park around sunset (near perfect photo opp guaranteed).
Photo credits: Katya Horner, Visit Houston, Katya Horner, Michael Bludworth, Tiffany, Wet 'N' Wild Splashtown, Hermann Park Conservancy, VIsit Houston, Randall Pugh, Houston Zoo, Amanda Sorena, Visit Houston/Julie Soefer, Visit Houston (2), BAC Photography, Katya Horner
Originally published on Mommy Nearest