The Ultimate Guide to Visiting Space Center Houston with Kids
I recently spent a day exploring Space Center Houston with our 3.5 year-old twins. We sat down to the "Meet an Astronaut" talk that afternoon, semi-exhausted. My daughter was squirming in my lap and our son was about to pass out, then Astronaut Colonel Brian Duffy said something that nearly made me cry. He welcomed everyone to his presentation and added, "I particularly want to thank all of the parents who came with little ones. It is important to bring them to educational centers. You never know what is going to spark them into pursuing a career in science…They are the Mars Generation. I firmly believe that in their lifetime we will see a person on Mars. Maybe it will be you," and he points to a little girl in the front row. I choked up and looked at the kids in our arms and roll the words "Mars Generation" around in my head.
That's sort of the point, right? We take our kids to these amazing places for them to learn about all of the possibilities in life. Walking around Space Center Houston, it's hard not to be inspired. It's more than 250,000 square feet packed with 400 space artifacts, movies, photos, opportunities to see what is like to travel in space and more. The center averages a million visitors a year. Curious about going on your own space adventure? Here's everything you need to know.
---
Destiny Theater and Starship Gallery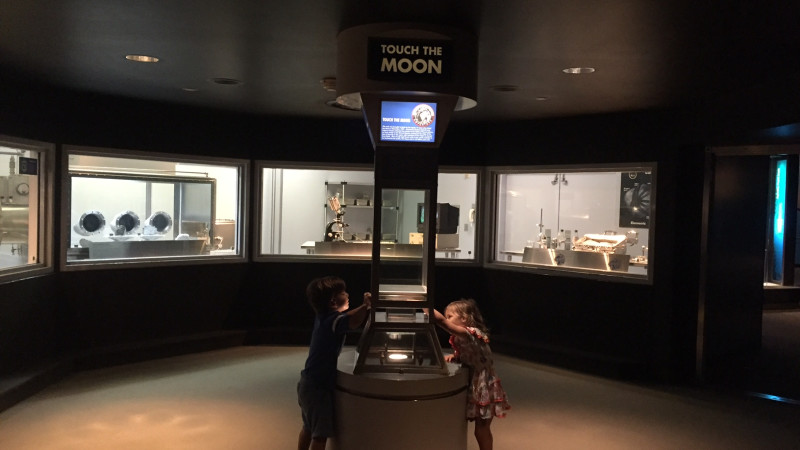 We started our day off by watching a quick 15-minute movie on the history of the space program in the Destiny Theater and then continued on to the Star Ship Gallery. It's here that you will find a full-size Skylab Training module and the Apollo 17 Command Module. The Starship Gallery also features one of my favorite photo moments– a moon rock. Nothing beats the look on kids' faces when you tell them the rock is from the moon and they can actually touch it.
---
NASA Tram Tour and Rocket Park
It is best if you plan your day around the tram tour. Currently, there are two stops on the NASA Tram Tour. One to Historic Mission Control and the other to the Building 9 Astronaut Training Facility. During busy times of the year, you are only able to pick one location for a 60-minute tour, but during slower seasons they do a combined 90-minute tour with stops at both locations. Either way, all tram tours end at Rocket Park where you will have unlimited time to check out the huge Saturn V rocket, which is one of three left in existence and is more than 36 stories tall. If you know what tour you want to do, you can sign up online for free, timed ticketing and save yourself some wait time on the day-of.
---
International Space Station
There are a ton of items to look through here, but my favorite is getting to listen to the Living In Space Show, that happens periodically throughout the day. This is where you learn what life is like for the astronauts in space living on the International Space Station—how they eat, exercise and generally handle daily tasks with an outer space twist. My daughter's big take away was that they drink their pee. Okay, not until it is recycled and processed to be drinkable, but that was a major revelation to a six year old.
---
Astronaut Gallery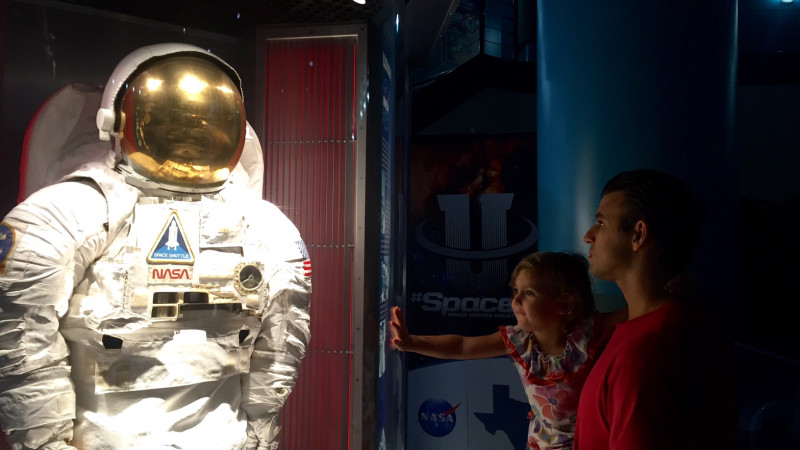 At the Astronaut Gallery you'll find one of the world's most complete collections of space suits. Along the back wall is a gallery of photos of all of the different crews with their mission dates. We had fun finding the missions from Colonel Brian Duffy, that day's featured speaker for the Friday Meet An Astronaut talk.
Space Center Theater
If you are pressed for time and can't walk to all of the different exhibits, consider taking in the 45-minute Journey To Space film. The documentary is a tribute to the Space Shuttle Program and the 355 astronauts who flew on 135 shuttle missions for NASA. You'll get to see interviews with numerous crew members and an extensive overview of the Shuttle program's last major project—The International Space Station.
---
Blast-Off Theater
The Blast-Off Theater features various presentations throughout the day where you can receive live mission updates on what is happening on the International Space Station and the Curiosity on Mars missions. They only last 30 minutes and are packed with current information on NASA's ongoing programs. Check the daily schedule when you enter to figure out which talks you're most interested in. This is also where you can catch the Meet the Astronaut talks on Fridays!
---
Space Center Plaza
Three times a year, the Space Center Houston changes out its Main Plaza with new exhibits. They are diverse in nature, but always tie back to science and space exploration. In the fall of 2016, they are unveiling Astronaut. This interactive exhibit will offer 26 immersive experiences where guests will have the opportunity to be an astronaut for the day—solving problems, overcoming challenges and performing tasks like a real astronaut.
---
Independence Plaza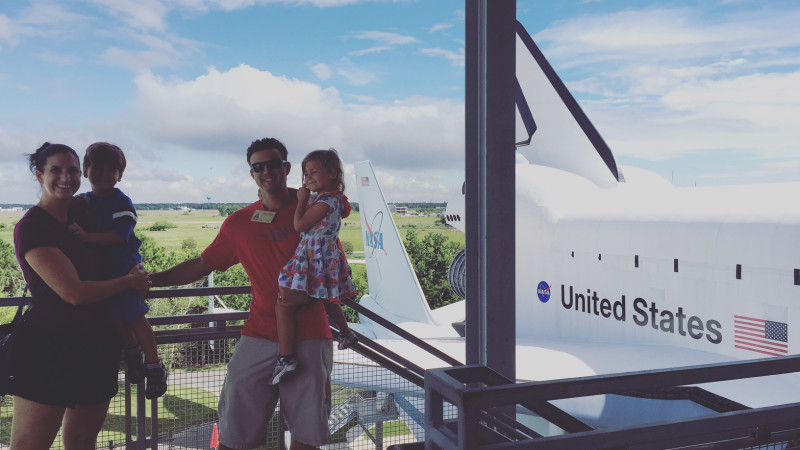 Independence Plaza is fairly new to Space Center Houston and was the big highlight of our day. It consists of a shuttle replica Independence mounted on the original NASA 905 Boeing 747 shuttle carrier. The entire exhibit is three stories tall. You start at the top on the flight deck. Here you'll see how astronauts piloted the shuttle with a look out below to the tight quarters where the astronauts lived. On the last level, guests enter inside the NASA 905 to find an extensive exhibit on the shuttle era of space travel and touch screens highlighting upcoming preparations for Mars. Our kids also really enjoyed trying to dock the model shuttle onto the carrier. Independence Plaza is another area that you can reserve free timed entry tickets. You're also able to walk on an actual orbiter access arm and pretend you are a astronaut taking your last steps on earth before entering the "clean room" and stepping aboard a shuttle.
---
Know before you go: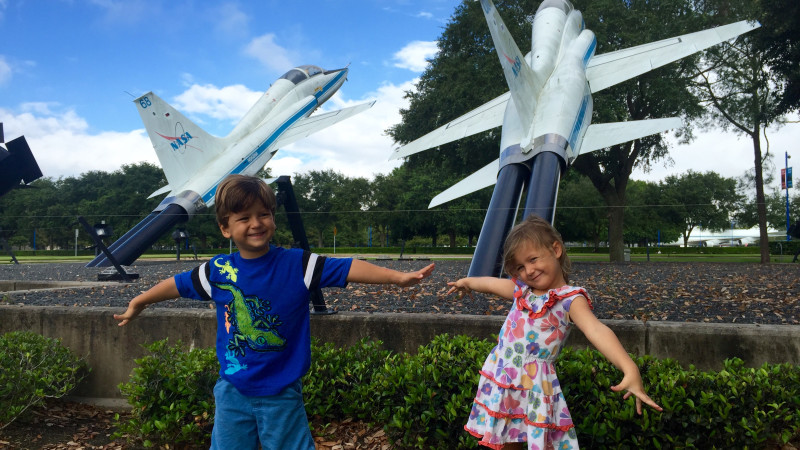 • To get the best deals, be sure to follow Space Center on social media and sign up for their newsletter.
• You can bring in outside food, but they do offer the Zero–G Diner food court with deli sandwiches, salads, hot dogs, burgers, nuggets and even veggie options. Don't forget the space ice cream, too!
• Strollers are welcome, but you will need to park them for things like the tram tour.
• If you have older kids between the ages of 14 and 18, look into their Space Center U program for information on weeklong space camps.
• The Visitor Information page on their website also provides useful tips and suggested itineraries You can also pick up daily schedules when you arrive to help plan out your day.
• Tickets are $24.94 for adults and $19.95 for kids ages four to 11 years old, but for roughly $5 more dollars per person, you can become a member. This is a great option for locals as you'll get invited to member-only events with astronauts and have opportunities to see exhibits before they open to the general public.
Photo credit: Space Center Houston, Amanda Sorena
Originally Posted on Mommy Nearest