The Best Drop-In Art Classes for Last Minute Fun in Houston
Here in Houston, you can go mural hunting all over the city, visit a wide selection of kid-friendly art museums or even see some of our more funky art landmarks in town. Pay a visit to any of these places and your family may start feeling their own wave of artistic inspiration. Where do you go when your kid is in need of a serious session with the glue stick and glitter…and you don't want it all over your house? Here are a few of our favorite drop-in art classes in and around Houston that let your little one's imagination run wild, and keep the mess where it belongs.
---
Art Mix Creative Learning Center3701 W Alabama St
Houston, TX
What to expect: Each week, Art Mix hosts pop-in studios where kids can work on projects inspired by different artists, countries and holidays from around the world. The mediums include painting, drawing, collage making, beading, sculpture and more. Artists ages three to nine can attend for up to two hours. Children under age three must be accompanied by an adult. They will get special instruction and demos from the teachers and a cool piece to take home.
When: Saturdays, but check the schedule to confirm.
Cost: $15 per hour per artist for up to two hours for ages 18 months to six years. $20 per hour per artist for ages seven to nine. Registration is not required.
---
Children's Museum of Houston1500 Binz Street
Houston, TX
What to expect: Inside the Children's Museum of Houston at the end of the Kidtropolis, you'll find an art studio that's free to use during your visit. There are always aprons, paper and paint to get creative. Occasionally you'll find specific tools to create prints or stamp with shapes. There is also a sink for quick clean up, which is key for us! You can leave your piece to dry and take it home on your way out of the museum.
When: Anytime the museum is open!
Cost: Included with your regular admission of $12 per person over the age of one.
---
Houston Center For Contemporary Craft
Houston Center for Contemporary Craft848 Main Street
Houston, TX
What to expect: The Houston Center for Contemporary Craft has a fantastic program for the little ones called "Hands-On Houston." These monthly events are artist-led, free-drop in art sessions, and each one has a different theme. The teaching artist will give a demo of the featured craft and explain how it relates to one of the current exhibitions. Then it's your turn! All ages are welcome, and the project should take you 15to 20 minutes to complete.
When: First Saturday of every month from 11am to 3pm.
Cost: Free!
---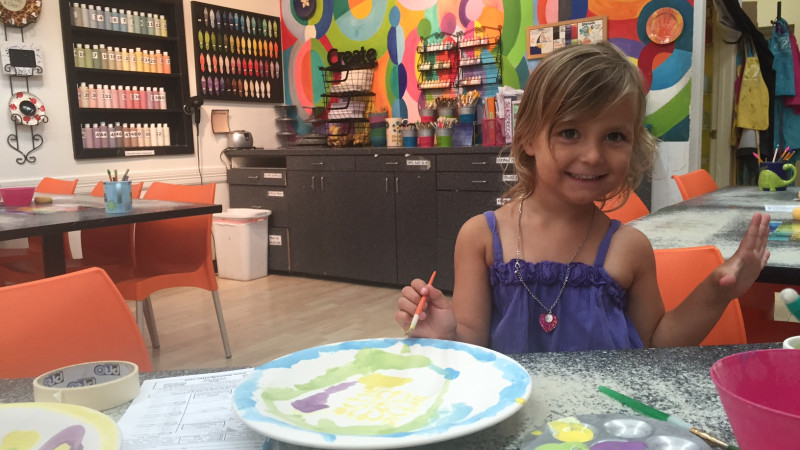 The Mad Potter1963 W Gray Street
Houston, TX
What to expect: At any of Mad Potter's three locations, creative kids can select their own piece of pottery to paint (we love it for making a one-of-a-kind gift!). Mad Potter has a huge range of figures, mugs, plates, bowls, teapots…you name it. Pick out glaze colors and paint away. When you're done, make sure your piece is labeled and you come back three days later to pick up your fired, finished piece.
When: Anytime during open hours. Be sure to check their calendar for special events and deals.
Cost: $6 for kids and $8 for adults, plus the cost of the pottery piece you selected.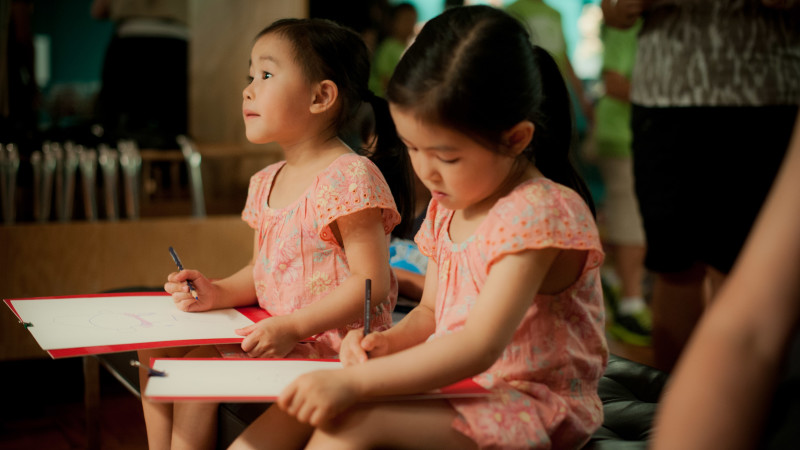 5601 Main Street
Houston, TX
What to expect: The Museum of Fine Arts Houston has three great programs for small ones—MFAH Playdate (0 to 35 months), the Little Artists (3 to 5 year olds) and Our Youngest Artists (0 to 35 months). Programs vary depending on theme and child's age, but you can generally expect a story, a tour of the galleries and an art project inside the studio. Materials are always non-toxic and washable and who doesn't like saying they made something inside a fine art museum?
When: MFAH Playdates are on Tuesdays and the artist events are on select Fridays and Saturdays. Check their calendar before heading out.
Cost: Included with general admission, but remember kids under age 12 are free! You'll only need to pay for your ticket, which will cost you $15 per adult.
---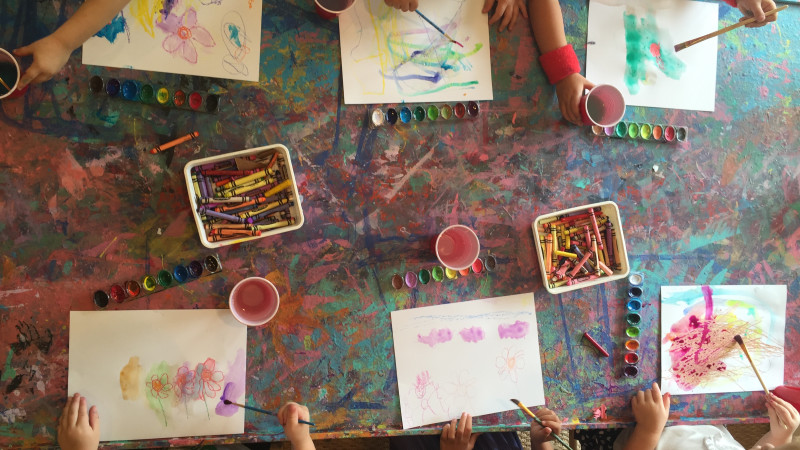 2419 Sunset Blvd
Houston, TX
What to expect: This West U spot is owned and operated by a local mom, Annie Polasek who has a degree in Early Childhood education. Students must be over the age of three and fully potty trained. Classes range from five to 12 students and all classes are designed to enrich through art, music and books. We've seen fairy building sessions, wooden spoon decorating and crown making to name a few.
When: Tree House is super flexible, so give them a call and see if there is a class you can join for one session! In addition to one-off classes, they also offer weekly classes, camps and awesome programs for early dismissal days and random school holidays.
Cost: 1 hour classes are $35, 2 hour classes are $45 and 3 hour classes are $55 per student.
Photo credits: Unsplash/Tim Arterbury, Amanda Sorena, Museum of Fine Arts Houston
Originally Posted on Mommy Nearest