Best Places to See Holiday Lights in the Houston Area
There's something about the warm glow of holiday lights that makes you believe in the magic of the season! Add in the look of wonder your kids have when they glimpse a particularly amazing display (plus the sugar high from the hot chocolate you bought them) and taking a holiday light adventure becomes a must-do. Here are our favorite spots to see holiday lights in the Houston area—from the most festive neighborhoods to Christmas-themed attractions (we are big fans of Zoo Lights at the Houston Zoo!).
---
Festival of Lights at Moody Gardens
Moody Gardens®1 Hope Boulevard
Galveston, TX
When: November 12 to January 8, 2017
What to expect: Moody Gardens' Festival of Lightsis one of the largest holiday celebrations in the Houston area. The show consists of a mile-long walkable trail featuring more than a million lights, including 100 sound-enhanced animated light displays. Admission is $10.95 per person and includes a visit to the ice skating rink (skate rental will set you back $7, but you are welcome to bring your own skate if you have them). Holiday activities don't stop with the lights! Moody Gardens also features Arctic Slide, Ice Land Ice Sculptures—A Caribbean Christmas and photo opportunities with Santa. Check their website for prices on additional attractions.
Insider tip: On Food Drive Thursdays, if you bring some non-perishable food to the Festival of Lights, you will receive two-for-one admission. All food collected will be donated to the Galveston County and Houston Food Banks.
---
Woodland Heights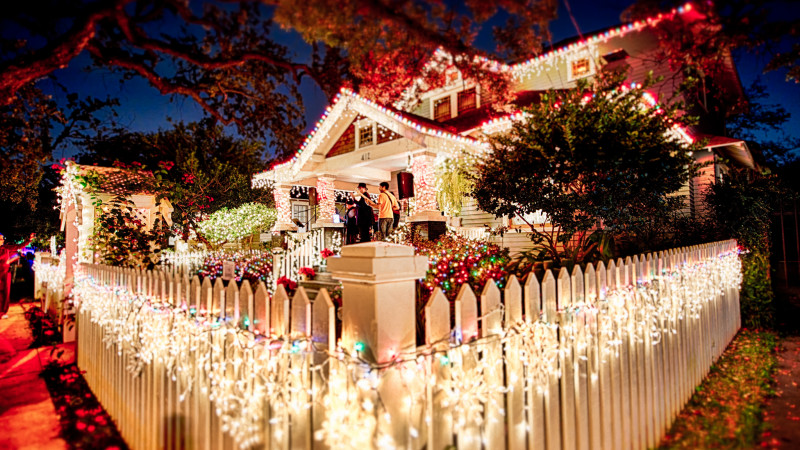 When: Mid-December
What to expect: The Woodland Heights neighborhood gets into the holiday spirit each year with a number of streets participating by decorating their homes in true holiday style. In fact, it's a neighborhood tradition—"Lights in the Heights" goes back more than 28 years. Starting in mid-December, sections of Euclid, Woodland, Highland and other surrounding streets pull out all the stops for holiday cheer; annual awards keep the decorators creative! It is well worth your time for a drive by or walk-through of the area.
Insider tip: Have dinner at Ruggles Green then head over to check out the lights.
---
River Oaks
When: December
What to expect: If you are looking for an easy way to check out some lights in the comfort of your car, take a drive around the inner loop neighborhood of River Oaks. Set your GPS for the River Oaks Country Club and admire all of the lights along the way. Expect to find many traditional displays with huge oak trees dripping in twinkle lights. We spend about 45 minutes driving around admiring the beautiful homes with their impressive decorations. You'll notice some people walking around and an increased police presence, so be sure to keep alert and drive slow.
Insider tip: We typically pack some hot chocolate in to-go cups for the kids, and crank up the holiday music for the best drive-thru experience.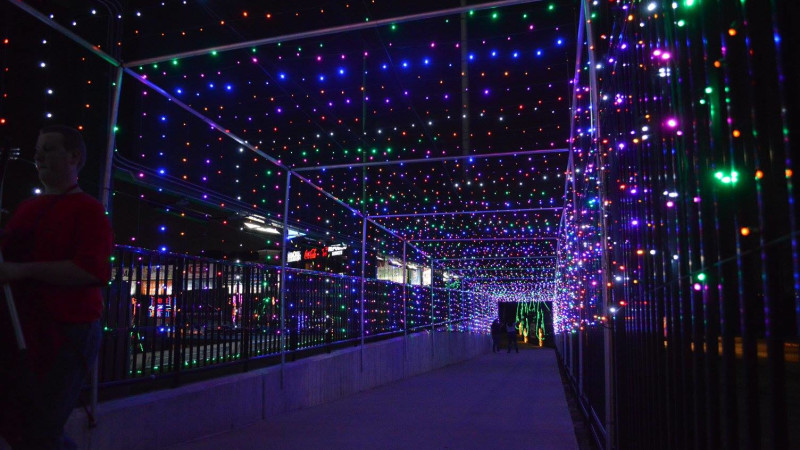 When: November 27 to January 3, 2017
What to expect: Constellation Field lights up during the holiday season with more than 2.5 million lights on display at Sugar Land Holiday Lights. This year, they are featuring all new themes and you can even catch Santa there (late November through December). Walk through eight different themed areas with your family, and be sure to snap tons of photos. Tickets are $14 for adults and $11 for kids under 12, seniors or military. Pictures with Santa will cost you extra!
Insider tip: The Sugar Land Holiday Lights event also features a variety of vendors and food. You can make a whole night of a visit there easily.
---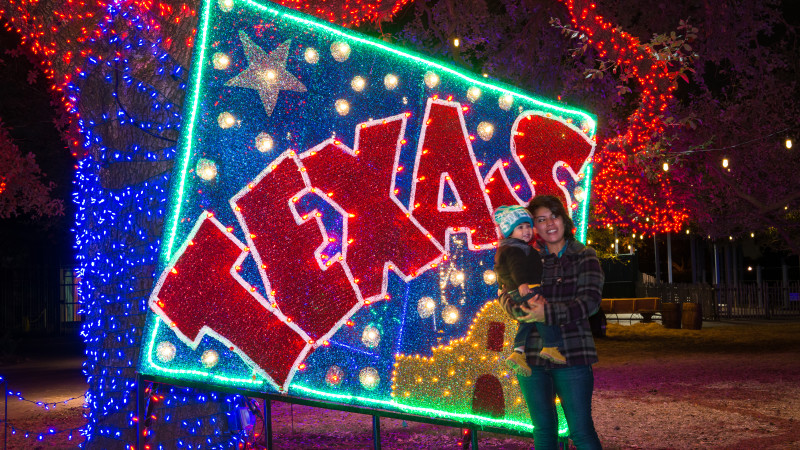 6200 Hermann Park Drive
Houston, TX
When: November 18 to January 15, 2017
What to expect: The zoo comes alive at night during the holidays, but not with animals. After closing, the zoo transforms into a magical light display with the trees and exhibits aglow. Last year's was bigger than ever with more than two million nights, and 2016 is shaping up to top it! While meandering through the zoo grounds, you'll also find model trains and "Holly Berry" the art car decked out, too. Don't miss carolers and musical groups at the reflection pool on your way out. Tickets run from $6.95 to $19.95 depending on if you are a member, and if you choose to go on a value night or prime night. Check the zoo website and calendar for exact pricing.
Insider tip: Even with purchasing tickets ahead of time, the lines can sometimes get long waiting to get in. If your kids can manage it, the zoo suggests arriving at 8pm instead of 6pm to avoid early crowds. If you want to beat the rush and are a zoo member, consider going on the Member Preview nights.
Photo credits: Stephanie Adams/Houston Zoo, Moody Gardens, John Chandler, Stephanie Adams/Houston Zoo
Originally published on Mommy Nearest