10 Reasons Why Every Mom Loves Costco
My appreciation for Costco began in college when I realized that I could get 50 rolls of high quality toilet paper for cheap. But I don't think I fully actualized the beauty of what Costco had to offer until I became a parent.
While Target gets a lot of much deserved love from the mom community, far more of my time and dollars are spent shopping at Costco. You can buy everything there. That is, unless you are looking for regular sized mayonnaise. For that you need to visit the grocery store. Sorry. No one eats that much mayonnaise. Even us.
Want to know why we moms love Costco? Let me count the ways.
---
Double carts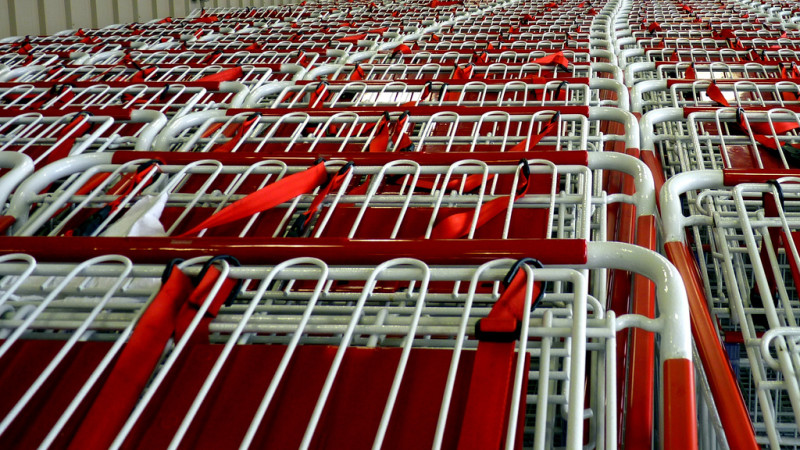 As a singleton mama, I liked Costco. But as a twin mom, I fell in love.  Double seating in a cart is a dream come true for shopping woes of parents with multiple small children. Sure, sometimes they hit each other, but having them both strapped in and not bouncing around the back of the cart is huge for a parent's sanity. Plus, from the double-seated vantage point, they both have equal opportunity to hug and paw at me.
---
Did someone say samples?
Who needs to feed your kid lunch? Just go to Costco and eat all of the samples. Our kids yell, "SAMPLE!" whenever they come within 15 feet of one of those sweet silver displays. I use them as bribes to keep the kids occupied while I shop, "Just tell me when you see another sample cart guys!" It is like a delicious scavenger hunt. They feel like they've hit the sample lottery when they get something that I won't buy them. I wish I had taken a picture the first time they tried PopTarts. Yes kids, there are many things I deprive you of. Enjoy your sample.
---
Organic (almost) everything
Over the past few years, Costco has upped its organic game. There are a number of fresh and frozen organic options for dairy, meat, veggies, fruit and more. I don't buy organic everything, but I like having the option. Discovering the huge bag of bite size organic veggies was life changing for our twins when we were trying different table foods. I didn't need to cut them and I could thaw out just the right amount for them to throw on the floor…err, I mean, try to eat. Now that they are older, I can put the frozen veggies in their bento boxes. They double as an ice pack and are pretty much melted by lunchtime. Win-Win.
---
Buying food In bulk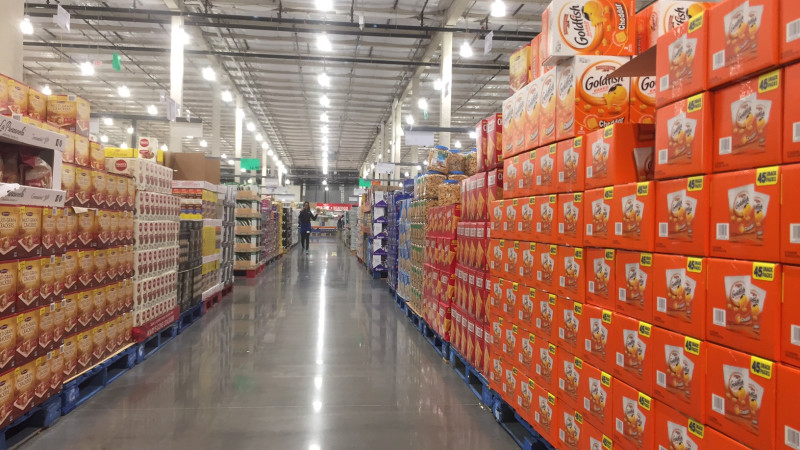 When we first got our membership, I was looking through the veggies section and thought to myself, "How can you even eat all of that before it goes bad!?" A few years and three kids later, it is safe to say we are singing a different tune. Who can eat an entire jumbo bag of organic broccoli in a week? Us. We can. And we do. We now have a second fridge in the garage where I can freeze meat and store up all of the extra milk, eggs and other odds and ends we seem to run out of mid-week. I am so spoiled by Costco's prices on berries, that I have a hard time buying them anywhere else.
---
Kirkland brand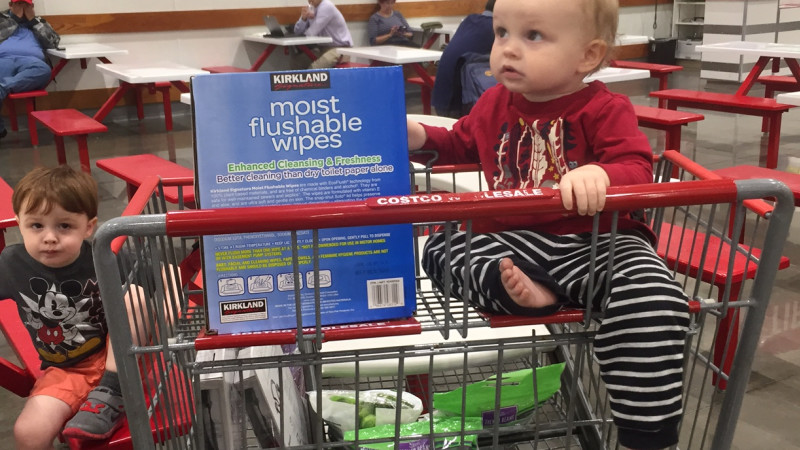 Costco has its own brand called Kirkland. The baby wipes are by far my favorite on the market, and even though we are out of the diaper stage (can I get a Hallelujah?) I keep these wipes around in the car, kitchen, bathroom…you name it. I trust the Kirkland brand with just about anything. And they do make everything and anything from food and luggage to clothes and wine.
I like big books
Guess what? Costco also sells a LOT of books. We have picked up the Bob Books series and a ton of early readers, not to mention huge coloring books and books for me that I am hopeful I will get a chance to read someday. Maybe when the kids move out.
---
Who needs to try on clothes?
Confession. I buy a lot of clothes at Costco and I even get compliments. Work out clothes, Carters brand kid clothes, special occasion dresses, jeans, shoes, swim suits, costumes—they actually sell it all. If you know me, this may also explain why I only seem to own three pairs of pants and two shirts. When I find something I like, I buy it in every color, and I know I'm not the only one. I spot many Costco signature items at school pick up. We all look good! Though there is no changing room. That's what the return line is for.
---
Holiday gifts
They always have a great selection of seasonal items, but Costco is a stellar place to shop during the holidays. They sell bundles of chocolates, hot cocoa, cookie tins and more. I buy a few and break up the sets. It's the perfect gift solution for neighbors, coworkers, teachers, etc. They also have a ton of great deals on electronics, kitchen items and even jewelry. Decorations are also always on point, and wrapping paper…let's just say I bought some many moons ago and I am still using it.
---
Hot dogs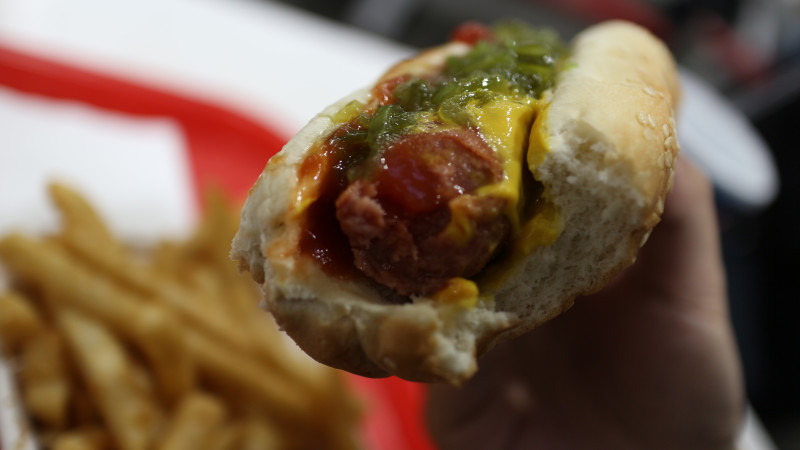 A friend recently posted on Facebook that "Costco must only charge $1.50 for hot dogs to make you feel better about the hundreds of dollars you just spent." I also noticed that because they open at 10am, I almost always finish my shopping at lunchtime. Clever move, Costco. I take that cart loaded up with all of the healthy options and saddle my kids up to the hot dog bar before we leave. It's about balance, you know.
---
Smiley faces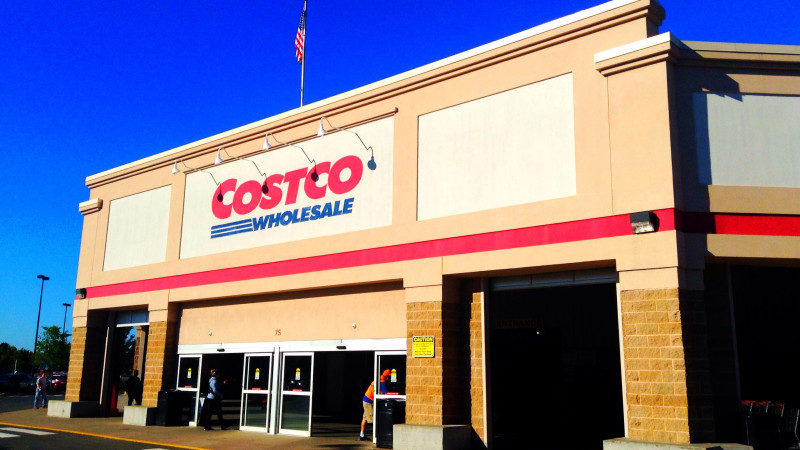 One of the highlights of our Costco trips is leaving. The kids take turns on who gets to hold the receipt and ask "smiley faces, please." It's their favorite. I think it is because all of the people we interact with always seem so pleasant and helpful. We are there often enough, I am pretty sure the kids feel like they own the place. If we keep up our shopping habits, we might actually have purchased the whole store by they time we send them to college. God bless the Executive Gold Star reward program!
Photo credits: Flickr/Thomas Hawk, Ann Fisher, Chrissy Pichot (2), Elsie Hui, Mike Mozart
Originally published on Mommy Nearest