A Parent's Guide to Navigating Moody Gardens With Kids
I'll admit, the first time I heard about Moody Gardens I was confused. Is it a zoo? Is it an amusement park? Is it a water park? Is it a hotel? I've come to learn that Moody Gardens is actually all of these things. We recently took an overnight trip to Moody Gardens to celebrate our kids birthdays Galveston Bay style. Here is a guide to what you can expect on a visit with your family.
---
Rainforest Pyramid
The Rainforest Pyramid is 10-story journey through the rainforests of the world, touching on Asia, Central and South America and African rainforests. Inside you will find more than 1,000 species of exotic plants and a whole host of birds and butterflies. It took us about an hour to walk through it at our leisure. We took our time descending through the different layers and checking out all of the wildlife. The birds and reptiles were impressive, but our kids were most blown away by the huge Amazon fish and rays at the bottom. There is also a playful giant river otter to see.
Tip: Keep an eye out for the two free roaming saki monkeys hiding in the foliage.
---
Aquarium Pyramid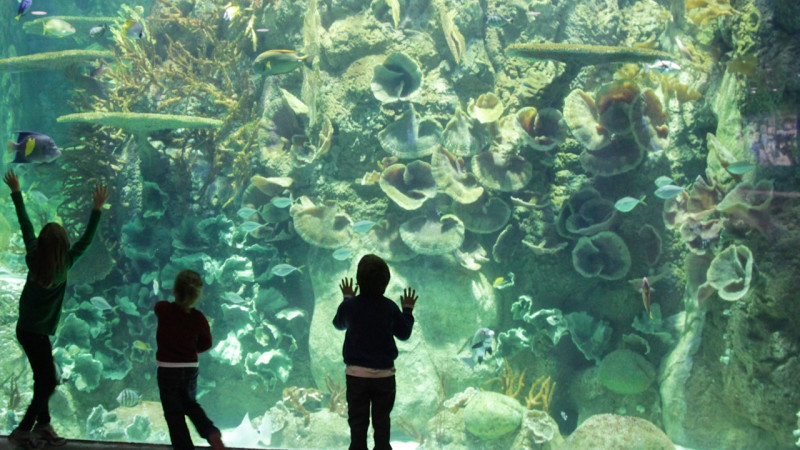 The Aquarium Pyramid is in the middle of a huge renovation. The grand reopening is set for May of 2017, and in the meantime they have a schedule of different "waves" of construction. If you attend during one of the open periods, you will still have access to the major attractions – penguins, seals and the large 1.5 million-gallon aquarium with turtles, sharks, stingrays and more. Even with limited access, we still enjoyed our time spent at the aquarium. We spent most of our time watching the three seals zoom around their enclosure. They had signage promoting the upcoming exhibits and we can't wait to come back and check it out once completed.
Tip: Moody Gardens is offering discounted tickets during the renovations. Be sure to check their calendar before your visit to make sure it is open.
---
Discovery Pyramid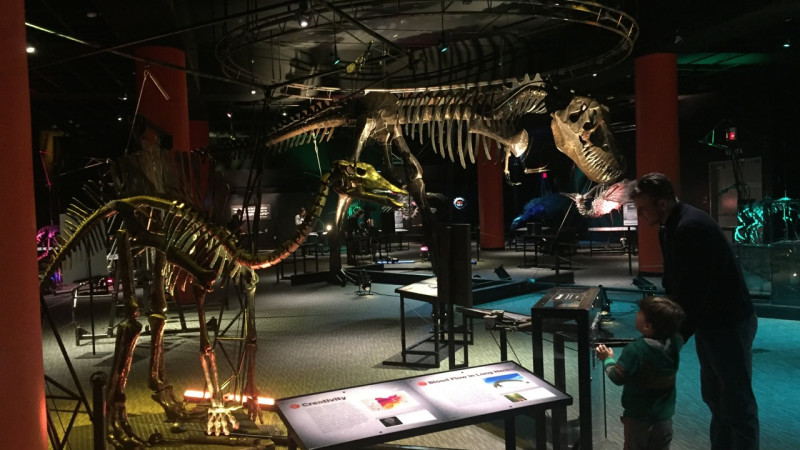 The Discovery Pyramid is devoted to traveling exhibits with an emphasis on science. Currently, there are two exhibits on display – "Dinosaurs In Motion" and SpongeBob Subpants Adventure. "Dinosaurs In Motion" features 14 life-size dinosaur sculptures made of recycled metal that you can operate like puppets with the use of controllers and levers. It was fun to move the gears and see these metal creatures come to life. My mechanically inclined husband particularly liked the science behind the creations and the opportunity to teach the kids some hands on tech. The SpongeBob Subpants Adventure is a 3D "ride" where you are taken on a tour of Bikini Bottom in a sub. You'll interact with Patrick and he speaks with the audience as you help fend off Plankton.
Tip: They ask for volunteers for the SpongeBob ride and our 7 year old was never more proud than to be selected as one of the "button pushers" for the journey. Shows are every half hour starting at 11:30am.
---
Theaters
There are two theaters at Moody Gardens. The 4D theater offers shorter films that have extra sensory experiences like wind, bubbles, water sprays, etc. They also have a traditional 3D theatershowing various educational and seasonal films like Secret Ocean, _Tiny Giants_, and Polar Express.
Tip: The 4D shows are short and can be squeezed in between pyramid visits if you just need a bit of time to sit and regroup. The 3D shows are much longer, so best to check their schedule and plan around it if there is something you really want to see.
---
Ropes course
We haven't personally tired the Sky Trail Ropes course yet, but it looks like a blast. Older kids will love being able to boast that they tackled the tallest steel ropes course on the Gulf Cost. It stands 5-stories tall with five different tiers offering 48 obstacles that get more difficult with each level. For the under 48 inches set, there is a smaller course with nine obstacles on one level and parents can walk along with small ones here. The zip line is extra and soars over Palm Beach and the Moody Garden Lazy River.
Tip: Expect to spend 45 minutes on the whole ropes course.
Colonel paddlewheel boat
The Colonel paddlewheel boat is a 1800s replica paddlewheel boat, taking guests on a hour long tour of Galveston Bay. With a capacity of 650, it is one of the largest paddlewheel boats in the area and has indoor and outdoor spaces.
Tip: They offer dinner cruises if you want to try something a bit off beat!
---
Seasonal highlights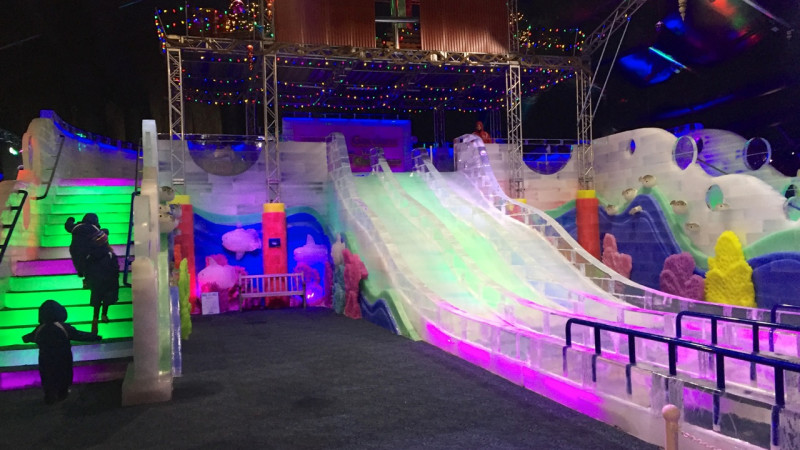 In the winter, Moody Gardens puts on the Festival of Lights, a mile long trail around the property featuring views of Galveston Bay and 1 million lights. There is also an ice skating rink! Our favorite seasonal event is Ice Land. Inspired by the Harbin Ice Festival in China, Moody Gardens hires the world renowned CAA Harbin Ruijing Carving Team to sculpt 2 million pound of ice into a wonderland of colors and sights. The best part is a huge ice slide that the kids (and adults) rode over and over again. In the summer, you can visit Palm Beach, which is essentially a small water park complete with a lazy river, wave pool, slides, and a splash pad.
Tip: Ice Land is COLD! Nine degrees to be exact. They give out parkas, however it is best to bring your own hats, gloves, scarves and jackets to layer up. Texas children don't last long in this cold!
---
Hotel perks
Most of Moody Gardens can be covered in a day trip from Houston, but if you wanted to spread out your visit or stay late to cover some of the seasonal events like the Festival of Lights, a hotel stay is a good option. The best part is they often offer ticket packages with hotel stays. This year, we took advantage of one of their seasonal packages. We booked a room and got 4 two-day passes to all of the attractions, including Ice Land. The kids were also given small stuffed animals and stockings were delivered to our room while we were out enjoying the Festival of Lights.
---
Tickets
Most items can be bought individually, but you are going to get the most bang for your buck by purchasing day passes that get you into just about everything. Day passes are $76.95 a person. Special attractions like Ice Land may be extra, so be sure to call and see if they have any specials going on. If you think you will visit more than once a year, consider getting a membership. Family memberships are $380 for unlimited admission for up to 5 people. They also offer seasonal memberships if you are interested in things like Palm Beach. Children 3 and under are free.
Photo credit: Galveston.com and Amanda Sorena
Originally Published on Mommy Nearest