How to Celebrate Super Bowl 51 In Houston With Kids
Houston, are you ready for some football? I sure hope so, because nearly 1 million visitors are about to descend on our fair city to celebrate Super Bowl LI on February 5. Even if you don't have tickets to the Big Game, your family can still get their football fix at these events happening across Houston.
---
Photo Opps With Super Bowl Clocks
Where: NRG Stadium, Bush International Airport, Hobby Airport and Discovery Green
When: Now
The Houston Super Bowl Host Committee commissioned four countdown clocks across the city. The clocks stand at 15 feet tall with a huge football and a scrolling digital display counting down the days till Super Bowl LI. These clocks add to the city's anticipation, and also make fantastic photo opps to remember the occasion by! The easiest public one to get to is at Discovery Green and is located on the Brown Promenade near Jones Lawn. However, if you want to seek out the others, you can find the NRG Stadium clock at Amegy Bank gate on the southwest corner of the arena. The Hobby Airport clock is located in the central concourse ticketing lobby near the TSA. If you are at Bush International Airport, you can find the clock located on the median of John F. Kennedy Boulevard, just south of Rankin Road.
---
Discovery Green1500 McKinney Street
Houston, TX
Where: Discovery Green
When: January 27-February 5
Discovery Green is the place to be for pre-Super Bowl entertainment. Beginning January 27, the downtown park hosts a free, 10-day festival called Super Bowl LIVE to get locals and visitors amped about gameday. The festival will be family-friendly and features music from local bands, food and games. ICE will still be open to the public, too, weather permitting. Some of the announced performers include big names like ZZ Top, Gary Clark Jr., The Suffers and Solange!
---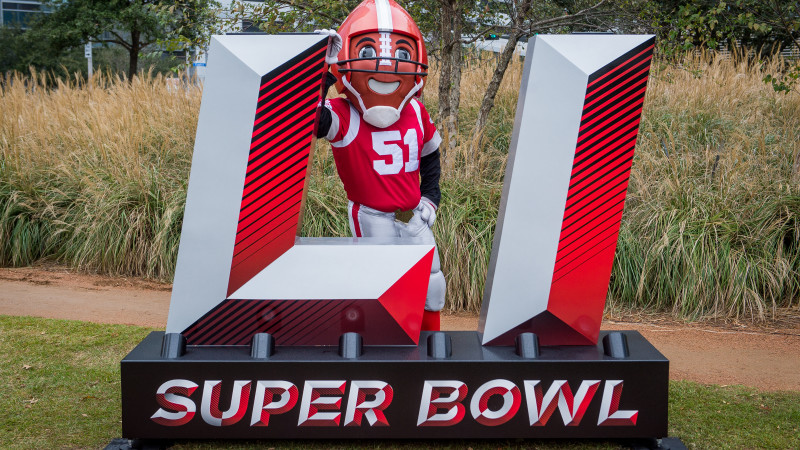 ---
Where: George Brown Convention Center
When: January 28-29 and February 1-5
The NFL Experience is billed as a "theme park" for football fans of all ages. You'll find youth football clinics, virtual reality experiences and autographs opportunities with current and former NFL players. You can visit the Hall of Fame memorabilia on display and participate in football challenges like kicking a field goal. This is also where the biggest fans can find limited edition Super Bowl LI merchandise. Tickets are $25 for kids under 12 and $35 for adults. Tickets are issued with a particular day/entry time and can be purchased on Ticketmaster; you can find a full schedule of events here.
Where: Minute Maid Park
When: January 30 at 5:30pm
Super Bowl Opening Night is the kick off to the Super Bowl week, and the scene of the first media interviews for the players and coaches. The event will feature live music, autographs from NFL Legends, cheerleaders, mascots and a Red Carpet photo opportunity. You'll sit in the stands and personally watch the interviews and introductions of the Big Game players. Tickets start at $20 and can be purchased through Ticketmaster.
---
1500 Binz Street
Houston, TX
Where: Children's Museum of Houston
When: February 4 beginning at 10am
Get your game face on and visit the Children's Museum of Houston on February 4 for some friendly competition. The museum has organized a number of minute-to-win-it games and football-themed crafts and activities. There will be a Mascot Challenge with CMH mascots facing off in a "speed challenge." Immediately following the mascot event, the Houston Energy female football dance team will perform. All the events are included with general admission price ($12) and free to members.
---
Where: Medical Center Entrance at Houston Zoo
When: January 21, 9am to 1pm
The Houston Zoo has partnered with the NFL, the Houston Super Bowl Host Committee, Verizon  and SHI for a recycling rally. Bring your small electronics to the zoo for proper recycling. Laptops, desktops, TVs, printers, cameras…you name it! The full list is here. Remember, when you recycle these items you are helping save animals in the wild. While you are at the zoo, don't forget to head over to the Children's Zoo and visit the Texans Enrichment Zone. Check the daily schedule to see if any training camps are happening during your visit.
---
Find The Four Super Bowl Murals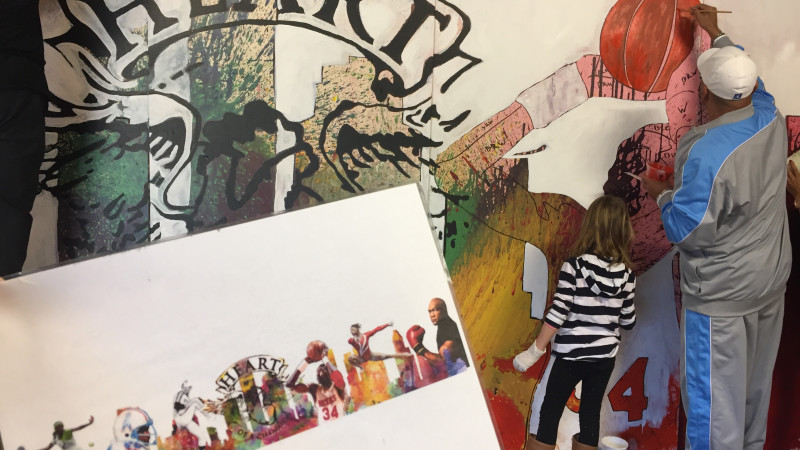 Where: Cuney Homes Apartments, The Breakfast Klub,  Beulah Shepard Library, Capitol Tower
When: Now & Before Super Bowl
Houston artist Reginald C. Adams was selected by the Houston Super Bowl Host Committee to paint four community murals prior to Super Bowl 51. The first mural has already been installed at the Cuney Homes Apartments in the Third Ward. More than 50 kids from the homes helped work on the piece, which features themes of empowerment. The second mural will be installed at the popular Midtown restaurant, The Breakfast Klub, and will replace the current Jesse Owens mural. Our family attended one of Reginald's open houses at his studio and helped paint this mural. It portrays some of Houston's most famous homegrown athletes who have a "Heart of a Champion." The last two pieces will be painted directly on Beulah Shepard Library in Acres Homes and the Capitol Tower in downtown Houston and will be completed before the Super Bowl. Over 100 kid and adult volunteers from across the city will have participated in the creation of this new public art! The vision for these mural projects came from Houston City Councilmember Amanda Edwards.
Photo credit: Visit Houston, Amanda Sorena
Originally Published on Mommy Nearest