10 Playgrounds Every Houston Kid Should Visit
Houston has some pretty fantastic parks, and for good reason—something has to break up all of that concrete! Our fair (if smoggy) city has made green space a priority in the past few years, and we rank highly in terms total acreage of parkland per resident. Our family has put in countless hours visiting playgrounds across the city, so I consider us pretty close to experts. Here are 10 of the best to get you started on your Houston playground journey!
---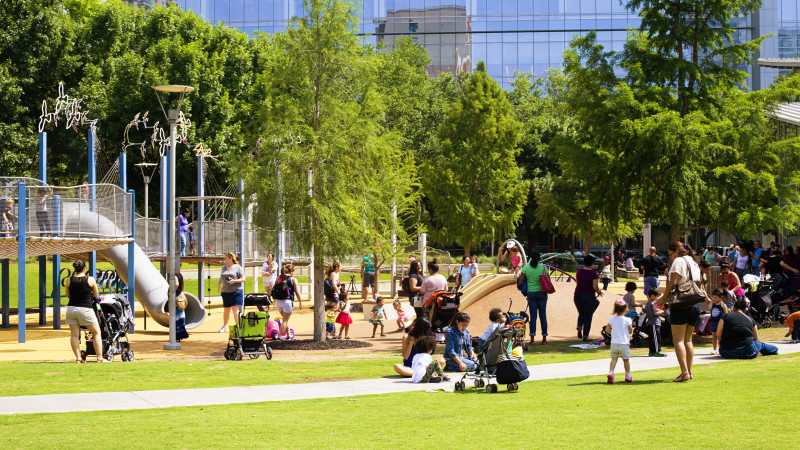 Katya Horner
Discovery Green1500 McKinney Street
Houston, TXWhenever we are at Discovery Green, kids can't get enough of the John P. McGovern playground. They have some features not found at many other parks including a small-rubberized hill with a slide, a net for jumping and plenty of ropes to climb. We also appreciate its proximity to the Discovery Green splash pad and the easy access to restrooms.
Insider tip: There are no swings at this park and be advised that it is not fenced in. On really busy days, it can be hard to keep an eye on multiple kids.
---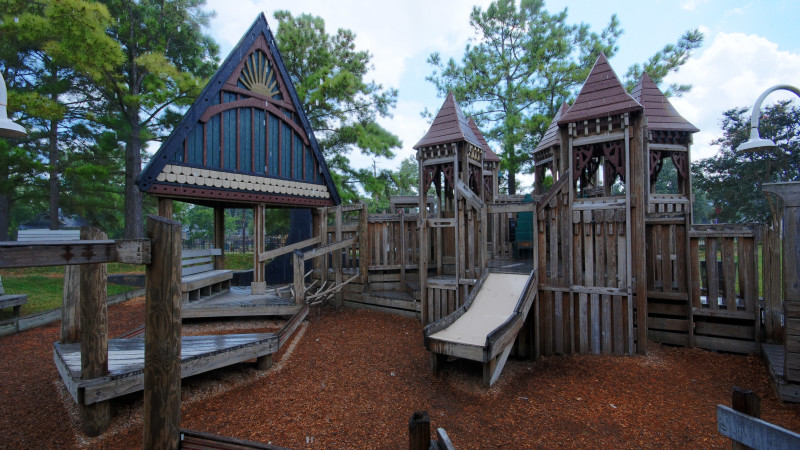 Flickr/Tiffany
Donovan Park700 Heights Boulevard
Houston, TXDonovan Park in the Heights is special because it's completely wooden; kids love to pretend it is a castle or a fort. One of the park's most popular attractions is the wooden train on site. There are a number of different play areas that can keep the little ones busy for hours. The only draw back is there is no restroom here, so plan accordingly.
Insider tip: On a hot day, you can call Fat Cat Creamery and have ice cream delivered to the park.
---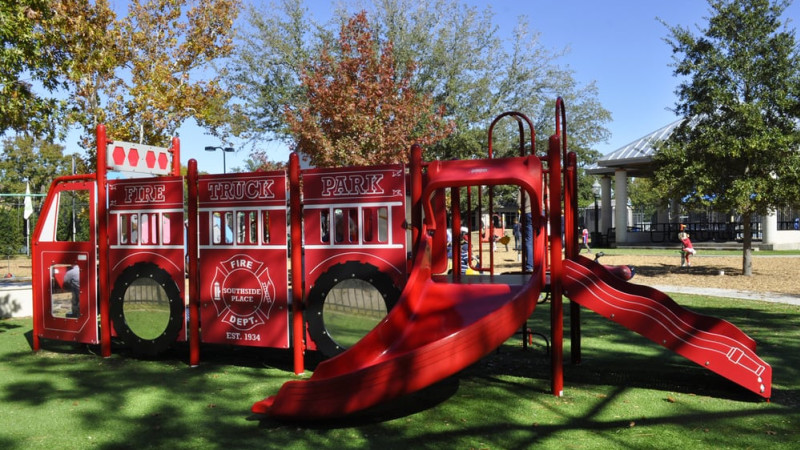 City of Southside
Fire Truck Park3743 Garnet St
Houston, TXFire Truck Park in Southside is one of our family's favorites. I love it because it's fenced in, and the kids love the variety of play areas. There is a large climbing structure with different slides for "racing" as well as a hill with a small slide for toddlers. And there's nothing quite like getting to play on bright red pretend fire truck. Older children will enjoy the rock climbing formation and the huge spinning tire that you can push. This is a great park if you've got kids of varying ages!
Insder tip: Fire Truck Park also has a picnic area that you can rent out for parties.
---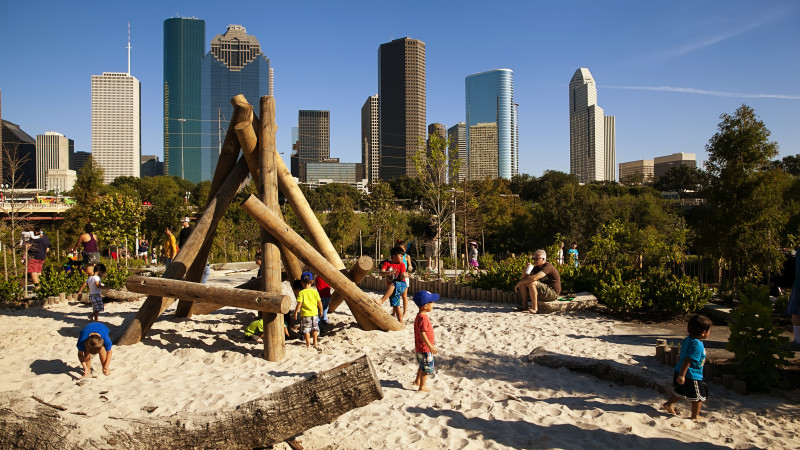 Katya Horner
Buffalo Bayou Park1800 Allen Pkwy
Houston, TXYou won't find plastic slides at the Barbara Fish Daniel Nature Play Area in Buffalo Bayou Park. This spot really shines because of its natural features. Play in sand, on ropes, and logs at this au natural playground where the whole atmosphere encourages open-ended nature play. And if your children are of roller skating or biking age, it is fun to take your wheels and explore the trails around the park too. No better way to wear the kids out!
Insider tip: Despite its downtown location, there's a lot nearby with tons of free parking.
---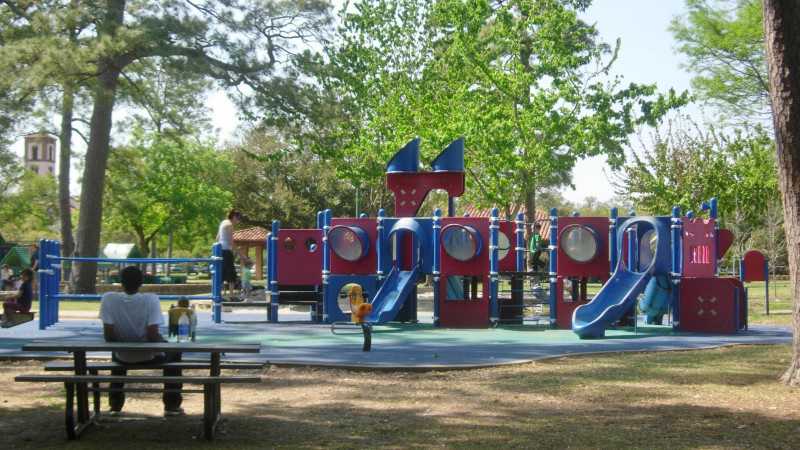 Hermann Park Conservancy
Hermann Park6001 Fannin Street
Houston, TXWe all know that Hermann Park is packed with activities of all kinds, but the Buddy Carruth Playground for All Children is often overlooked. It consists of three different play areas and a splash pad, all on a rubber surface. The various play areas cater to a wide range of ages, which makes it fun for the entire family. The playground is a stop on the Hermann Park Train route, too. If you want to extend the experience of riding the train, start off at Kinder Station, get off at the playground and play for a bit before catching the train back.
Insider tip: The one drawback here is that the playground is not enclosed and quite large. If you are solo with multiple kids, it can be a challenge to keep track of them all!
---
Friends of River Oaks Park
River Oaks Park3600 Locke Ln
Houston, TXWho doesn't want to play in a carriage like Cinderella? Pumpkin Park in River Oaks is a fairy-tale inspired blast. In addition to the sweet carriage, this park has ample benches, picnic tables and play structures. I love that it's fenced in, and that they have a number of swings for high-flying kids. There is a lot of shade and different structures to span different ages. Bathrooms are located next-door too, which is a huge plus.
Insider tip: No stop at Pumpkin Park is complete without visiting the Wishing Trees right next-door. You can write a wish on the cards provided and tie them to the trees. It is also fun to read all of the different wishes from kids and adults alike.
---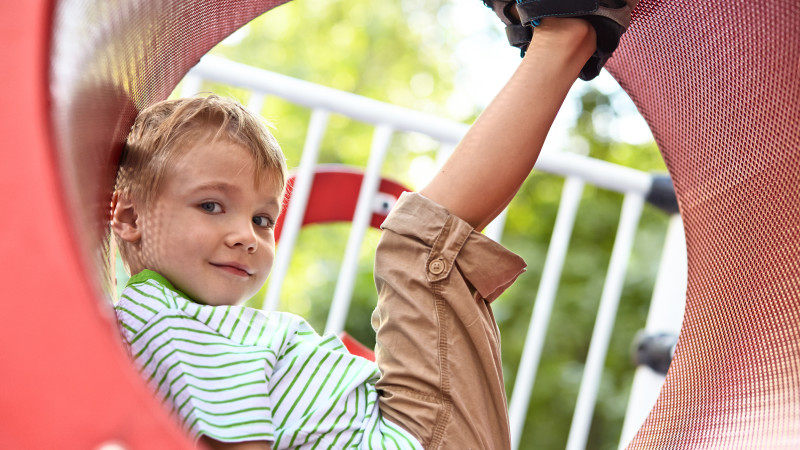 Fotolia/azurita
Nature Discovery Center7112 Newcastle St
Bellaire, TXRuss Pitman Park is more than a playground; it is a 4-acre natural enclave located right next to the Nature Discovery Center in Bellaire. We like to explore the Nature Discovery Center first before ending up at the playground. Our kids' favorite part is the huge sand pit. You'll also find drums, crawling tubes and a rock wall. With all of the nearby plants and trees, it almost feels like you're at a playground in the woods rather than the middle of the city.
Insder tip: Russ Pitman Park is a two for one deal—there is another park directly across the street! If your kids get bored of playing at Russ Pitman, walk them over to Evergreen Playground. There is also an owl Mini Mural on the corner, which is a fun photo opp.
---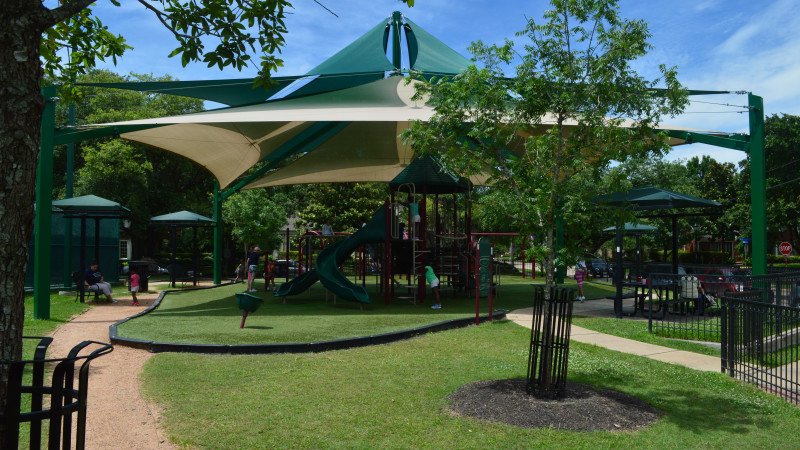 West University
Wier Park3012 Nottingham St
West University Place, TXWier Park was our go to spot in West U when my twins were toddlers. We loved it for the astroturf, which is key when kids are at a crawling and pulling up stage. There are two distinct areas in this fenced in park—one for older kids and a smaller structure for the littles. When the twins were small, I could play with them in the toddler area and still keep an eye on my oldest who would play in the larger structure.
Insider tip: There is a lot of good shade and a few benches here. We often bring food to do a picnic, too.
---
Vale-Asche Foundation Playground at Memorial Park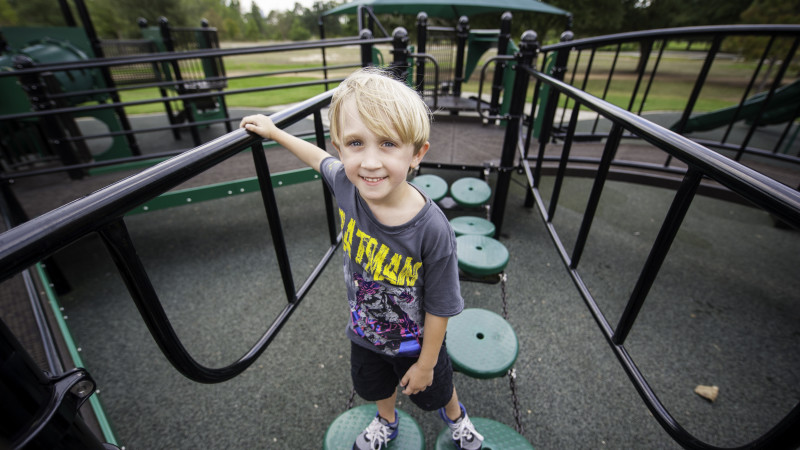 Memorial Park Conservancy
Memorial Park Conservancy7575 N Picnic Ln
Houston, TXWe first discovered this playground when I was a new mom and taking advantage of the walking trails in Memorial Park. Now that the kids are all old enough to enjoy it, we are making the most of this playground. The Vale-Asche Foundation Playground was Houston's first playground designed with special needs children in mind. While it works for children of all abilities, it has specially designed aspects for sight and hearing impaired children. Our kids love the rolling slide, the rocking table and the balance elements. I like the rubberized surface and all of the tunnels and slides.
Insider tip: Memorial Park often has some great patches of Blue Bonnets in the spring. I can bribe the kids with a park visit after we snap a few photos.
---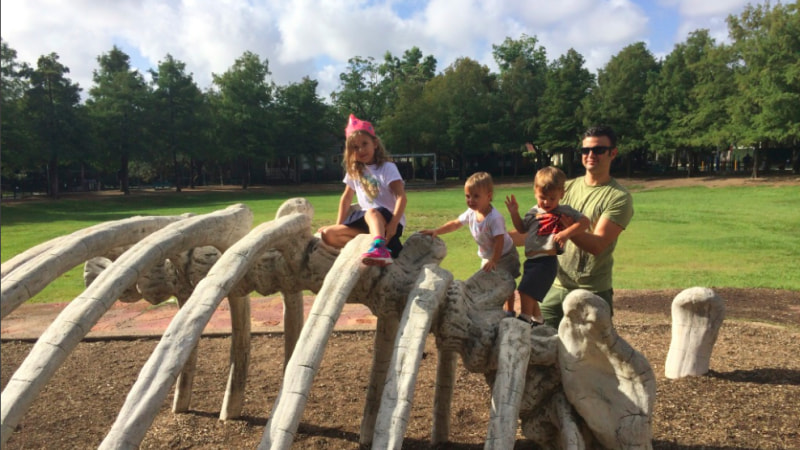 Amanda Sorena
Travis Spark Park3311 Beauchamp Street
Houston, TXTravis Spark Park is the place to take your dino-loving kids. This park was designed by kids themselves and features some triceratops bones that you can climb all over. They also have a legit rock wall, sand pit and fun spinning chairs. It's the perfect place to wear kids out on the weekend.
Insider tip: This park is part of an elementary school, so it is best to visit on weekends and school holidays.
Originally published on Mommy Nearest