11 Things Every Parent Needs to Know Before the Houston Rodeo
It didn't take me long after moving here to realize how awesome the Houston Livestock Show & Rodeo truly is. Nearly 2 million people visit the rodeo during its three-week residency. We started off slow, taking our infant to the Livestock Show just to see the animals, and we have gradually upped our attendance each year so that we're able to check out various elements of the rodeo. As the kids get older, we find new aspects to enjoy. Last year alone we visited six times for the BBQ Competition, concerts and field trips. This year, we already have tickets to three concerts, and I'm sure that is just the start of our rodeo adventures.
Lucky for rodeo newbies, I've racked up a few tidbits and tricks to help make either your first visit (or just your first visit with kids) a bit smoother.
---
Pre-sale discounts & season passes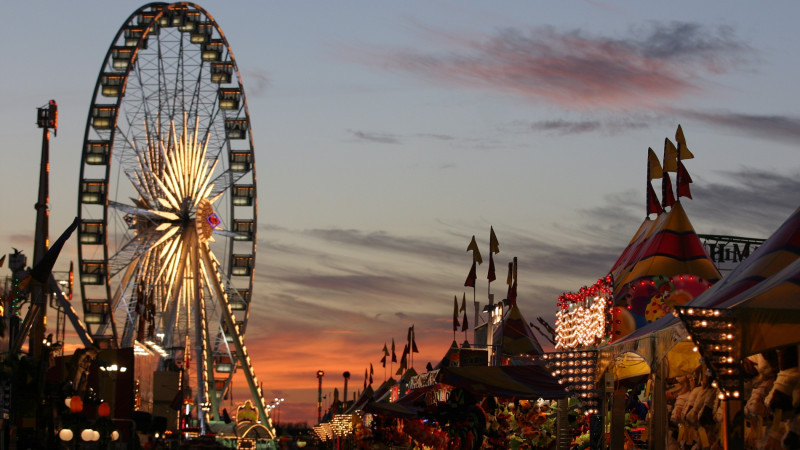 Visit Houston
Between now and Saturday, March 4, 2017 you can buy half-price carnival packs and carnival food cards online. If your kids are tall enough (36 inches) to ride the rides, this is the way to go. Most of the kid rides cost about 6 tickets, but there are a few that are 4 tickets, multiply that by two or three kids and it can add up quick. The pre-sale carnival packs save a ton of money on the games, and if you have extra tickets left over, you can always sell them for face value on one of the local trading sites. Your concert ticket works as admission into all of the rodeo events, but if you plan to visit many times without going to the concerts, a $25 season pass might be a good fit for you. Otherwise, expect to pay $10 per adult for general admission and $5 for kids.
---
Get there early & avoid spring break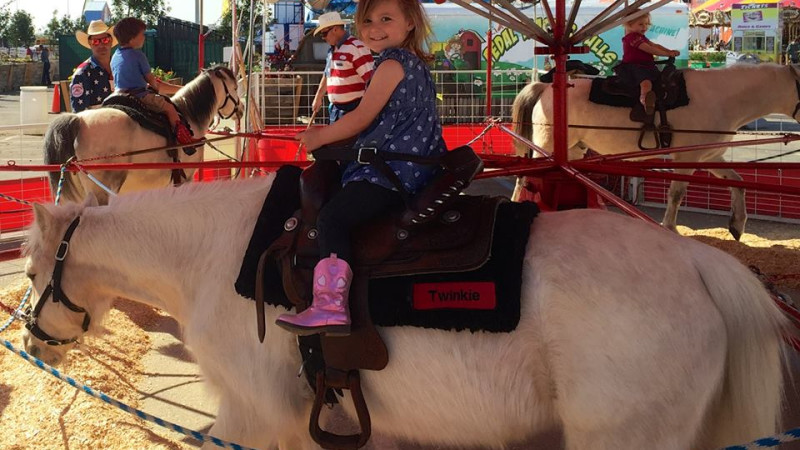 Amanda Sorena
The biggest tip to success that I can give you is to get there early. We try to arrive right when things open. The key is to get there before all of the school field trips funnel in. The gates open at 8am, The Junction (formally Kid Country) opens at 9am and the Fun on the Farm area opens at 10am. The carnival is also closed first thing in the morning, so the kids aren't asking for it. We've been lucky enough to have the petting zoo and many of the AGVENTURE activities all to ourselves bright-and-early. If you can avoid Spring Break (March 13-17), I highly recommend that, too.
---
For the brave—try Mutton Bustin'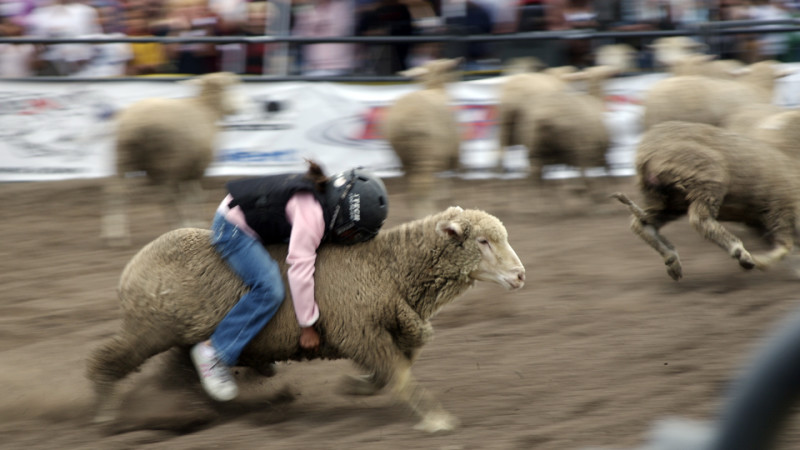 Flickr/Todd Gehman
There is nothing quite like seeing a small child hanging on to a sheep for dear life all in hopes to win a belt buckle. That's mutton bustin' for you! The first time I saw it, I was confused and shocked, but now our daughter has participated and earned her first ribbon. I guess you could say Texas has changed me.
If your child is between the ages of 5-6 years old and weighs less than 55 pounds, then they can try this kooky sport. Registration for 2017 is already closed, so if you like what you see this year, don't forget to register early next year!
You can still participate in mutton bustin' in the outside the big arena at The Junction. You have to sign up the day-of, in person and it will cost you $15 per rider with the option to buy a DVD. They will weigh your kid, so be sure they are under the limit. They need to be wearing pants and closed toe shoes to ride. Each kid is given a protective vest and a helmet with a mask for safety, and you will sign one heck of a wavier. The line for sign ups can get LONG and they sometimes book up a full day, so get there early for a time slot. You can always sign up for a time slot and come back later for your ride. Even if your children are not in the right age range, this event is always fun to watch. Kids on sheep never gets old.
---
Yes, you can (and should) bring your strollers
Strollers are allowed at the rodeo and are very necessary as there is a lot of walking. If you do plan to attend the concert, there are stroller checks inside the stadium. Or if you get a nice attendant, they may let you watch from the handicap area of your section with the stroller.
---
Don't skip afternoon concerts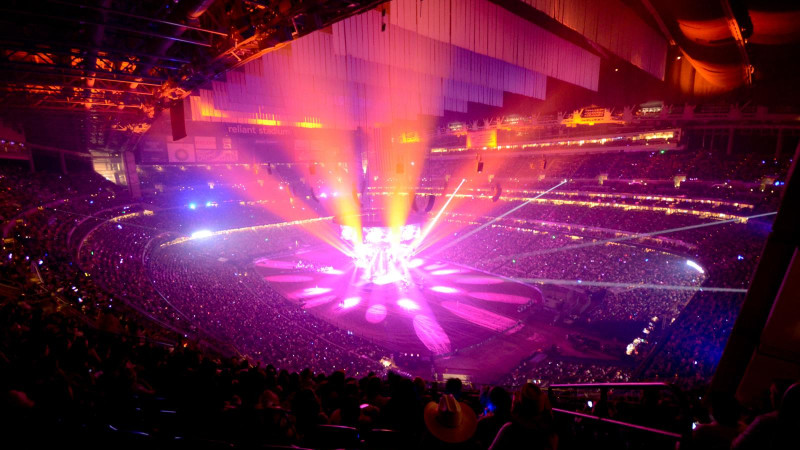 Flickr/Texas.713
Our oldest daughter's first concert was at the rodeo and it was a blast. Weeknight concerts don't start until late after the rodeo portion is over and often don't let out till after 10:30pm. Weekends, on the other hand, start at 3:45pm and let out closer to 8pm, which was a better fit for our elementary schooler. Plus, with the cheap seats starting around $18, it is a pretty low risk first concert if we need to leave. They also insure that all of the rodeo artists adhere to family guidelines, so think radio clean versions of all of the songs. We spent the whole afternoon enjoying various rodeo attractions before taking our seats to see the real life cowgirls and cowboys do their thing before the concert. Be advised, it can be really loud in the arena and all of the dust and fireworks can irritate allergies, so plan accordingly.
---
The food situation
Flickr/Texas.713
There is a ton of food for sale all over the rodeo, but if you want to save some money or have picky eaters, you can bring your own food and drinks onto the grounds. The only place you can't take your own food is into the stadium itself.
Ride the MetroRAIL or Park and Ride bus
I wish I could say I was proficient at riding the MetroRAIL, but alas I cannot. The one time our family makes an exception is for the rodeo. The Red Line Stadium Park/Astrodome stop literally places you at the entrance gate. If you plan to arrive right at opening at 8am, you can even pay the commuter parking fee before hoping on the train. From there, tickets are only $1.25 each way and kids under age five ride free.
There are also a number of Park & Ride locations where you take a bus over to NRG. These all tend to run in the evenings and help with traffic for concerts. Prices vary between the routes, but expect to pay $5-$10 per person. If you want to drive, there are also a number of parking lots located on the other side of 610, but expect to pay $20-$30 for those.
---
Take advantage of Value Wednesdays
Another way to save money during rodeo season is to attend on Value Wednesdays. Adults are $5 for admission (instead of $10), kids are free (instead of $5) and children under 2 are always free. Concert tickets are also cheaper starting at just $10. These days can be busier, but again if you go early it's a great deal.
---
Buy your gear elsewhere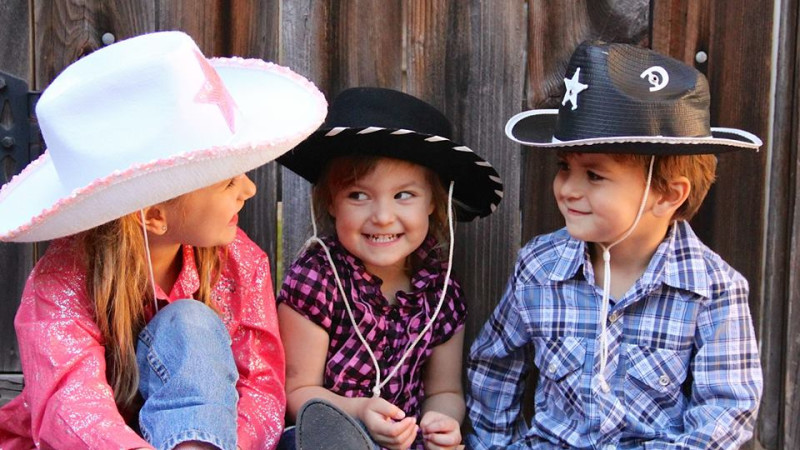 Amanda Sorena
You'll find every kind of rodeo gear imaginable for sale at NRG. To avoid a lot of on-site begging, we try and outfit our kids ahead of time. The trading sites are good places to score boots and the sturdiest kid cowboy hat we own cost me $10 on Amazon. Those kids can't talk me into buying a new hat if they are already wearing one.
---
Have a date night at the rodeo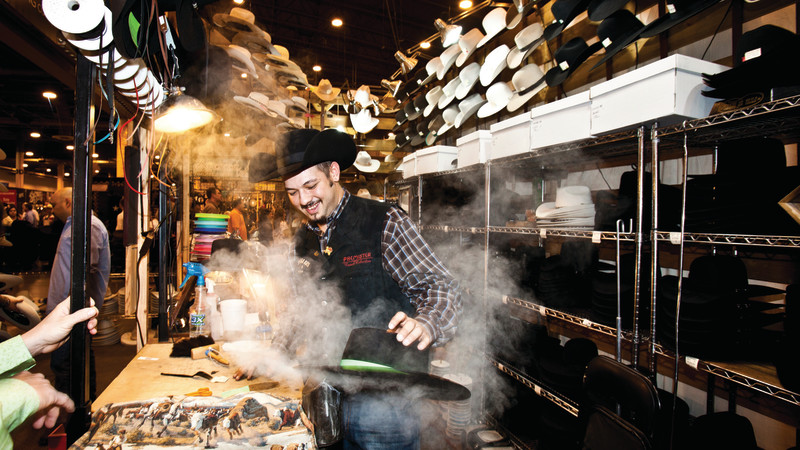 Visit Houston/Julie Soefer
The rodeo isn't just for kids! We have spent a lot of great date nights there. We have been lucky enough to be invited a few times to join tents at the BBQ Competition, which is an invite-only event. If you ever get asked to go, say yes! While you can attend the cook-off with a ticket, you can't go inside any of the competition tents without a pass from the tent sponsors. Each tent is different, but they will all have great food, beverages and dancing. Once the BBQ Competition is over, then the real rodeo starts. You can't go wrong visiting the Wine Garden, which has live entertainment, The Hideout for dancing or just attending the rodeo and concerts themselves sans kids.
---
There's an app for that
One last valuable tip: download the Rodeo Houston app. You can use it to buy tickets, look up the daily schedule, get parking info, find locations for meet & greets and more. They even have some fun camera filters and ways to share your experiences on social media. Plus let's be real—it's way easier to deal with your ever-present phone than a paper map.
2017 is already shaping up to be another great rodeo year, and we can't wait!
Main image: Amanda Sorena