The Best Dance Studios for Kids (and Parents!) in Houston
When I found out we were having a daughter, I couldn't wait to enroll her in dance. There is something about toddlers in tutus that is undeniably cute. Photo moments aside, early childhood dance and movement classes have been shown to benefit children's physical development, emotional maturity, social awareness and cognitive development. Not to mention it can help teach your kid left from right. Our oldest has been dancing for four years now and this year we started our four-year-old twins in ballet and tap classes. Even if they don't stick with it for life, I feel good about the foundation their dance classes are providing for any future physical activities.
Looking for a home for your tiny dancer? I polled some Houston parents to get a round up of the best mom-approved dance studios in the city.
---
Banbury School of Dance10605 Braewick Dr
Houston, TXBanbury School of Dance is a SW Houston staple. It's not uncommon to meet parents who danced at the studio when they were children! In fact, they have a few students that are third generation Banbury dancers. The Children's Director teaches classes with the help of a teen assistant, and each class includes group movements and one-on-one time. The youngest dancers will learn basic classroom manners, how to take turns and pair their movement with music.
Ages: 2 years through adult
Cost: Classes are charged monthly with an average cost of $55 for enrollment in a once a week class. They do offer sibling discounts and a discount if you pay for an entire semester up front.
Types of classes: Children's classes consist of ballet/tap combos and upper levels include ballet/jazz. Classes are all more heavily weighted towards ballet. They also offer teen and adult classes for people with little to no experience.
Summer camps: Banbury offers a 4-day dance camp each summer for children ages five and up. The camps cover ballet, jazz, modern and musical theater styles and end with a show performance. Past themes have included Cats, Frozen, Wizard of Oz, Annie, Willy Wonka and the Chocolate Factory and Alice in Wonderland. Lunches and snacks are included, as is some art activities.
What makes them different: There is a real neighborhood and family feel to Banbury. The director opened the studio in 1970 and is still teaching classes! Even the office manager is a former pupil. Once you join the Banbury family, you tend to stick around.
---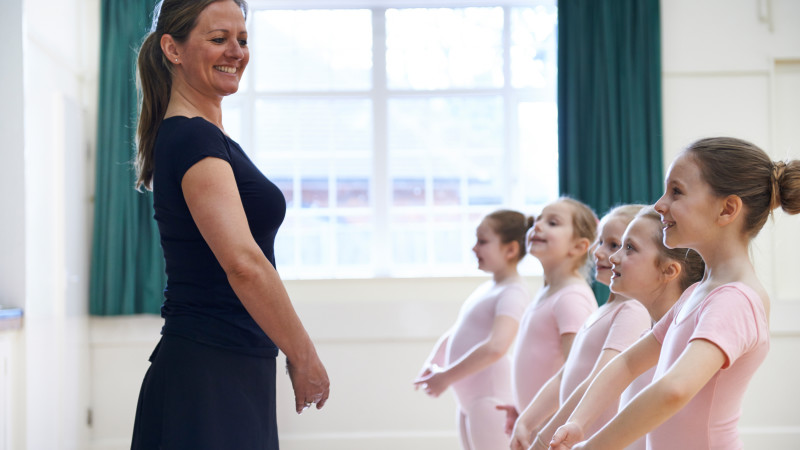 Fotolia/highwaystarz
Claire School of Dance1245 Heights Blvd
Houston, TXClaire School of Dance uses the American Ballet Theatre National Training Curriculum to help dancers develop proper technique while also nurturing a love of dance. The teachers here are highly accomplished and have performed at Houston Ballet, Ballet West, Hubbard Street, Dominic Walsh Dance Theater, Alley Theatre and Diverseworks. Students have been accepted into the Alvin Ailey Summer Intensive, the ABT Summer Intensive and HSPVA.
Ages: 2.5 years old and up.
Cost: Monthly tuition is based on the number of classes you take during the week, but expect to pay between $60-$90 a month for 30 minute or 1 hour classes.
Types of classes: They offer creative movement for younger students and ballet, jazz, and tap for older students.
Summer camps: There is a mix of dance and non-dance camps offered weekly throughout June and July. Check their website for themes (like Frozen, Ooh la la Paris and Moana camps!) and schedules.
What makes them different: Claire School of Dance prides itself on small classes with a focus on individual children.
---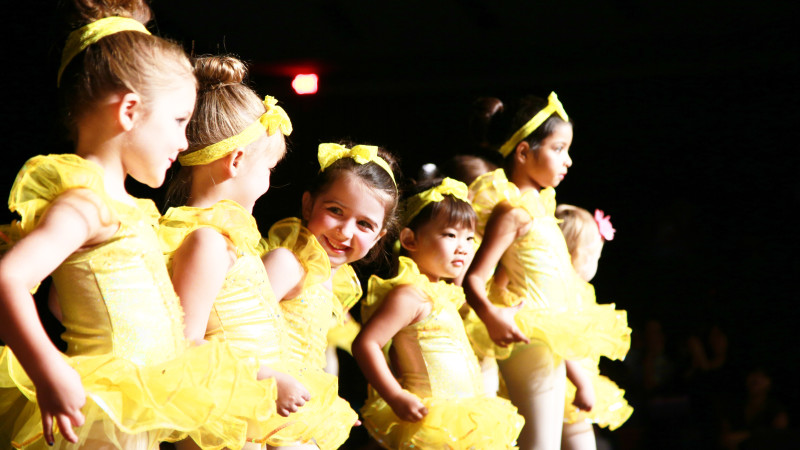 Energy Dance Houston
Energy Dance Center1322 S Dairy Ashford Rd
Houston, TXEnergy Dance Center strives to be a bit more than a regular studio. They have a number of the traditional dance offerings along with tumbling for toddlers, as well as mini and junior cheer classes. The creative director wants Energy to be a place where dancers can build character, confidence and strength from their program. For kids, the preschool combo class (ballet & tap) is a favorite and adults love the Dance Bod class (barre fitness mixed with a core workout).
Ages: Tumbling classes start at age 2, and go up to their famous "Immature Adult Ballet" class.
Cost: Tuition is paid monthly and based on the number of classes you take. For youth classes, expect to pay $68 a month for one class. They have sibling discounts and drop in rates too!
Types of classes: You'll find ballet, tap, jazz, tumbling, cheerdance, Pilates and Barre fitness. All of their classes have a firm foundation in ballet.
Summer camps: The studio offers camps over both spring and winter break as well as several offerings in the summer. Each camp has aspects of sports, crafts, academics and, of course, dance!
What makes them different: Whether you're attending with your little one or coming as an adult, Energy Dance Studio creates a friendly welcoming atmosphere.
---
Houston Academy of Dance and West University Dance Center
Houston Academy of Dance14520 Memorial Dr # 78
Houston, TXHouston Academy of Dance in Memorial and West University Dance Center are two different locations, but both operated under the direction of Evelyn Ireton. Houston Academy of Dance opened in 1971 and the West University Dance location followed in 1996. They have beautiful facilities with a number of different offerings for their students.
West University Dance Center4003 Bellaire Blvd
Houston, TXAges: 2 years old and up
Cost: Expect to pay around $100 a month for weekly class. They do offer discounts based on which payment schedule you choose and how many children you are enrolling.
Types of classes: For children aged 3-7 they offer Creative Movement, Pre Ballet, and Combination ballet/tap. Ages 7 and up can enroll in Ballet, Tap, Jazz, Hip Hop and Contemporary. They also offer intermediate/advanced classes as well as classes for teen and adults.
Summer camps: Both locations over a variety of themed camps from June to August. They also offer a winter break camp! Check the website for additional details.
What makes them different: In addition to wonderful classes and a caring staff, HAD and WUDC also offer birthday parties.
5711 Hillcroft St
Houston, TXHouston Dance Factory has been in operation since 2008 and was voted "Best Dance Studio in the City" by Houston Press in 2012. You'll find traditional ballet classes, but Houston Dance Factory is also known for their hip-hop and Latin dance class offerings. Kids especially love the hip-hop and ballet classes here.
Ages: 1.5 years old and up
Cost: Classes are paid for by the month. After the initial registration, classes will run you $50 a month. If you want to add a second weekly class to your schedule, it's and additional $20 a month.
Types of classes: You get a lot of variety at Houston Dance Factory. All of the classes are group based. For ages 2-4 they offer ballet. For 5-11 year olds, you have a choice of ballet, hip-hop, belly dance and salsa. Once you're 12 and older options include bachata, spin & turns, salsa, belly dance, hip-hop cumbia and merengue.
Summer camps: They're offered here occasionally; just check the website for the most up-to-date info.
What makes them different: Dancers love that their classes are affordable and fun. They also have a strong adult dance program with passionate instructors and assistants if you're looking for a fun fitness option for yourself.
---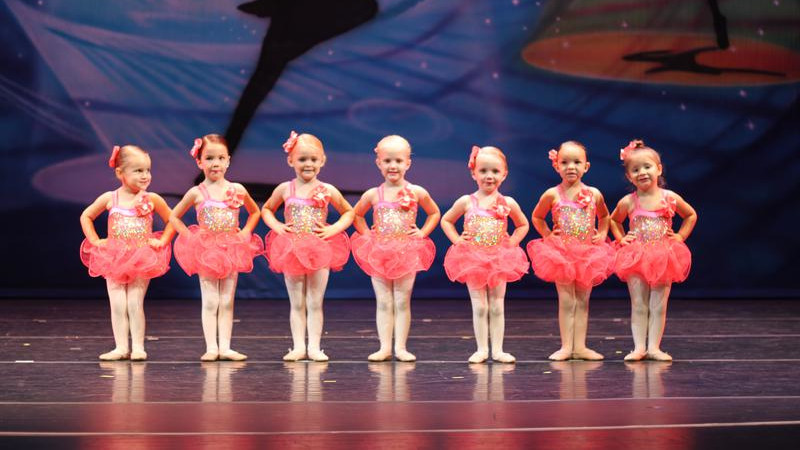 Houston Dance Works
3500 E T C Jester Blvd
Houston, TXThe motto at Houston Dance Works is "Building Confidence Through Dance." They work hard to be sure each student who walks through their door is supported and encouraged. Not only do they have a knowledgeable, qualified teaching team, but they want each staff member to relate to the children with age appropriate instruction. Each year, all of their efforts are showcased at a annual recital in June at Cullen Performance Hall. The new ballet/tap/jazz class for the 6-8 year olds is becoming a fast favorite!
Ages: 18 months to adults
Cost: Tuition is based on the total number of quarter hours a student is enrolled in. For a 45-minute class, the tuition installments would be $62 a month for the 2016-2017 season.
Types of classes: Ballet, tap, jazz, hip hop, contemporary, boys-only classes, mommy & me, baby ballet, drill team preparation, cheer dance and a competitive dance team are all offered here.
Summer camps: They currently offer "Princess Camp" for students aged 2-6, and are planning to add more summer programs this year.
What makes them different: You won't find many other studios that offer Mommy & Me classes or options for Boys Only sessions. The owner/artistic director, Autumn Rosemond told us, "the confidence built through our dance program overflows into other areas of student's lives, and it amazing to see your child thriving and blossoming in everyday life."
---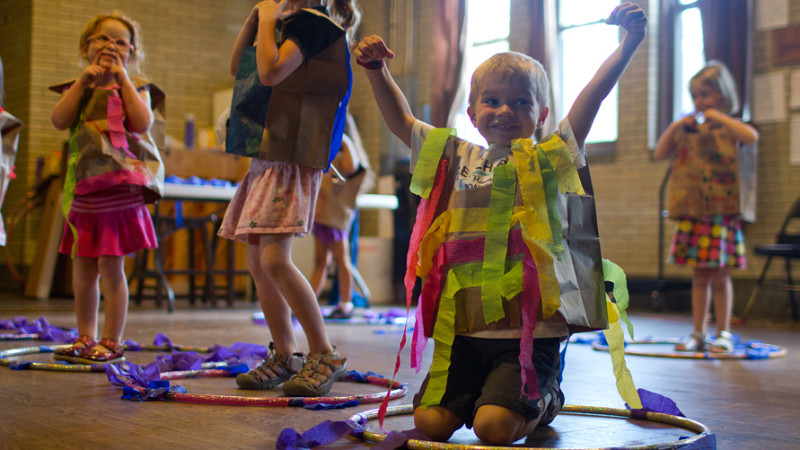 Hunter Dance
747 N Shepherd Dr
Houston, TXAt the Hunter Dance Center, you'll find a progressive syllabus-based dance program designed to guide students through all stages of dance. They believe in training excellence from the ground up. Teachers here will both nurture early creative exploration dancers and teach more rigorous pre-professional ballet students. The director, Annie Arnoult, is a certified Cecchetti Ballet instructor who has 20 plus years of experience in the field and has trained students for The Juilliard School, Tisch School of the Arts at NYU, College of the Arts in Boston, and Northwestern University, plus several professional companies. You can be assured that if you child has dancing talent, it will be advanced here.
Ages: Their "Tippy Toes" classes start for children who are age 3 by September 1. From there, classes span all ages through adults and professional dancers.
Cost: The studio offers trial classes for $20, which can be applied to your tuition should you choose to enroll. Classes are then offered on a seasonal basis (Fall, Winter/Spring and Summer). Session costs range based on time of year and length of class, but expect to pay around $15 per class. They also offer private coaching sessions.
Types of classes: They offer movement/pre-ballet, pointe, modern, jazz, hip-hop, circus arts and aerial skills.
Summer camps: This summer's offerings include: 8-weeks of Story Dance Theater Camps in June and July for 5-8 year olds; Ballet, Hip-Hop, and Aerial Arts Camps for 9+; and Pre-Professional Dance Intensives with Ballet, Modern, Partnering, Repertory, Conditioning and Aerial training for advanced dancers.
What makes them different: Hunter Dance Center believes that every child should dance and as such they do have financial aid and need-based scholarships. Simply call or email them for an application. Plus, who doesn't want to try out circus arts?
---
River Oaks Dance is a mobile dance studio focused especially on early childhood dance. You'll find classes at River Oaks Baptist School, Southampton Montessori and for members of the Houston Country Club. Don't attend any of those schools? Don't worry! Their classes at St. John the Divine are open to public enrollment. Pre-school ballet and 1st and 2nd grade musical theater are the most popular classes.
Ages: 2.5 years through 5th grade.
Cost: The current semester rate is $365.
Types of classes: Ballet, jazz and musical theater.
Summer camps: They offer summer, winter and spring break dance and theater camps. Check their website for details.
What makes them different: All of their instructors are trained in teaching early childhood movement, classical ballet, theater arts as well as child development. They strive to take advantage of the naturally occurring cognitive and neural development in their young dancers to bring an effective, safe, progressive and developmentally appropriate dance program to their students. Additionally, if your child happens to attend one of the schools they teach at, classes are a natural extension of the school day meaning you don't need to drive them to a separate location.
Main image: Fotolia/highwaystarz