6 Best Pools for Swim Classes In Houston
It's spring in Texas. That means the weather is warming up, and we're already anticipating the scorching heat of summer. We have frequented almost all of the best swimming pools in Houston over the years. As such, starting swim lessons from an early age was a huge priority for us. It's a life skill that will be so useful for every swim birthday party and play date (of which there are many in Texas!) in your kids' future. Here are some of the best swim classes in Houston to get your kids started.
---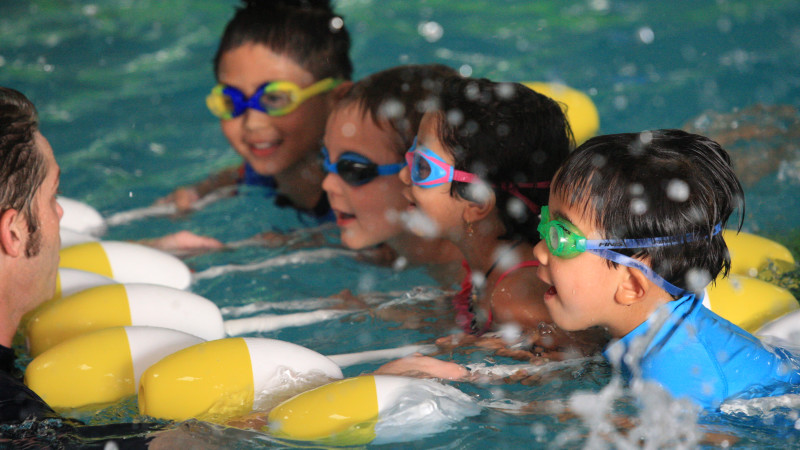 Houston Swim Club
Houston Swim Club2810 Business Center Drive
Pearland, TX
Where: Sharpstown, Sugar Land, Katy, Pearland and Cypress
It seems like just about everyone we know goes to Houston Swim Club. There are several locations around the city, but if you live anywhere close to the loop, you'll most likely end up at the Sharpstown location. We have been swimming here for a number of years, with different instructors and enjoyed them all. All of Houston Swim Club's pools are indoor and use warm water, so lessons work no matter what the weather is. There are two viewing areas and a small play structure outside if you have little siblings you need to entertain while your older child hits the lanes.
In order to start weekly lessons for children 30 months and older, you must do a two-week, every day class to assess your child's swimming ability. I am not going to lie: making it there everyday for two weeks is tough! But also worth it. The two-week session is $160 per child, and you'll pay $82 a month for weekly classes after that. They also offer private lessons and parent/child lessons for children aged four months to 29 months. Group classes have four children to one instructor, but they will teach a class as long as at least two children are enrolled. If you can swing classes during the day, parking will be easier. It can be a bit of a zoo anytime after school dismissal, so plan accordingly.
---
Saint Street Swim2717 Saint St
Houston, TX
Where: River Oaks
Family-owned Saint Street Swim has been in business since 1994. Their "Family & Fins" classes are just for one- and two-year-old kids. Once they advance to "Squirts" they can work independently with an instructor. There are two different levels for three-year-olds and things differentiate even more for four- to six-year-olds. The swimming facility is indoors, with a heated pool. Group classes each have up to four students and a weekly class will cost you around $80 a month. Be advised that parking can be a bit tricky during rush times. Morning classes are less popular than after school classes, if you want to beat the crowds!
---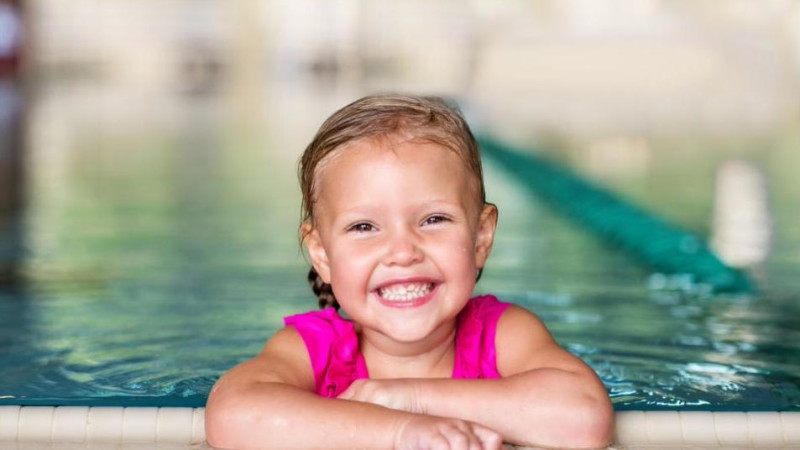 Wolfies Swim School
Where: West U
Wolfies Swim School is another popular favorite among families. Classes take place at the beautiful West University Recreation Center. There are fantastic changing room facilities and viewing areas to watch your kids. The instructors are all kind and knowledgeable. You can start out with Mom and Me classes and advance to toddler and kid lessons. The Mommy and Me classes are broken into two segments—littles (ages 4 to 13 months) and bigs (ages 14 to 30 months). They also offer semi-private and private lessons if you feel your child needs more individualized attention, otherwise expect group classes to have a 3-to-1 children/instructor ratio. They have an easy online sign up system, and group classes run about $60 a month.
Wolfies is also launching their own pool location in Bellaire in the next few months. They will continue to offer classes at the West U Rec Center, but soon you'll have even more class options at the new facility.
Where: Various locations
Many different Houston YMCAs have swim lessons on their rosters. We took our classes at the Weekley Family YMCA where we were already members. I liked this location because they have a pool for lessons and laps as well as a "play pool" with a small splash pad that we could visit when lessons were over and spend the morning outside. The Y offers many different options for classes, starting in parent/child classes designed for babies aged 6-36 months. Once your child is more comfortable in the water, they move on pre-school swimming (ages 3 to 5) and youth swimming (ages 6 to 12). The YMCA also offers swim teams for kids 5 and up who can swim 25 yards without stopping. The only catch here is you have to be a YMCA member to sign up for classes and swim team!
---
Community Pools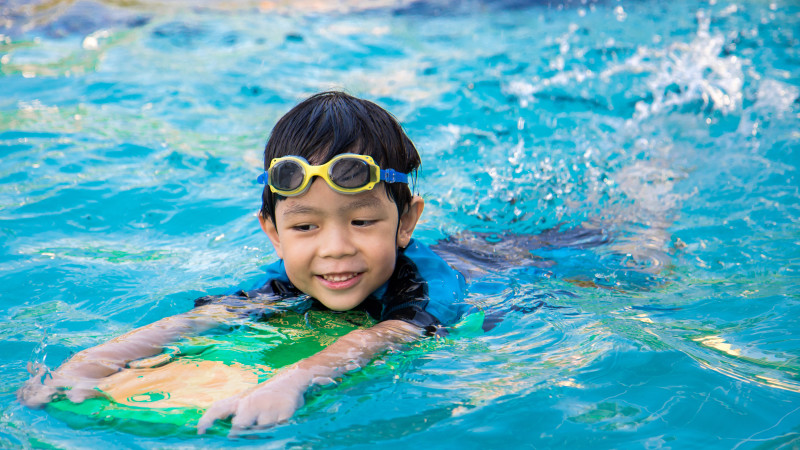 Fotolia/sir.chitvises
Where: Various locations
Almost all of the community and private pools also offer some sort of swim lessons. Just inquire at the pool closest to you to get the details. Swim lessons can be expensive, but the City of Houston doesn't want that to stop kids from learning water safety. As a result, they created the free H2OSAFE program, which is taught over the summer at a variety of pools. It is a first come, first served sort of program so sign up early on the registration date. Instructors teach kids ages six to 13 basic swim skills, swim strokes and water safety.
---
Goldfish Swim School West Houston1801 S. Dairy Ashford, Suite 103
Houston, TXWhere: West Houston
Kids love the indoor, heated (90 degree) pool and tropical decor at Goldfish Swim in West Houston, and it also happens to allow for comfortable year-round lessons at the popular franchise. Classes are never any bigger than 4-to-1 for group classes or 6-to-1 for baby classes. You can enroll your littles in swim here as early as four months on up; teenagers have the option to join Goldfish's swim team, too. If you really love this local pool, there are tons of options to stay engaged through family swim time and birthday parties! Once a week lessons for one child start at $89 per month.
Originally Published on Mommy Nearest