Best Water Parks for Families in the Houston Area
In Houston, the first day of spring is almost immediately followed by the first day of summer. As soon as the temperatures are in the 80s, the kids start asking (okay, begging really) for the pools, splash padsand water parks to open up.
The good news is that we don't have to wait long! Starting in May, five different Houston-area water parks open for business. Season passes are on sale now and buying early could save you some money. We've got the scoop on what they offer, what you can (and cannot bring in) and what it will cost you.
---
Wet 'N' Wild Splashtown, Spring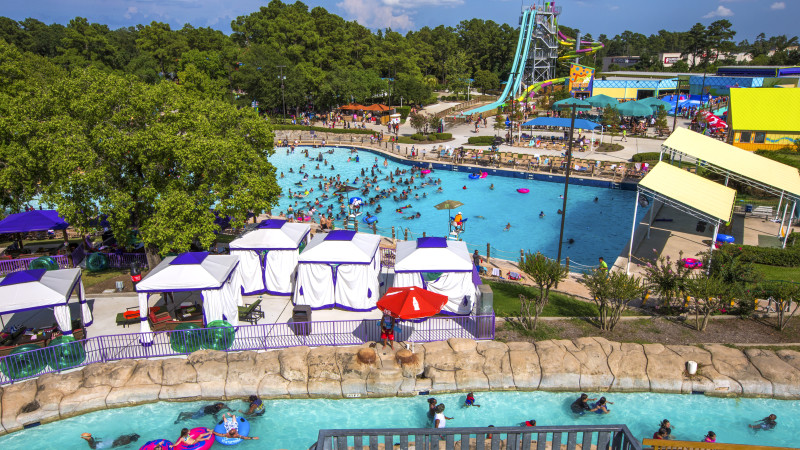 Wet 'n' Wild SplashTown
Wet 'N' Wild Splashtown21300 Interstate 45
Spring, TXWe visited Wet 'N' Wild Splashtown last summer for the first time and absolutely loved it. They recently redesigned the Wet 'N' Wild Jr. area, and there was so much for the under 48" set to do. The kids have been asking for a whole year when we can go back. With the lazy river, three-story splashing tree house, wave rider, wave pool and 42 different water slides, I can't blame them. I am ready to go back, too.
Things to know: You can't bring in any outside food (unless it is for your baby), but they have food on site for purchase. They do have locker rentals (for a fee) and they will also charge you for tube rental. You can bring in our own life vests and puddle jumpers as well as special food if you have allergies. Also, be prepared to pay $10 for parking.
Costs: Season passes start at $69.99. For daily admission, prices vary greatly depending on if you buy online or at the gate and if you are planning to visit on weekend or weekday. Check their website for all of the options, but expect to spend $32.99 to $45.99 for the taller members of your family and $32.99 for kids under 48 inches.
Hours: In May, the park begins opening on weekends, and after Memorial Day they are open daily until school starts back at the end of August.
Bottom line: There is a lot to do at Wet 'N" Wild Splash Town for a wide variety of ages and even your little kids will feel like they got to experience the sliding adventure of a water park.
---
Palm Beach Moody Gardens, Galveston
Moody Gardens®1 Hope Boulevard
Galveston, TXThere's lots to like about Palm Beach Moody Gardens. Not only is it affiliated with, and right next to Moody Gardens itself, but its size and price are really reasonable. The park has a 650-foot lazy river, a 6,100-square-foot wave pool and a splash pad. There are two 18-foot enclosed tower slides for kids over 48 inches to ride.
Things to know: You can bring in bottled water and baby formula, but no food. They do allow small coolers. You can rent lockers and cabanas, and they do have movie nights on occasion, just check their schedule. Palm Beach is also located right next to the Moody Gardens Zipline and Ropes Course. You could easily spend a day on both of these attractions, but keep in mind access to the ropes course is an additional $20 to $30. Be sure to check the Moody Gardens ticket office to see if they are offing any packages or deals before you go.
Costs: Season passes to Palm Beach are $55 -$65 depending on how early you purchase them, otherwise adults are $23.95, children (ages 4-12) are $17.95 and children under 3 are free.
Hours: Palm Beach opens weekends only starting May 16. From June 3 through August 20, they are open daily.
Bottom line: If you want to dip your toes in and try out a water park without paying the big fees, then Palm Beach is a great place to start. Being a part of the Moody Gardens properties means there is no shortage of things to do if you wanted to make a weekend out of your visit.
Schlitterbahn, Galveston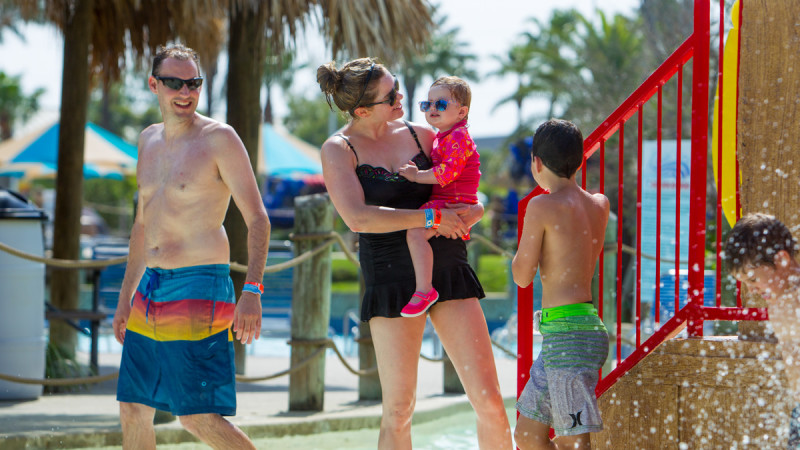 Schlitterbahn Waterparks and Resorts
2026 Lockheed Road
Galveston, TXYou can't mention water parks in Texas without talking about Schlitterbahn. The closest location to us is in Galveston (though New Braunfels isn't far). There are three slides for kids 42″ and up and five slides for those over 48 inches tall. The ride map is even coded with the speeds, which is a huge help if you have a less adventurous child who still wants to try a few out. For your littles, the Wasserfest Kids Area, Tiki Tikes and Treasure Island Kids feature mini slides, sprayers and fountains. The Torrent Beach Kids Pool and Shipwreck Harbor were also designed with toddlers in mind. Of course, there is also a wave pool and a pretty huge river worth exploring.
Things to know: One of the things that makes Schlitterbahn so great is all the things they don't charge for—free parking, free tubes, life jackets, etc. They also encourage picnics, which is a massive money saver. All they ask is no alcohol and no glass containers. The one thing you will have to pay for is a locker, but they encourage you to leave your valuables at home. They do offer a pretty sweet "cashless" wristband that you can load up with money so you don't have to carry around your wallet. The unused balance can be unloaded at the end of your visit.
Costs: Children's season passes are $99.99 and adults are $139.99. They also offer various drink and food bundles. Daily admission for adults (12-54 years old) is $52.99 and $40.99 for kids over age 3, but note that they have several packages that include drinks, towels, water shoes, etc if you are in need of extras. They also offer discounted afternoon rates.
Hours: In April and May, there are some limited weekend hours. Starting after Memorial Day, they are open daily for the season.
Bottom line: There is something for everyone here and the picnic option makes this park a attractive destination.
---
Typhoon Texas Waterpark, Katy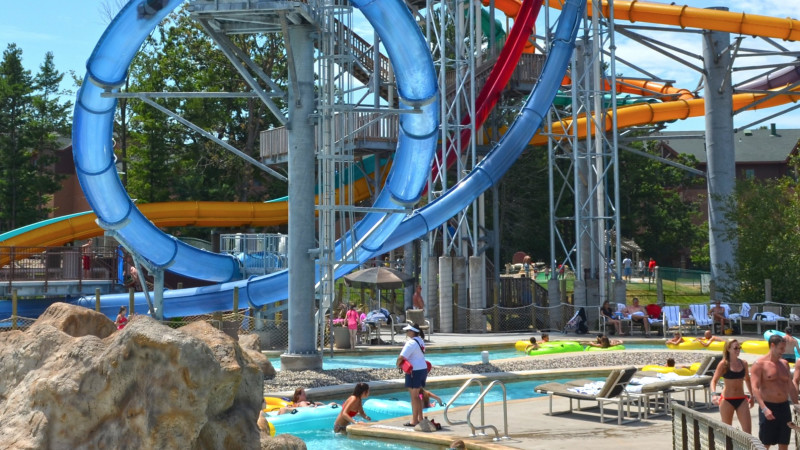 Typhoon Texas
555 Katy Fort Bend Rd
Katy, TXTyphoon Texas Waterpark took Katy by storm with its 2016 opening, and this summer promises to be even better. With its Texas theme, you will find rides like "The Mutton Buster" and "The Gunslinger" as well as larger water park staples like the "Tidal Wave Bay" and the "Lazy T." For younger kids, they have a splash area and a large play structure with water features, but not many slides.
Things to know: They have lockers for rent and parking is free. You can't bring in your own food, but if you have allergies they do provide ingredients lists. There is at least one gluten free option here. The exception to the "no food" rule is for baby formula. They do provide Coast Guard life jackets on request. They also feature movie nights on Thursdays.
Costs: Season passes cost $99.99 each or $89.99 each if you plan to purchase four or more. Passes come with lots of perks like buddy passes, early entrance and in-park discounts. Weekday passes are $39.99 for people over 48" and $44.99 on Weekends and Holidays. Kids under 48" are $32.99 and kids under two are free.
Hours: Typhoon Texas opens Memorial Day weekend. From Sunday to Wednesday the hours are 10:30am to 8:00pm, Thursdays are 10am to 10pm, and Friday to Saturday are 10:30am to 10pm. The season closes after Labor Day weekend.
Bottom line: While there are things for smaller kids to do, it might be worth waiting until your kids are at least 42″ tall before giving this park a try.
---
Pirates Bay, Baytown
5300 East Rd
Baytown, TXVisiting Pirates Bay in Baytown is on my personal summer bucket list this year. The smaller scale park offers nine different slides, four of which your 42″ and up kids can ride. They also have a lazy river, wave pool, crossing pool activities and a play structure with tot-sized slides. You can't beat the cost either at $20 for adults and $15 for kids.
Things to know: You are allowed to bring in coolers and outside food into Pirate's Bay with no charges. Keep in mind–no alcohol or glass containers. They do have a few free life jackets, but they are available on a first come, first served basis. They also offer lockers for rent and parking is free. You can't bring in your own umbrellas, but you are able to bring in your own chairs.
Costs: If you are a resident of Baytown, you can get season passes for $95 per person. If you plan to purchase more than two, the cost goes down to $75 each. For non-residents, season passes are $135 each or $115 for more than two. Daily admission is $20 for adults and $15 for those under 48 inches. Children under two are free. You can save money if you plan to visit the park after 4pm on a non-holiday, when admission goes down to $10.
Hours: Pirates Bay opens for weekends in May and for the full season from May 26 to August 20. You can then enjoy the park for two more weekends, August 26 and 27 and September 2 to 4 before they close for the 2017 season.
Bottom line: Pirates Bay is a great value park! You get a variety of attractions without the big ticket costs.
Originally Posted on Mommy Nearest