9 Places to Learn About Texas History Near Houston
I have lived in five states, and not a single one is as proud of its heritage as Texas. Since I moved here as an adult, I am getting schooled in all of my Texas history by our first grade daughter. She came home one day spouting off facts, "The state pie is pecan pie. The state snack is chips and salsa. The state flower is a bluebonnet…" I stopped her to sarcastically ask, "But what about the stars at night?" Without missing a beat, she replied, "They're big and bright :clap, clap, clap, clap: deep in the heart of Texas!"
The state pride runs deep y'all and they start 'em young. Lucky for us, there are a number of historical sites and museums close to Houston that we can visit to help nurture this love of history and statehood.
---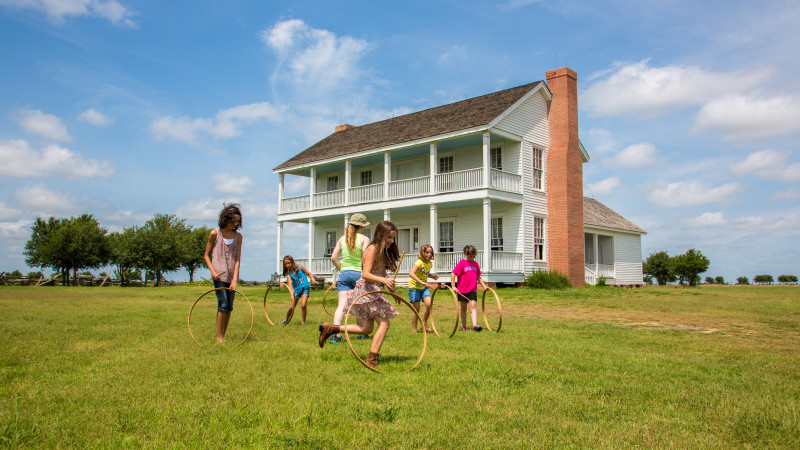 George Ranch
George Ranch10215 FM 762 Road
Richmond, TXThe George Ranch Historical Park is an impressive field trip from the start. The historic spot follows four generations of a single ranching family over 100 years, through life in frontier Texas to World War II. You'll find four historic houses on site—1830s Jones Stock Farm, 1860s Ryon Prairie Home, 1890s Davis Victorian Mansion and 1930s George Ranch Complex. The park is a living museum, meaning people are dressed up to play historical figures and roles. When you visit each different home, you can ask them questions and learn about what life was like during the time period. In addition to touring the houses, they offer cattle-working demonstrations, which include real cattle roping. It's pretty amazing to start out at the oldest home and see how life changes and improves for this family over the years. I've never been more grateful for indoor plumbing and self-heating ovens.
Hours & cost: Tuesday-Saturday, 9am–5pm; adults are $10 and children 5-15 are $5.
Insider tip: The website says it takes three to four hours to see everything, but we spent all day there and didn't get through it all. Pack a lunch and enjoy some of the various picnic grounds on the site.
---
The Fort Bend Museum focuses on the history of Fort Bend starting with Stephen F. Austin's first colony in 1822 through to present day. There is a Museum Gallery that focuses on life along the Brazos River, the 1855 Long-Smith Cottage and the 1883 historic Moore Mansion—all of which you can tour. The museum also hosts a number of special events including tea parties and Summer History Fridays, which each have their own themes and activities.
Hours & cost: Tuesday–Friday, 9am–5pm and Saturdays,10am–5pm; admission is $5 for adults and $3 for kids ages five to 15.
Insider tip: The Historic Home Tours happen at 10am and 1pm, so be sure to plan your visit around those times.
---
San Jacinto Battle Monument and Museum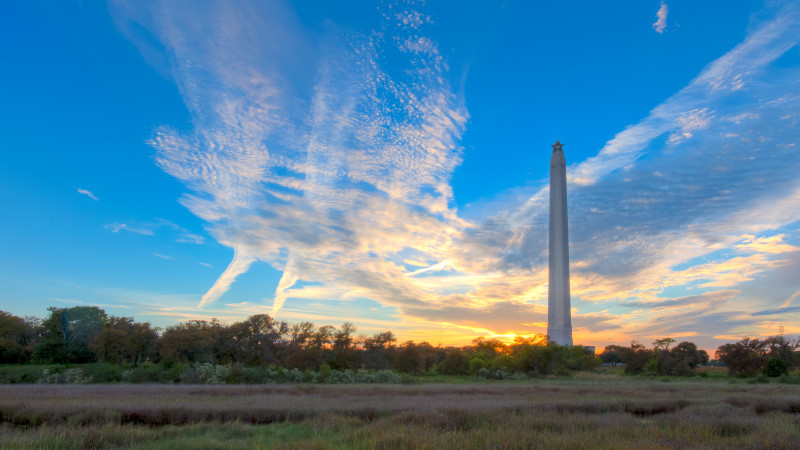 Flickr/Dan Thibodeaux
Near the Houston ship channel you will find a 567.31 high art deco column aka the San Jacinto Monument and Museum. Legend goes that the designer, A.C. Finn assured Washington D.C. that the monument would be shorter than the Washington Monument, which stands at 554.61 feet tall. However, he neglected to tell them that San Jacinto stood on two terraces, which ultimately made it taller. Everything is bigger in Texas, after all. The monument and museum are dedicated to the battle of San Jacinto, which was decisive in the Texas Revolution.
Hours & cost: It's open seven days a week, but check the website for specific hours. Visiting is free, but if you want to take a ride to the top or check out the museum (and you should!) it will cost you. Combo packs for entrance to all of exhibits will run you $16.50 for adults and $12.50 for kids under 11. If you just want to go to the top, it is $6 for adults and $4.50 for kids.
Insider tip: This is an easy half day trip, but if you want to make a full day out of it. Stop at San Jacinto Monument before moving on to Battleship Texas.
---
Battleship Texas State Historic Site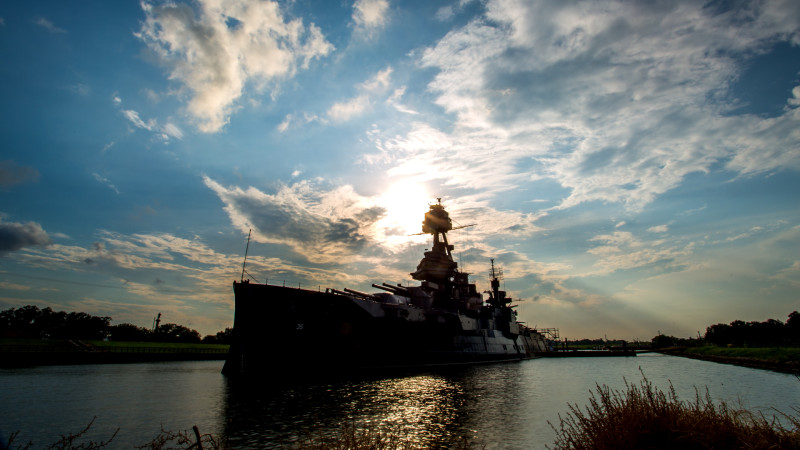 Visit Houston
If you go to the observation deck of the San Jacinto Monument, you will undoubtedly see the Battleship Texas. It was the last of the battleships to participate in World War I and II, and became a museum in 1948 before it found its permanent home in La Porte in 1983. The battleship is currently undergoing renovations, but you can still see a fair amount when visiting. You'll tour a few of the decks and view the engine room, sleeping quarters and medical facilities as well as the guns. What our kid remembers most from the tour? That they made bread in the bathtub.
Hours & cost: Open daily from 10am to 5pm, except holidays. Adults are $12 and children ages five to 11 are $3. Military both active and retired are free.
Insider tip: There are a lot of stairs on this tour—a good thing to keep in mind if you plan to bring small children with you.
---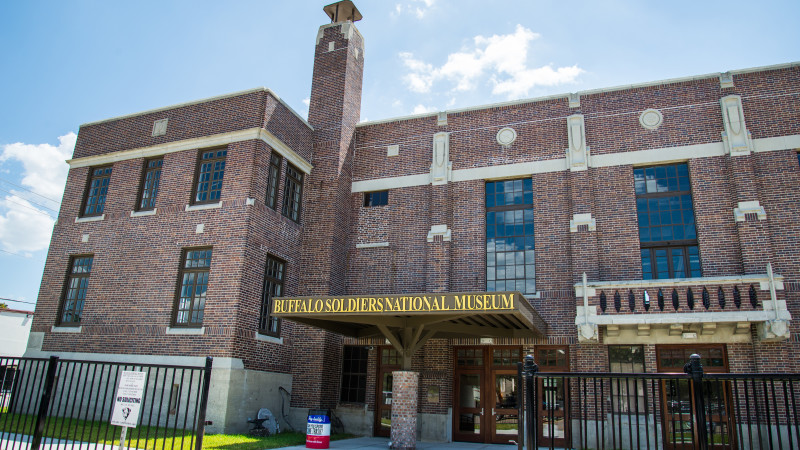 Visit Houston/Julie Soefer
Buffalo Soldiers Museum3816 Caroline St
Houston, TXThe Buffalo Soldier Museum highlights the history of African American military. The nickname "Buffalo Soldier" was given by the Native Americans to the African American soldiers they encountered of the 10th Cavalry Regiment in 1867. It was bestowed with a sense of respect, and the name has since become a term for all African American soldiers. The museum itself showcases African American contributions to the Civil War, World War I, World War II and Vietnam. It may not be focused on exclusively Texas history, but important history none-the-less!
Hours & cost: Monday–Friday, 10am–5pm and Saturdays, 10am–4pm. Adults are $10 and students/children are $5.
Insider tip: Admission is free on Thursdays from 1 to 5pm.
The Museum of Southern History is located on the campus of Houston Baptist University. Here you'll find a collection of room settings, dioramas and cases depicting clothing, fine furnishings, uniforms, tools and weapons of the mid-1800s. The hope is that these items will give you a sense of the people who settled in Texas and how the rebuilt their lives after the Civil War. Think Gone With The Wind, but Texas style.
Hours & cost: Monday–Saturday, 10am-4pm; entry is $5 for non-students.
Insider tip: Call ahead (281-649-3997) for a group tour or guided tour. These typically last 30 to 45 minutes.
---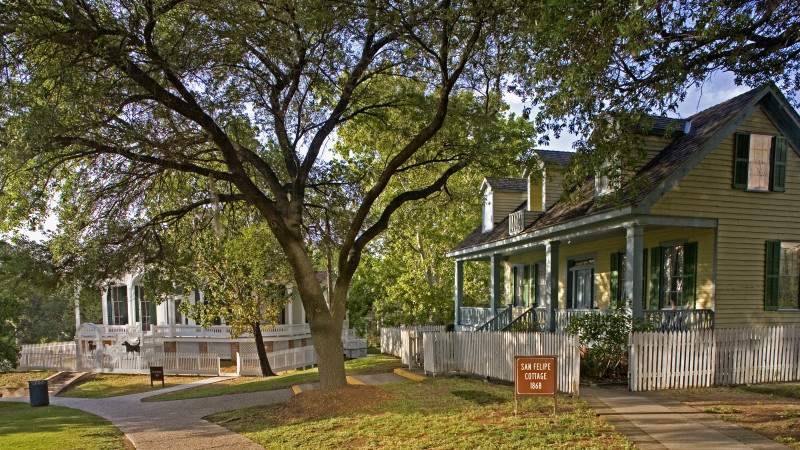 Visit Houston
1100 Bagby St
Houston, TXIf you are interested in touring some of Houston's oldest homes, then you'll want to check out the Heritage Society at Sam Houston Park. There are 10 different homes all within walking distance from each other that you are welcome to visit at pre-specified times with docents. The homes range in age from 1823 to 1905 and all feature various elements of life in Houston. The Heritage Society also operates a museum with traveling exhibits and permanent offerings including a 1911 Ford Model T and a replica of the1841 "Duncan General Store." Expect to spend about two hours on the guided tour.
Hours & cost: There are docent guided historical building tours Tuesday to Saturday at 10am, 11:30am, 1pm and 2:30pm. The Museum itself is open Tuesday to Saturday from 10am to 4pm. Admission to the gallery is free, but tours are $15 for adults and $6 for students aged six 18.
Insider tip: You can't bring strollers or food on the tours, but you can leave your things in the museum.
---
8325 Travelair St
Houston, TXIf you are interested in aviation history, then the 1940 Air Terminal Museum is the place for you. They have an impressive collection of memorabilia, uniforms and models of airlines that have all graced the Texas skies. In addition to checking out the original art deco terminal and museum, you can ask to be taken to the 1928 Carter Airmail Hanger to play in the flight simulators and view the Lockheed Lodestar, St. Louis Helicopter, DC-6 Nose and the Hawker Jet. Don't forget get to ask about how Howard Hughes left his mark on Houston air history.
Hours & cost: Tuesday-Saturday, 10am-5pm and Sundays, 1-5pm; admission is $5 for adults and $2 for children.
Insider tip: The terminal is located right next to Hobby Airport. Pack a lunch or a snack and sit outside to watch the planes land and take off.
---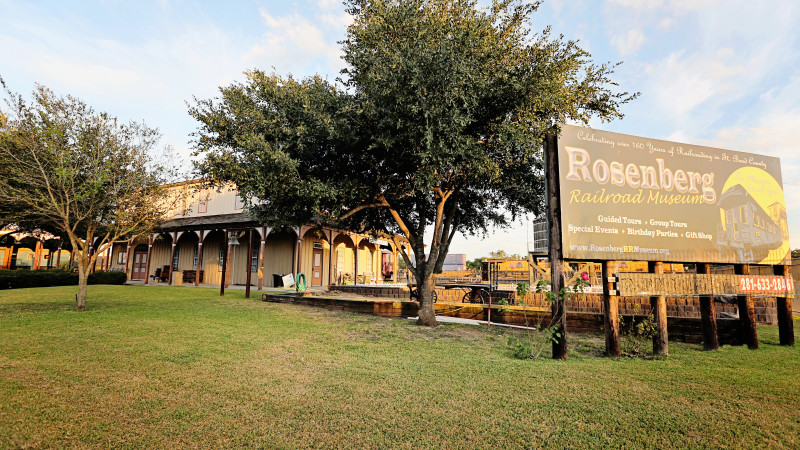 BAC Photography and Design
1921 Avenue F
Rosenberg, TXAfter visiting the George Ranch, it became clear how dependent Texas ranchers were on the local railroads to help get cows north to make better profits. In fact, the Rosenberg Railroad Museum's 1879 Business Car "Quebec" was given to them by George Ranch. None of Rosenberg's original railroad structures survived, except for Tower 17, which is on the museum grounds. But the small museum building has a number of items depicting railroad history and is fashioned after the original train depot, which was in service from 1883 until 1917. Other points of interest include the 1972 Mopac Caboose, model trains, the garden railroad and Santa Fe 2350. Our kids loved our private tour and getting to touch and explore all of the different train interiors. It doesn't hurt that the museum is located right next to a number of active rail lines, so you get to see trains zooming by throughout your visit.
Hours & cost: Wednesday-Saturday, 10am-5pm and Sundays from 1-5pm; adults are $7.50 and children ages two 14 are $5.
Insider tip: Another Time Soda Fountain is located just across the street and is the perfect place for lunch.
Originally Published on Mommy Nearest