45 Must-Dos for Your Family's Houston Summer Bucket List
Despite the fact that Houston gets miserably sticky and hot, I'm still a fan of summer. During the school year, scheduled activities fill up our calendar and all sense of flexibility and spontaneity seem to go on the back burner. Not in the summer—the summer is for "adventuring."
Each year, I make a list of the new attractions and standard family favorites happening around the city, and we aim to enjoy each and every one of them from June through August. It's a handy tool for a random Wednesday morning when the kids are at each other's throats and you need something to break up the day and get you back on track. Here's what's on my list of the best things to do in Houston with kids this summer, and what you should add to yours, too.
---
1. Summer is the perfect time to take advantage of free admission times at Houston's major institutions and get cultured! You can't go wrong with a visit to the Museum of Fine Arts, Houston Museum of Natural Science and Children's Museum of Houston.
2. If smaller crowds and lower prices are more your speed, consider going to one of these five underrated Houston museums.
3. The Hello Kitty Truck makes a stop in The Woodlands on May 27. For fans of the world's cutest kitty, there will be nothing better than the super cute treats you'll find here (and the adorable photo opp)!
---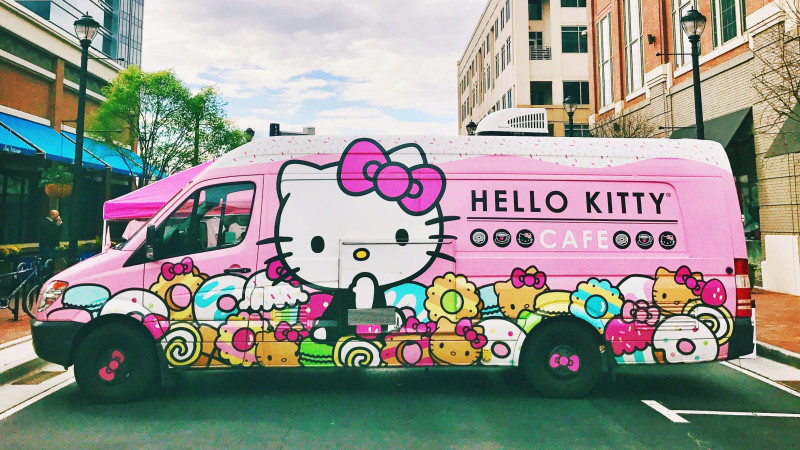 Joleen Pete
---
4. We usually visit Moody Gardens in the winter to check out Ice Land and Festival of Lights, but summer time brings opportunities to explore the ropes course and the on-site water park. The pyramids' biggest news may be the re-opening of the aquarium on May 27. There will be new animals to visit, including jellyfish and tropical penguins!
5. According to Visit Houston, our city has more than 56,405 acres of parks. Check out the brand new Levy Park in Upper Kirby, Evelyn's Park in Bellaire or any of the others from our list of the 10 best playgrounds in the city.
---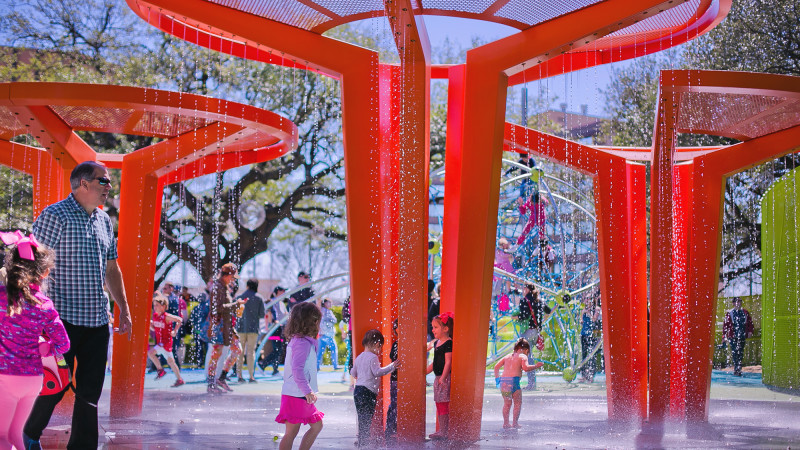 Morris Malakoff
---
6. Did you know the city of Houston has a number (37!) of free pools open from June to August? There are also daily admission pools such as Bellaire Town Square Family Aquatic Center and Noah's Ark Pool at Quillian Center. No excuses to sweat!
7. The Houston Arboretum & Nature Center is a fantastic place to enjoy a bit of nature inside our fair city. They have trails and paths that are easy for kids to navigate and a pond stocked with turtles. Just don't forget the bug spray!
8. The third Saturday of every month, the 1940 Air Terminal Museum hosts Wings & Wheels. The museum opens up the gate so you can see planes landing and taking off from Hobby Airport, and they partner with various classic car groups to bring something extra special to the museum.
9. We recently returned to the Space Center and I was surprised at how much they have expanded and added in recent years! We are overdo for another visit, preferably on a Friday so we can catch another Astronaut talk. Plus you can't miss the new summer exhibit, Science Fiction, Science Future, which highlights how things like teleportation, holograms and invisibility are more real than we might think.
---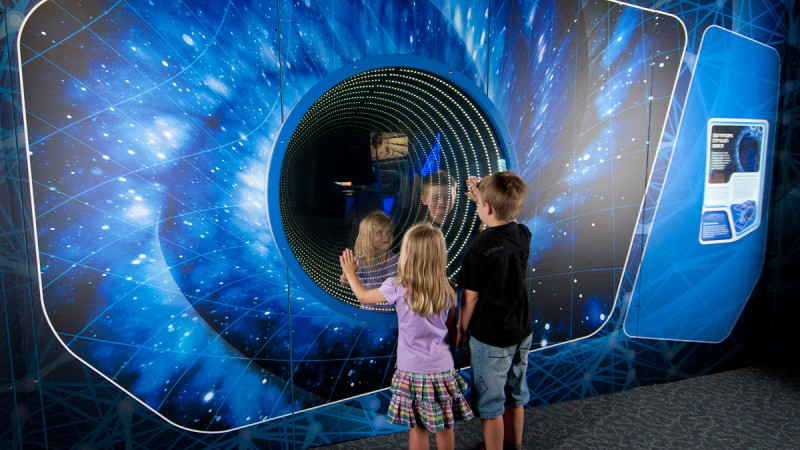 Space Center Houston
---
10. Prelude Music School hosts a family concert at Levy Park on June 3 in celebration of Father's Day! And for North Houston fams, head to the Whole Foods in The Woodlands to catch their last free concert of the season on June 11.
11. Houston has a ton of amazing, free splash pads. Check out our favorites here. And let us know about any new favorites!
12. Miller Outdoor Theater is also amazing and totally free! From June 7 to 9, they will feature daily 11am performances of Once On This Island, a junior version of the Calypso-inspired musical. Be sure to check out their full calendar for other kid-friendly performancesthis summer.
13. There are countless reasons to spend time at Discovery Green over the summer—namely, the splash pad. But June 8 also welcomes back the Screen on the Green series with a free showing of Secret Life of Pets. Check it out again July 8 and August 12.
---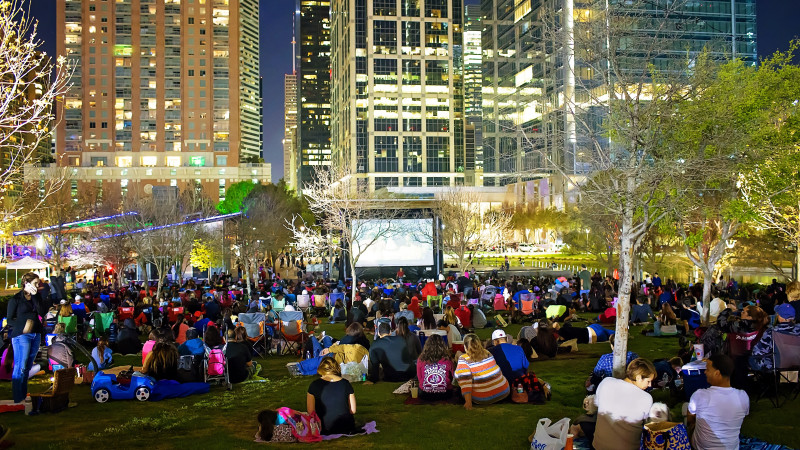 Katya Horner
---
14. No summer is complete without a trip to the zoo. There are a number of indoor spaces (meaning air conditioned) and a splash pad, too. It is worth packing the swimsuit for a cool down moment. The Houston Zoo also just welcomed a baby giraffe that we're dying to meet!
15. We can't visit Hermann Park without riding the train, and for $3.50 a rider, we can afford to do so. Bring a snack and enjoy the manufactured breeze on the 18-minute ride.
16. The Health Museum is the museum to check out this summer, with two new exhibits making their debut. Humanae reconfigures traditional ideas about race by putting portraits in with their corresponding Pantone color palette. Genome: Unlocking Life's Code (opening June 9) gives visitors a truly fascinating look at genomic science (aka the stuff that we're made of!).
17. There are a number of great story times over the summer in Houston. One of our favorites is at the MFAH Rienzi House. You'll be broken into a small group, led to three to four different rooms in the house and read a story that somehow relates to that room. Think "Angelina Ballerina" in a real ballroom!
18. You can find street art all over the city and kids love hunting the street corners for them. Luckily we've done all the work to find the best ones for your next 'gram. If murals aren't your thing, then maybe one of these other funky landmarks are.
---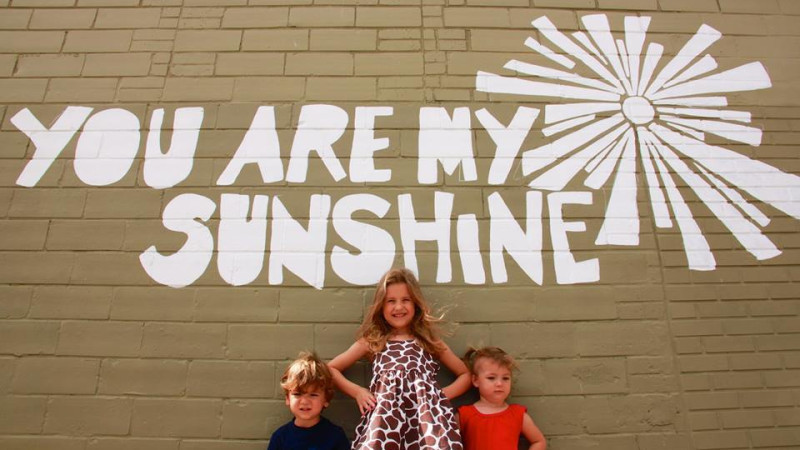 Amanda Sorena
---
19. Austin isn't the only city with bats! The Waugh Bridge is home to a colony of Mexican free-tailed bats that are quite a sight to see. It's best to arrive at least 15 to 30 minutes before sunset to see the full effect of the bats leaving the bridge to eat.
20. Pop Shop America hosts their summer festival in Houston on June 10 and 11 at Silver Street Studios, and kids under 12 get in free! Enjoy a weekend of super trendy shopping, eating and live entertainment.
21. MFAH pulls out all the stops for summer exhibitions. On June 11, they welcome two immersive works of art by Swiss artist Pippiloti Rist: Pixel Forest and Worry Will Vanish. Kids will get a kick out of standing in the glimmering forest of LED lights.
---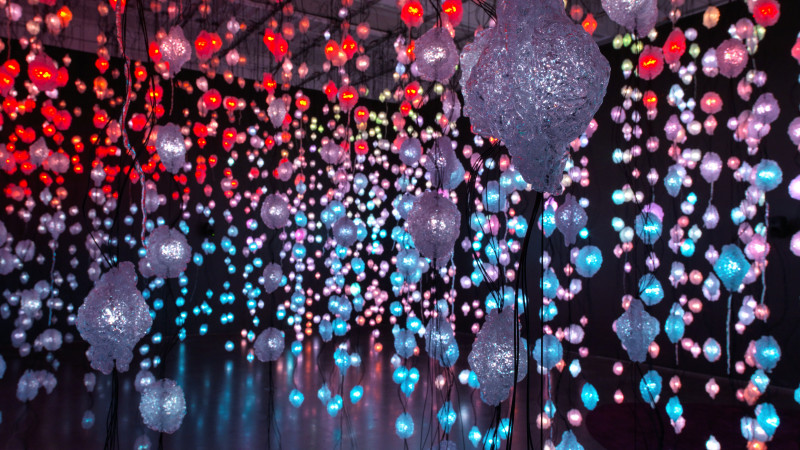 MFAH
---
22. Retreat from the midday Texas heat and enjoy the dark, air-conditioned magic of the theater with your family. Main Street Theatre puts on The Wizard of Oz from June 14 to July 30. Or treat kids to a Broadway-level production of The Lion King at Hobby Center from June 27 to July 23.
23. For a quirky, artsy outing, pay a visit to The Orange Show (a space made entirely of found objects) and then picnic and play in the neighboring Smither Park, which is decked out in incredible mosaics.
24. Need to get out of the city? Galveston is just a short drive away. Check out our guide full of tips for a day trip with your family.
25. Our kids love running around and around to get to the top of the hill at the McGovern Centennial Gardens. It also provides a great view of Hermann Park and the Museum District. The gardens themselves are also fun to explore, and perfect for a picnic.
26. When it gets too hot, but I still need my kids to work out the wiggles, I know it is time to go to Wonderwild, Monkey Joe's or any of our other favorite indoor play spaces. Urban Air opened up in Sugar Land in the spring and our kids can't get enough of the zip line and American Ninja Warrior-style fun. Look for Groupons whenever possible to keep the costs down for these kinds of excursions!
27. Wet 'N' Wild Splashtown hosts Dive-In movie nights this summer, starting with Toy Story on June 30 and The Secret Life of Pets and Zootopia in July! Plus you've got to try the brand new Alien Chaserride.
---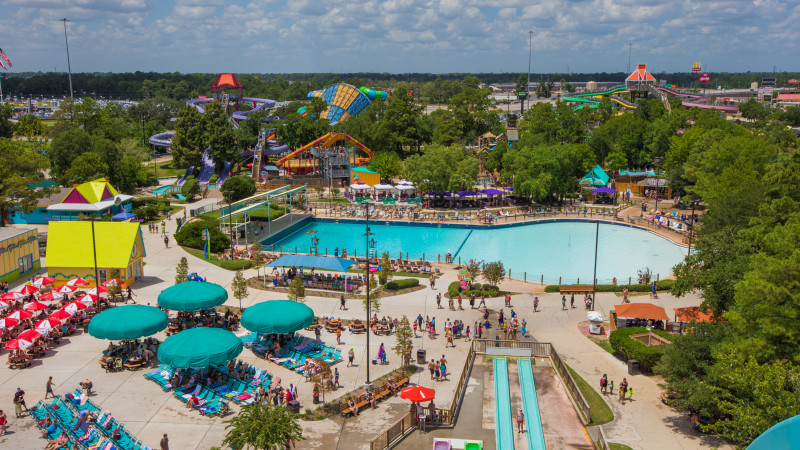 ---
28. Wet 'N Wild Splashtown might be the biggest in Houston, but we're lucky enough to have a few great water parks to enjoy. Pick one (or all) and start splashing.
29. Wild alligators walking about? Totally nutty and totally Texas. We love visiting Brazos Bend State Park in the summer specifically because we see more gators.
30. Visit real-live police horses for free! The Houston Police Department Mounted Patrol Facility is pretty awesome. If you bring along some apples and carrots, the horse are happy to be fed. You can even schedule a demonstration of their training. To learn how, visit their FAQ page here.
31. Texas goes big for the Independence Day. Especially if you live inside the loop, experience one of the best celebrations at Freedom Over Texas on July 4. Hunter Hayes is the headlining musical act, and you can't beat those fireworks over Buffalo Bayou. If you're farther north, Splashtown hosts 4th of July Fireworks, too!
---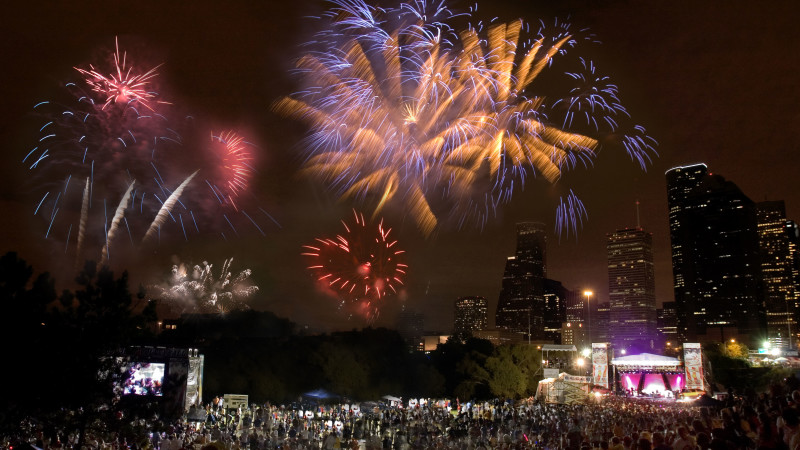 Visit Houston
---
32. Starting July 7, the Fort Bend Museum starts their Summer History Fridays program. Younger kids are welcome, but the programs themselves are geared specifically for kids ages five to 12. They'll cover topics like Colonial America, Life on the Homefront during the 1860s and Victorian Life. RSVPs are not required, but check their calendar to see which topics interest you the most!
33. Who says there are no princesses in baseball? Certainly not the Astros. On July 16 head to Minute Maid stadium in your best princess costume (ok, maybe just the kids) to meet Disney princesses and enjoy a few special royal-themed activities. Plus the whole sports game, too.
---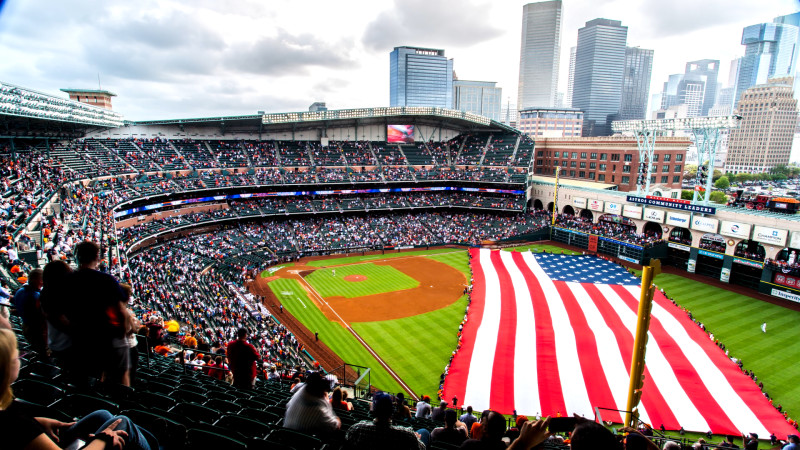 Visit Houston
---
34. Search for adventure at Bayou Bend over the summer during their Detective Days. The program is best for children ages six to 12, but free for all kids 18 and younger. (Though admission for adults is $10). Kids are given a list of riddles to solve while searching through the gardens and Hogg home. No reservations needed!
35. Kegg's Candies has been in business in Houston since 1946, and we recently learned that they also give tours! Book a week in advance with at least 10 people in your group (though you can also call ahead and see if there is already a tour scheduled that you can join). Tours last about 30 minutes and cost $8.50 per person for guests aged 3 and up. Younger children are $5. Don't have time for a tour? Then just stop in for ice cream.
36. The Port of Houston Authority gives free 90-minute boat tours of the port. The boat holds up to 100 people and tours can get booked fast, so check out their online reservation form for a date that works for your family.
37. The Bayou Wildlife Zoo is a real treat! It is a open range zoo complete with a safari-like ride to see and feed all the animals. Watch out for those ostriches though, they'll eat all your food if you let them.
38. Who says because we live in the city that we can't learn about country life? Blessington Farms, Froberg's Farm, Old MacDonald's Farm, Fruit 'N Such Orchard and All We Need Farm are all short drives from the city.
39. If you can't take the heat, search Kids Bowl Free to sign up for free bowling for your kids all summer long. Did someone say air conditioning? Ahhh.
40. You know you live in a hot place when malls build inside playgrounds and year-round ice rinks! Pretend its Christmas in July on the rinks at both The Galleria and Memorial City Mall. Memorial City has a particularly great play area called Frolic's Castle, too.
---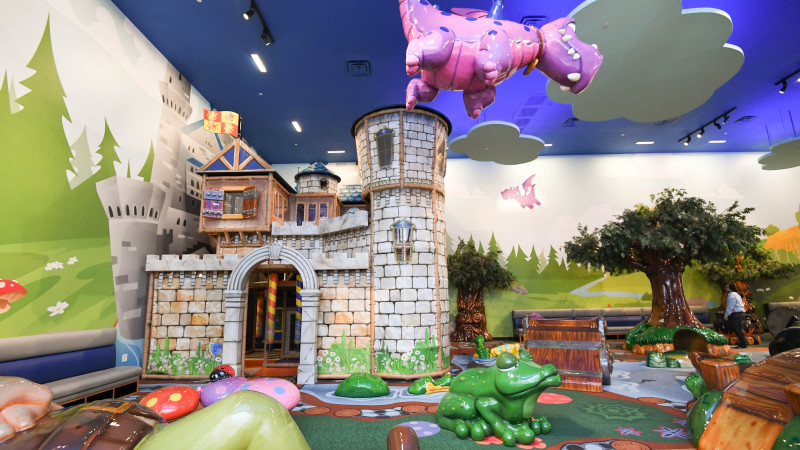 Angela Garza
---
41. Dine al-fresco. Kids can get up and wander, and even play games and dance to live music at many of our favorite restaurants with patios.
42. For only $1.25 each way, the Houston METRORail can take you to many point of interest in Houston and save on parking. See our ideas for exploring the rail with kids. What kid doesn't love a good train ride?
43. Learning doesn't need to stop just because it is summer time. Avoid brain drain and visit one of these (fun, we promise) spots in and around Houston for a dose of Texas history.
---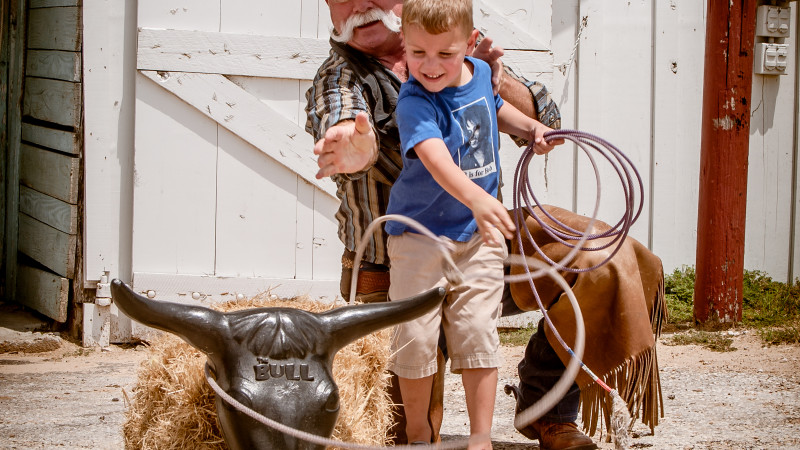 George Ranch
---
44. When it rains (and it will rain), these are our favorite go-to spots to escape the storms.
45. Have you ever burped the bayou? We have and we can't wait to do it again. In fact, there are a number of hidden, off-the-radar spotsin Houston worth checking out.
Originally published on Mommy Nearest