Best Things to Do in Sugar Land & Fort Bend with Kids
Sugar Land in Fort Bend County is a short drive from SW Houston and is packed with family-friendly venues and things to do. Museums, play spaces, splash pads, parks—you name it, they have it. What I love most about spending time in Sugar Land is that many of these places don't seem to draw nearly the same large crowds as their Houston counterparts. For that reason alone, we find ourselves making the drive to Sugar Land regularly. Here's what to explore on your next visit (or just if you're a local!).
---
Visit one of the many indoor play spaces
Urban Air Trampoline Park9848 US-90 ALT
Sugar Land, TX
Sugar Land has a ton of great indoor play places for those hot and rainy Houston days. If you've got adventurous kids, Urban Airhas zip lines, trampolines and American Ninja Warrior type courses that will entertain them. It's a big space, so you will have a bit of a challenge keeping track of multiple kids, but all three of ours had a blast and I even got in on the zip line action.
MajestKids Playland – Indoor Playground-Birthday Party Venue14031 Southwest Fwy
Sugar Land, TX
MaJestKids is geared to infants, toddlers and preschoolers who may not want big kids in their space. iPlay is a good option if you want to meet up with friends. There are two areas geared for different ages and a café at iPlay. It is also all enclosed with a gate, so you know the kids can't escape without you. Let them burn off some energy, while you enjoy a cup of coffee and speak to another adult in peace.
If you need a cost effective indoor option, try the Playscape at Sugar Creek Baptist Church. It's free and also open early at 8am, which is a huge plus in my book.
---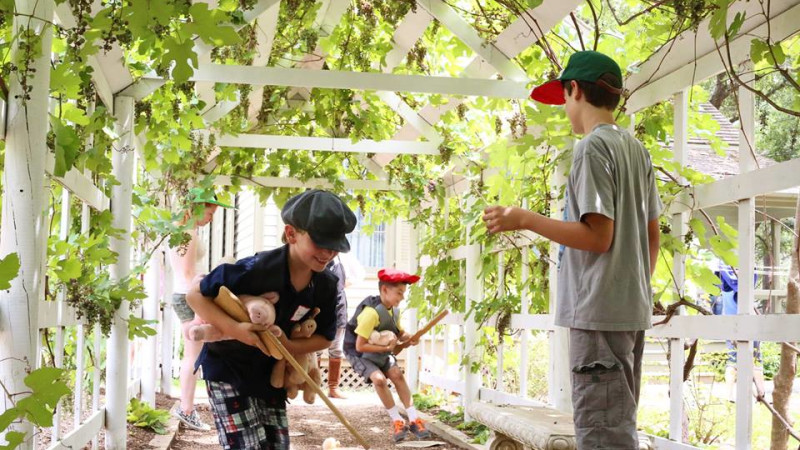 Fort Bend Museum
Fort Bend Museum500 Houston St
Richmond, TX
This museum highlights life along the Brazos River starting with Stephen F. Austin's first colony in 1822. There are two homes which you can tour—the 1883 historic Moore Mansion and the 1855 Long-Smith Cottage. Tours of the homes take place at 10am and 1pm, so be sure to schedule your visits around those times.
Insider tip: The museum also has a number of special events, including Summer History Fridays, which are perfect for children aged five to 12, though the museum is for all ages!
---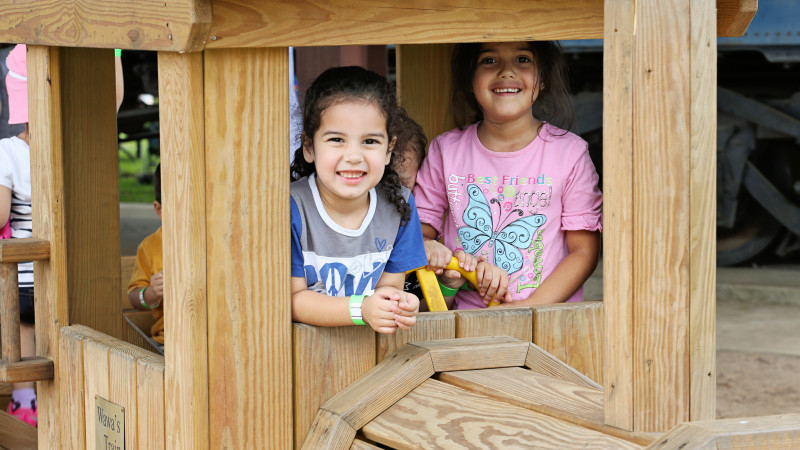 BAC Photography and Design
Rosenberg Railroad Museum1921 Avenue F
Rosenberg, TX
Our kids went through a pretty serious train phase and the Rosenberg Railroad Museum became a family favorite. They have a number of restored train cars including the 1879 Quebec Car and a 1972 Mopac Caboose. You can also explore one of the original Tower buildings and see what it takes to be a train tower operator controlling traffic on the rail lines. The kids also enjoy checking out the museum (and learning hobo codes), the model trains and the WaWa wooden train.
Insider tip: The museum has a number of festivals throughout the year including the Railfest in the Spring and Fall Fun Fest, which are especially fun times to visit!
---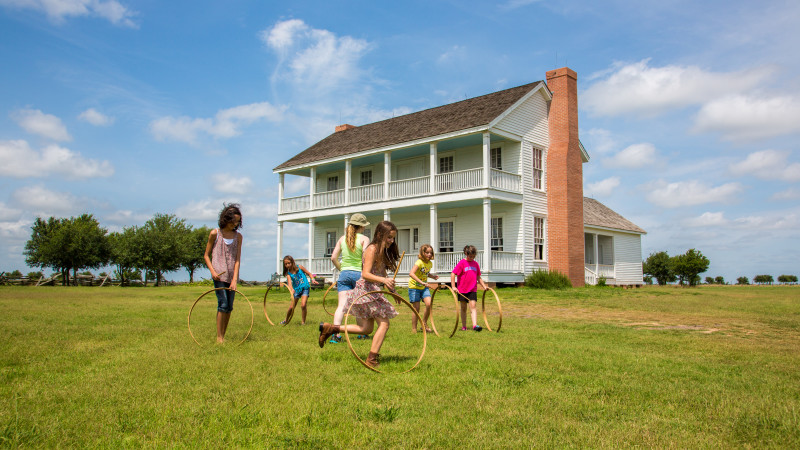 George Ranch Historical Park
George Ranch10215 FM 762 Road
Richmond, TX
This park is a living museum, with various volunteers dressed as four different generations who have lived in the historical homes on the property. You can ask them questions and learn more about what life was like during the time periods they represent. There are four historic homes open to tour—the 1830s Jones Stock Farm, 1860s Ryon Prairie Home, 1980s Davis Victorian Complex and 1930s George Ranch Cattle Complex. In addition to the houses, there are cattle-working demonstrations and various special events throughout the year including Historic Lunches and Texan Market Days.
Insider tip: You are allowed to bring in outside food, so pack a picnic lunch to enjoy on the ranch grounds!
---
Houston Museum of Natural Science, Sugar Land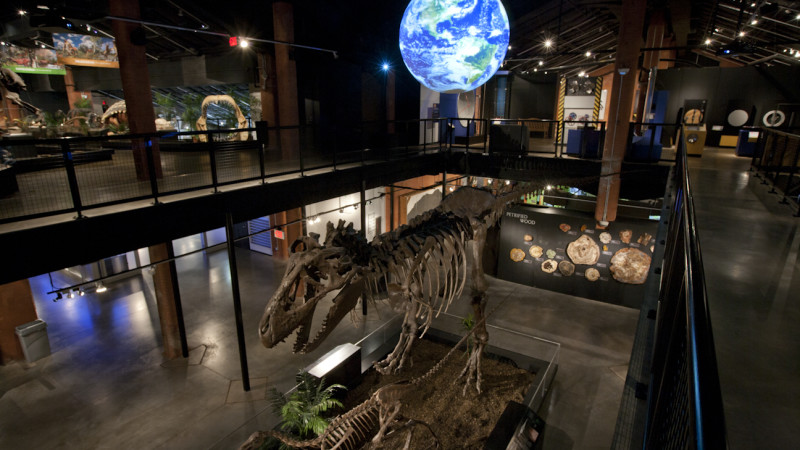 HMNS at Sugar Land
Houston Museum of Natural Science at Sugar Land13016 University Blvd
Sugar Land, TX
We love the main campus of the Houston Museum of Natural Science, but when we are looking to mix things up or avoid some of the crowds, we head to Sugar Land. While this museum is on the smaller side, it does still feature dinosaurs prominently. I also find it a bit more hands on, which is perfect for smaller kids who want to touch everything. In the microscope lab, you can look up close and personal with various rocks and bones. The dino dig area is also a highlight for budding paleontologists who want to dig up their own bones! The special exhibits they bring in also tend to be more pre-schooler friendly, and we've enjoyed tons of the showings in the Digital Dome Theater.
Insider tip: Your HMNS membership also gets you entry to the HMNS Sugar Land, which is a huge bonus!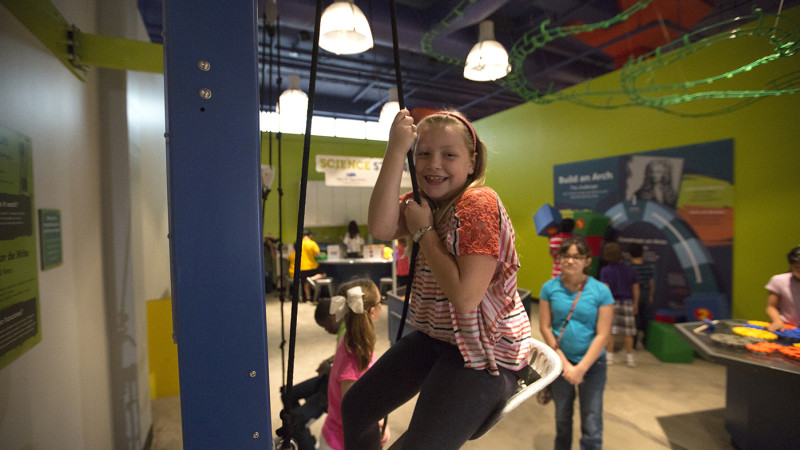 Fort Bend Children's Discovery Center
Fort Bend Children's Discovery Center198 Kempner St
Sugar Land, TX
The Fort Bend Children's Discovery Center is the little sibling to the Children's Museum of Houston. It has many of the CMH favorites, but on a smaller scale. You will find a Top Spot, Kidtropolis and a How Does it Work? section, just like the main museum. However, there are also special offerings like a Dragons & Fairies area and an Everyone Counts! exhibit focusing on the universal language of math. I don't find the crowds as overwhelming here either, making it is perfect for smaller kids who are just starting to test out all that the Children's Museum has to offer.
Insider tip: If you have a Children's Museum of Houston membership, it is good for entry to the Fort Bend Discovery Center too!
---
Constellation Field1 Stadium Dr
Sugar Land, TX
Constellation Field is home to the minor league baseball team, the Sugar Land Skeeters. Tickets are as low as $14 and the venue is extremely family-friendly. At the Children's Memorial Hermann Play Land, you'll find a carousel, playground and splash pad within viewing distance of the field. Genius! In the winter, Constellation Field also puts on a pretty awesome holiday lights show that's worth checking out.
Insider tip: If the extras in Play Land weren't already enough, you can also purchase add ons like attending batting practice or participating in a scavenger hunt around the field.
---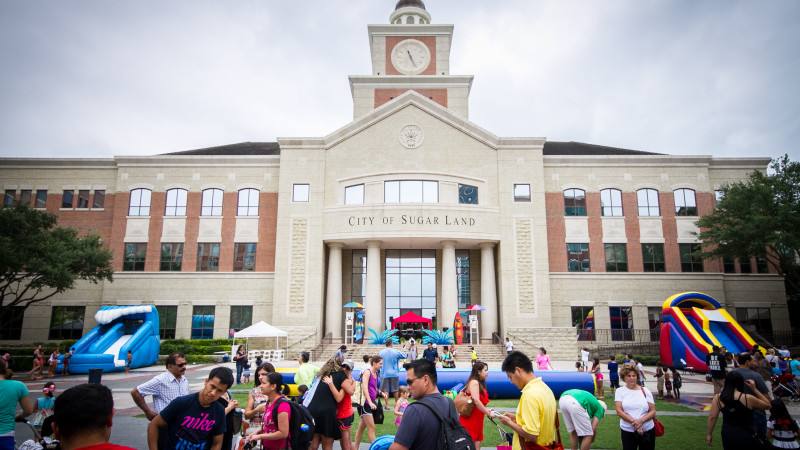 Sugar Land Town Square
Sugar Land, TX
Sugar Land Town Square as more to offer than restaurants and shopping, they keep a packed calendar of special events. They host singing competitions, dancing and yoga, tribute bands, and even toddler music sessions. During the summer, they also host movies under the stars, and in the winter there is a tree lighting event.
Insider tip: Most of the events are free, but as such can get busy. Keep that in mind for parking!
---
BAPS Shir Swaminarayan Mandir Temple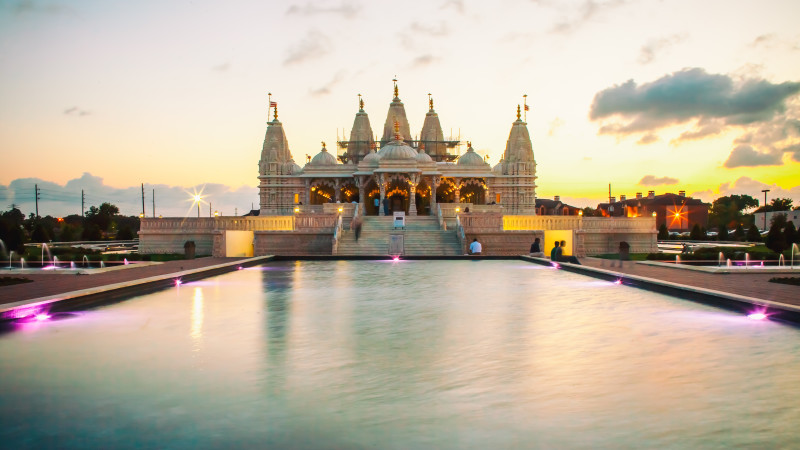 Thomas Hawk
BAPS Shri Swaminarayan Mandir1150 Brand Lane
Stafford, TX
Just inside of Stafford, Texas is a beautiful Hindu temple made of over 33,000 pieces of imported Italian marble and Turkish limestone depicting sacred images and ceremonies of worship. The BAPS Shri Swaminarayan Mandir grounds are open to the public, as is the temple with a guide. Across the street from the Mandir you'll find an exhibit, Understanding Hinduism, and a small souvenir shop. Everyone here is welcoming, and patient enough to answers kids endless stream of questions.
Insider tip: If you want to go inside the temple itself, be sure to have clothing that covers your legs and shoulders. This goes for children, too. Check out the visitor info page to find out the best times to visit.
---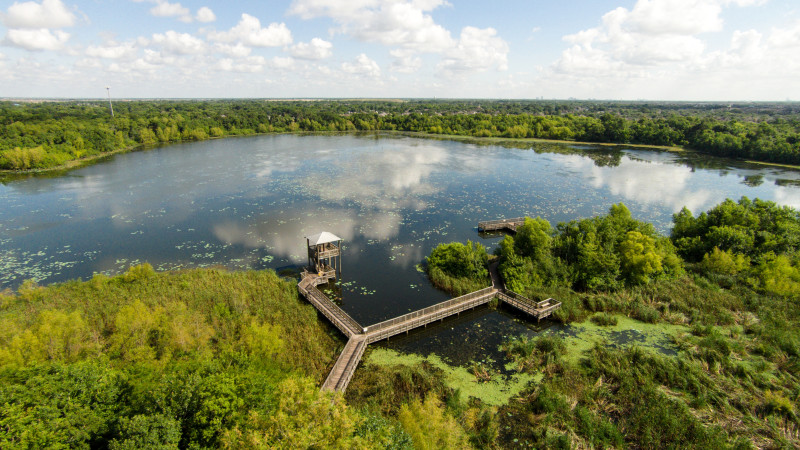 Cullinan Park
Cullinan Park6700 Long Dr
Houston, TX
If you love visiting the Houston Arboretum, but want something a bit different, consider the Cullinan Park Conservancy. There are a number of shaded trails, plus great bird watching and picnic locations are all present at this park. Keep your eyes out for a few alligators, too!
Insider tip: Don't forget the bug spray! You can also download this bird check list or trail map before you.
---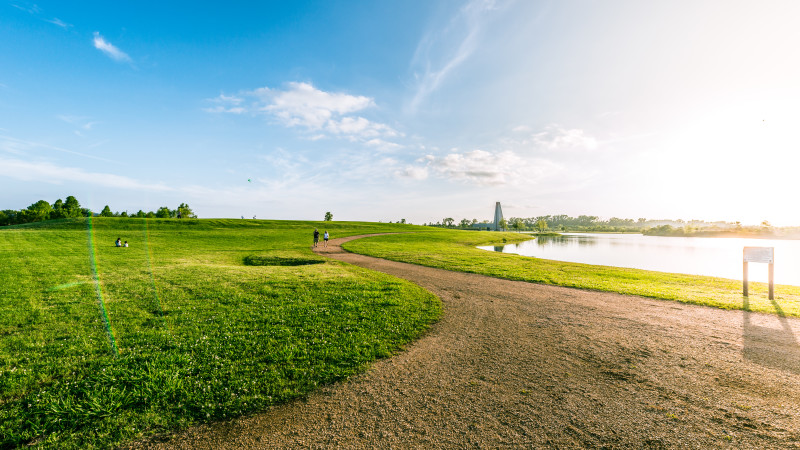 Iman Shahkarami/iManArts
Sugar Land Memorial Park and Brazos River Corridor15300 University Blvd
Sugar Land, TX
Sugar Land Memorial Park is 420 acres along the Brazos River featuring 2.5 miles of walking, jogging and biking trails. You can plan a picnic and grill there, go fishing, enjoy the playground or even take your dog to the dog park, Pawm Springs.
Insider tip: Park hours are from sunrise to sunset and they do have pavilions to rent if you are looking for a good event space.
---
Splash pads in Sugar Land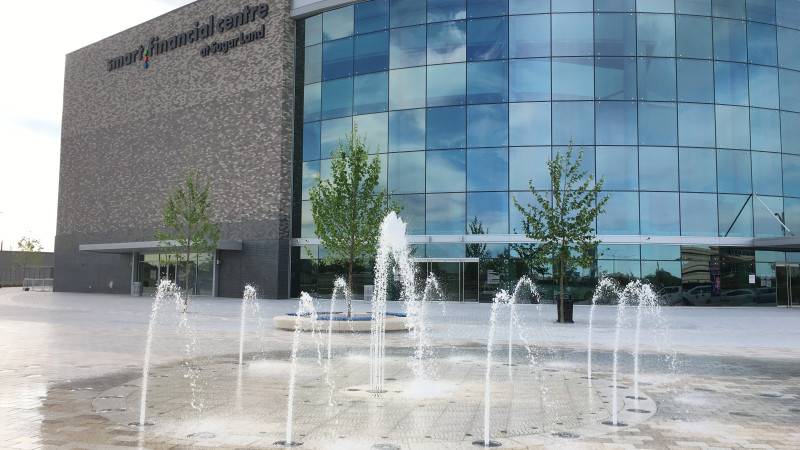 City of Sugar Land
As any good Texan knows, splash pads are key for summer survival. If you have already checked out the ones in Houston, why not venture to Sugar Land to peruse their offerings? The splash pad at River Park and the splash pad at the Smart Financial Center Plaza are both free and guarantee some summer cool down fun.
Insider tip: River Park is closed on Tuesday mornings till noon for maintenance and Smart Financial is closed on Monday mornings. Plan accordingly!
---
Eats and treats
Jupiter Pizza and Waffle Company16135 City Walk
Sugar Land, TX
There's no shortage of great dining to be done in Fort Bend County. A few of our favorites include Jupiter Pizza & Waffles (right in Sugar Land Town Square!) which serves excellent chicken and waffles and stone-fired pizzas, but fair-warning that your kids may not stop begging for the s'mores waffle. At Live Oak Grill, you can take advantage of counter service and two outdoor patios, both of which make's a parents dining-out experience much more care-free. Plus the expansive menu (burgers, sandwiches, tacos, steak, etc.) and kids' menu can please practically any palate.
Mystic Dessert Bar13837 Southwest Fwy
Sugar Land, TX
Then, treat yourself at Mystic Dessert Bar (making waves with their chocolate-covered bacon) or at Anonymous, where you can indulge in the Greek treat Ekmek Kataifi—phyllo dough, vanialla bean cream, whipped cream and toasted almonds. What's not to love?
Originally published on Mommy Nearest