Everything to Do in The Woodlands with Kids
Since we spend the majority of our time running around the inner loop of Houston, The Woodlands sometimes seems like a faraway land that we only visit for the occasional concert. How foolish! This master-planned community comprised of 10 "villages" was built with families in mind and with many different companies now calling The Woodlands home, it has blossomed even more. If you hit I-45 just right, it's only an hour away from Houston. No more excuses! Here are 12 reasons why you should be visiting The Woodlands.
---
Check out The Woodlands Children's Museum
The Woodlands Children's Museum4775 West Panther Creek Drive
The Woodlands, TX
The Woodlands has its very own children's museum and it's super affordable at $6 a pop. Check the calendar for their daily offerings, which include puppet shows, magic shows, science experiments and story times. The permanent exhibits include an imaginative play firehouse, a water play area and the beloved blue blocks from Imagination Playground!
Insider tip: There's no dedicated infant area at the Woodland's Children's Museum, but it works well if you've got many different aged kids. There's something for everyone in the open-plan (a.k.a easy to track your kiddos) museum.
---
Explore The Waterway by water taxi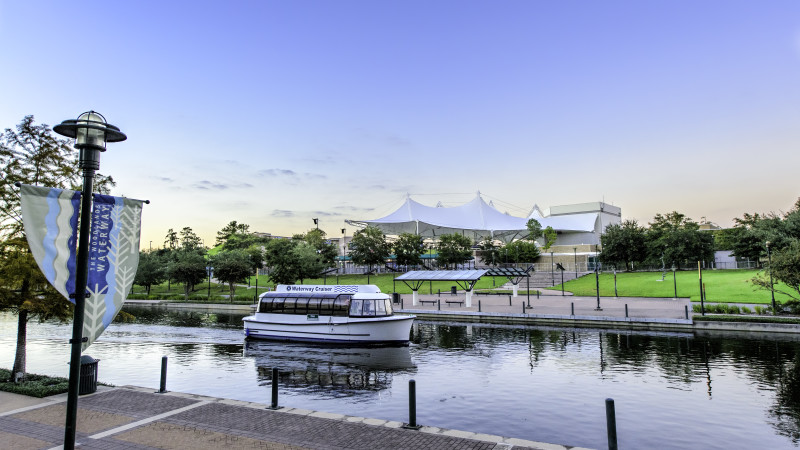 The Woodlands Convention and Visitors Bureau
The Woodlands Water Cruisers float along The Waterway that connects The Woodlands Mall, the Cynthia Woods Mitchell Pavilion, Waterway Square and The Woodlands Marriott Hotel & Convention Center. The Waterway itself is full of a variety of shops, places to eat and paved trails. The easiest place to catch a ride is at The Woodlands Mall, and boats depart every 35 to 40 minutes. Tickets are $5 a person and kids under age four are free.
Insider tip: The Waterway is also home to a super fun arts festival in April!
---
Kayak or paddle board the Waterway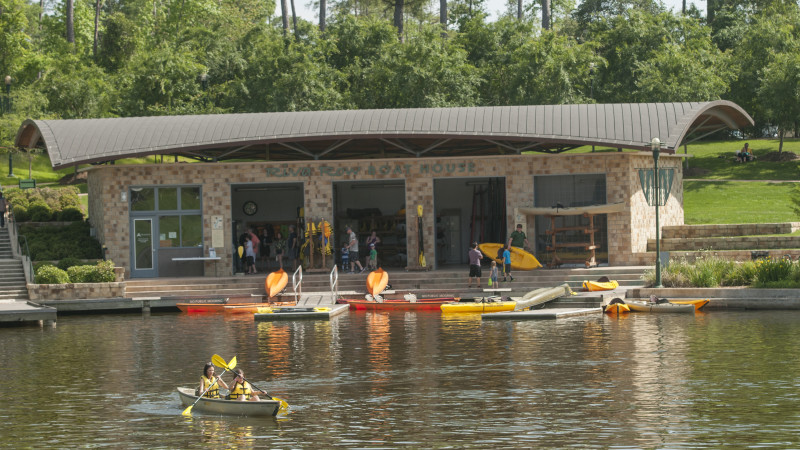 The Woodlands Convention and Visitors Bureau
Another great way to peruse The Waterway is via kayak. The Riva Row Boat House or the Lake's Edge Boat House rents kayaks and paddleboards year round. Single kayaks are $15, tandem kayaks are $20 and paddleboards are $20 for the first hour. Additional hours are $5 each. The Riva Row Boat House gives you access to the Waterway and Lake Edge is right on Lake Woodlands. Rentals are on a first come, first serve basis.
Insider tip: There is a waiver you need to fill out before renting equipment. You can fill it out online and it will last a full year. Kayaks are also limited to two riders, so if you have more than one kid with you, you need another adult for a second kayak!
---
Take a trolley ride of Town Center
Town Center is considered the "downtown" of The Woodlands and is comprised of the mall, The Waterway, Cynthia Woods Mitchell Pavilion and Market Street. There are a number of hotels in this area and more than 900 different businesses. There are three trolleys that operate seven days a week making several stops around the Town Center. Even better, it's free.
---
Climb a dino at Summer Storm Park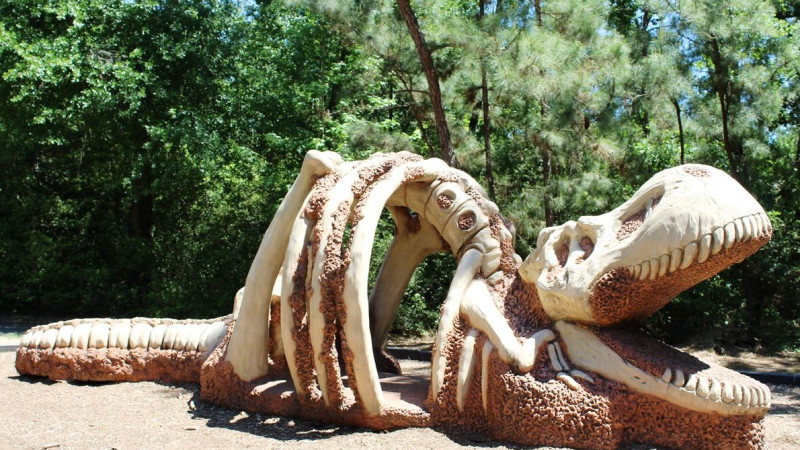 The Woodlands
On your way up to The Woodlands, you will pass through Spring, Texas. Summer Storm Park is a small park with one really cool feature—a dinosaur bone play structure! What kid doesn't want to try that?
Insider tip: Don't stop there! The Woodlands actually has more than 130 different parks to explore. Check out the interactive map online and pick a few to visit.
Go on a hike, or a bike ride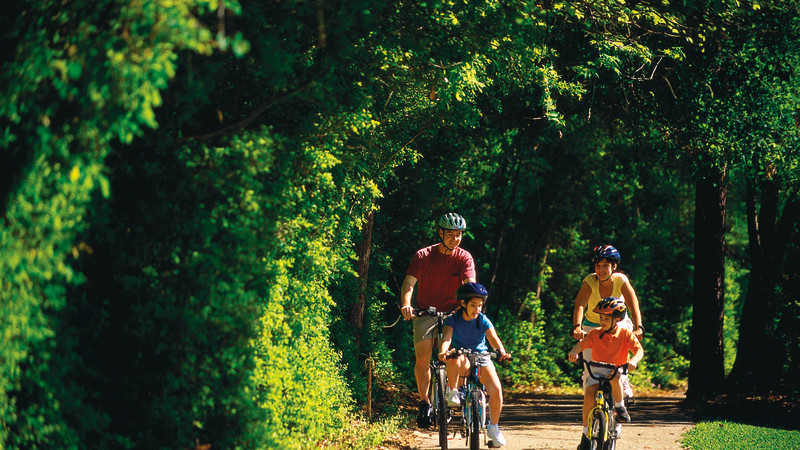 The Woodlands Convention and Visitors Bureau
There are more than 160 miles of paved trails and paths linking together all of the villages in The Woodlands. They are practically begging for you to come up and take a hike or a bike ride! The George Mitchell Nature Preserve is a local favorite for walking and biking.
Insider tip: If you check the maps online, you'll find most trails connect to playgrounds for a fun pit stop.
---
Visit a new splash pad
Living in Texas, you know we love our splash pads, especially during the summer. The Woodlands has several different splash areas to try out.  May Valley Park has a Western themed splash pad and Timarron Park's splash pad is shaded (huge bonus) and is located next to a playground. Waterway Square also has also has splash pad fountains much like Discovery Green.
Insider tip: Many of The Woodlands splash pads are open through the end of October, which is great because, yes, we still need splash pads here in October.
---
Cool off at one of the local pools
There are 14 community pools in The Woodlands that are open to the public (yes, even if you live in Houston). They were created with different ages in mind, and if you read the city's splash guide you can find out which best fits your family's needs. Want a baby-friendly pool that is partially covered and has a slide feature? Alden Bridge Pool is for you. Want a climbing wall and a pool that works for both babies and older kids? Check out Sawmill Pool.
Insider tip: The costs are $6 per person for all pools, except the Rob Fleming Aquatic Center, which is $10, but they have a lazy river and Chick-Fil-A! It is pretty much like a mini-water park at a third of the cost.
---
Or, go all out at Wet 'N Wild Splashtown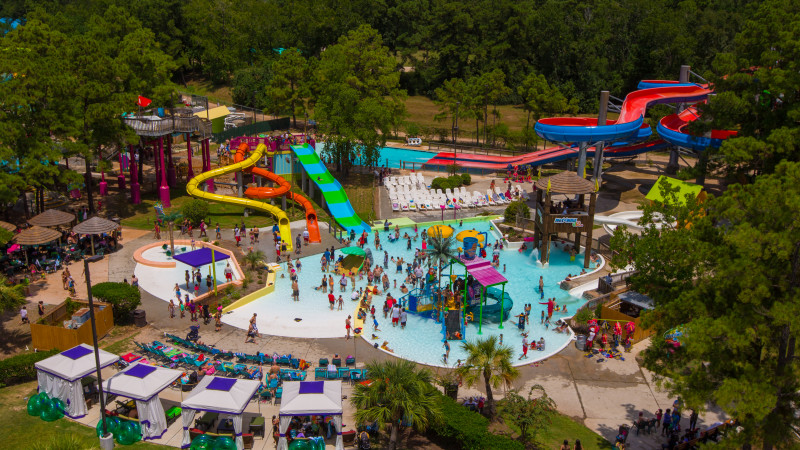 Wet 'n' Wild SplashTown
Wet 'N' Wild Splashtown21300 Interstate 45
Spring, TXJust South of the Woodlands you'll find one of our favorite local water parks, Wet 'N Wild Splashtown, perfect if you're really craving a water adventure. They've got 42 water slides on their 80-acre property, including a vast area for the under 50 inch set (rare at most water parks). Check their website for all of the options, but expect to spend $32.99 to $45.99 for the taller members of your family and $32.99 for kids under 48 inches.
Insider tip: You can't bring in outside food, but they do have food for purchase on site. You also need to pay $10 for parking.
---
Play indoors, too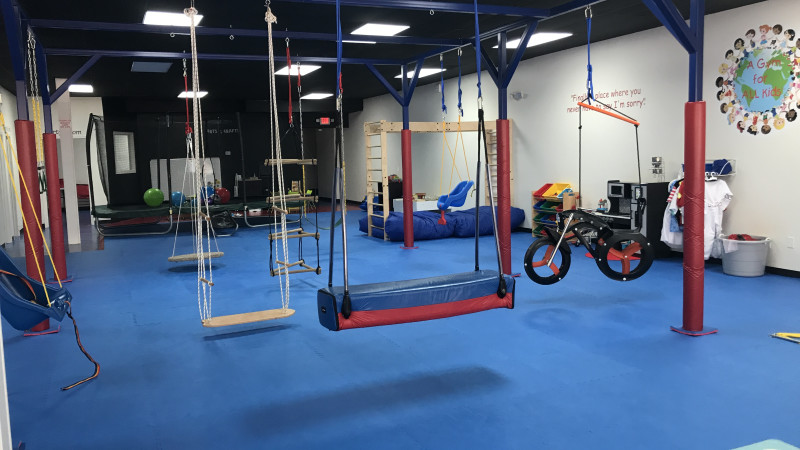 We Rock the Spectrum
We Rock the Spectrum – The Woodlands387 C Sawdust Road
The Woodlands, TXYou can find Houston staples like Pump it Up, Sky Zone and Urban Air in The Woodlands, but if you are looking for something different give IGi Playground a try. You'll find a multi-level play structure complete with slides, trampolines, ball pit and a dedicated toddler area. There's also a café onsite for quick caffeine fixes while the kids play. We Rock the Spectrum is another cool spot for indoor play. The sensory-friendly gym caters to kids of all abilities with their indoor play structure, trampoline, zipline and a fine-motor skills/crafts area, too.
inSPIRE Rock Indoor Climbing & Team Building Center403 E Louetta Rd
Spring, TXFor real thrill seekers, a quick online search for Groupons can score you deals to iFly for indoor skydiving. Or hit up Inspire Rock in Spring; kids under age three are free and all-day passes for four- to 10-year-olds are only $12.95!
Insider tip: If you are looking for something more cost effective, nothing beats free. The Safari Stop at Woodlands United Methodist Church has you covered with a free indoor play structure perfect for kids ages three to nine.
---
Experiment at Little Beakers
Little Beakers Science Lab for Kids – The Woodlands26803 Hanna Rd
Oak Ridge North, TXIn addition to camps and birthday party offerings, Little Beakers in The Woodlands (they've got a Cypress location, too!) hosts drop-in labs with no reservations necessary. At any given time there are up to 30 experiments to choose from at six different lab stations. These sessions start at age two and go up to children aged 16. An hour lab session is $10, 2.5 hours is $16 and a whole day pass is $25.
Insider tip: Adult participation is required, so these are not drop-off sessions. However, up to two adults are free to participate at no additional cost!
---
Spend time at The Woodlands Mall & Market Street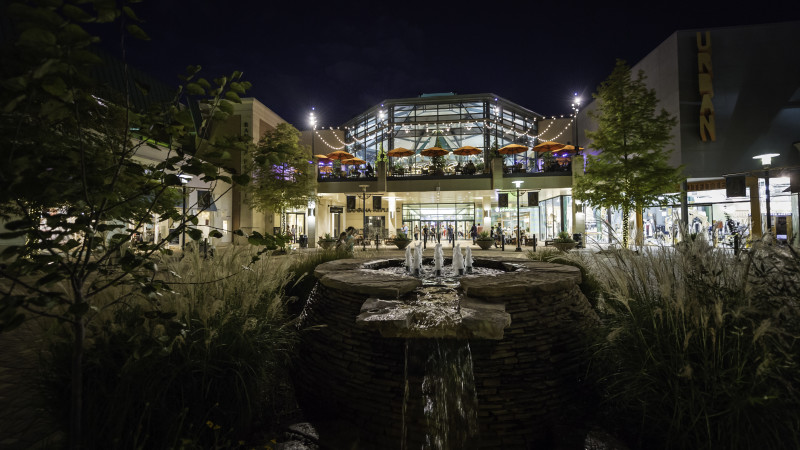 The Woodlands Convention and Visitors Bureau
The Woodlands Mall1201 Lake Woodlands Dr
The Woodlands, TX
You're not gonna visit The Woodlands and not shop at least a little bit. At the mall, you'll find two stories of almost every shop imaginable. But there's also a children's play area, a carousel, a huge food court (plus a few great restaurants just outside its doors) and an outdoor courtyard for restless kiddos. Market Street is just across Six Pines Drive, and has a Cinemark movie theater, a central green space and fountains for kids to run around, plus a few more high-end shopping options.
---
Enjoy some good eats
Fielding's Wood Grill1699 Research Forest Dr
Shenandoah, TX
It's fairly easy to find family-friendly dining in The Woodlands, but here are some of our favorites. For almost any meal, including brunch, Fielding's Wood Grill is a crowd pleaser. Delicious burgers and salads satisfy the grown up palate and there's a kids' menu, plus an iPad bar that will keep antsy littles under control, especially when you're enjoying a flight of Bloody Mary's at brunch time.
Ruggles Green | The Woodlands2501 Research Forest Dr
The Woodlands, TX
For the super healthy, gluten-free, vegan (etc., etc.) bunch, Ruggles Greencan meet almost all your needs including sandwiches, burgers, pasta, pizzas and weekend brunch. They've also got a great patio. Swing by the Torchy's Tacos for a quick meal (breakfast or lunch!) and finally grab a treat at Crave Cupcakes.
Originally Published on Mommy Nearest