Hurricane Harvey Took Our Home, But Not Our Spirit
We live in the Meyerland area of Houston in a one-story ranch style home built in the 1960s about a half a mile from Brays Bayou.
While our neighborhood is no stranger to flooding—our friends and neighbors have endured the life-changing Memorial Day Flood in 2015 and Tax Day Flood in 2016—we felt safe as Harvey approached, knowing our home had never come close to taking on water. In fact, we were confident enough that we would stay dry during any storm that we remodeled a large portion of our home over the past year. Hurricane Harvey showed up and turned our world upside down.
We were watching the news like everyone else the weekend Harvey arrived. On Friday night we had rain, but it seemed no worse than any strong Texas storm. By Saturday, when the rain cleared and the bayous drained, we were wondering what all of the fuss was about.
---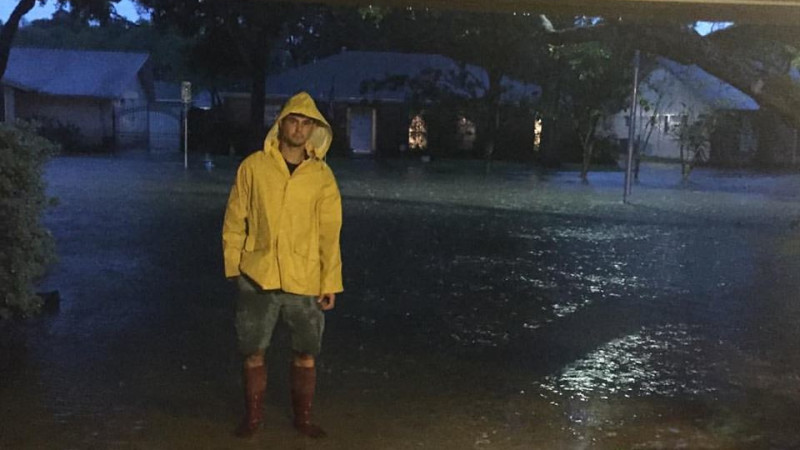 Amanda Sorena
---
Then, on Saturday night it got serious. I started compulsively checking the gauges on Brays Bayou before the site crashed. The rain was coming down fast and the bayou was filling. At that point in time, while we were concerned, we still felt like we were in the clear, as we had never flooded before. We went to bed restless and woke up to the news that Brays Bayou was out of its banks. Houston was flooding. Over the next several hours we paced the house, trying to put various items up high, but still not really believing that we too would flood. We sand bagged with what we had and tried to seal the doors, but the water kept rising. We packed a "go" bag and put all of the non-perishable food on the kitchen table. We tried to keep calm in front of our three children, our seven-year-old daughter and four-year-old twins. They were watching a movie when the water first came in our home at 10am on Sunday morning. We watched helplessly as it came in from all sides. When it was about an inch deep, we decided it was time to go. Our plan was to move through our backyard, which had lower levels of water and head through a side gate to a neighbor's back door and up to their second story.
Right before we left, we took a moment to hold hands in our water-logged living room to pray. We prayed for safety. We reminded the kids that this house is not our home; it's the people in it who make it special. Then we left. We carried the kids over the water to our neighbor, and we quickly went back and forth to our home to get food and bags. Soon after, the power went out. We stayed the night in our neighbor's house on the second floor; four adults, five kids and one dog in two bedrooms and one bathroom. We felt safe there and we're eternally grateful to them for sheltering us. We would move on to another house the next day, and another (my parents') the day after that.
Having been on the "helper" side during past floods, we sprung into action faster than most. On Tuesday morning, we had people showing up to our house ready to pack it. We threw every single "washable" thing into countless contractor trash bags. Clothes, sheets, stuffed animals, towels, pillows, you name it…we bagged it. An army of laundry angels came and took away all of our underwear to houses across Houston to be washed. Even if it wasn't wet, it all was musty from sitting in a flooded home for 48 hours. We started to make tough choices on what to toss, what to keep and what we could disinfect. We took as many pictures as possible for insurance purposes.
---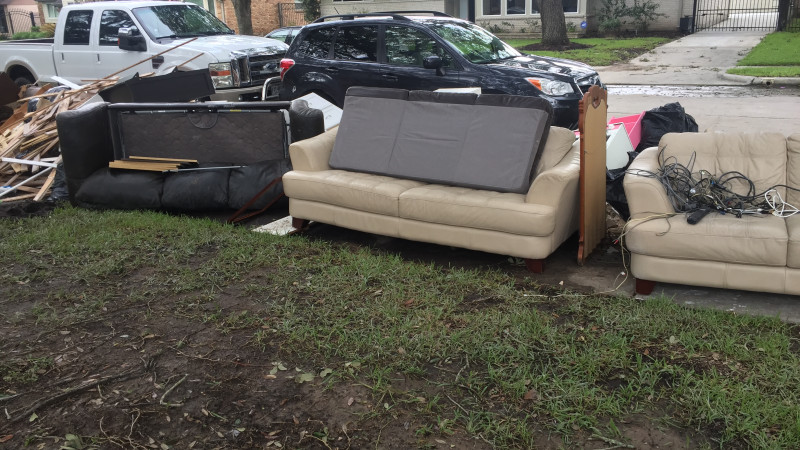 Amanda Sorena
---
Friends and family watched the kids, and loved on them while we were able to work on the house. Our church showed up in force to rip out all of our wet drywall and insulation. By Wednesday, we had moved most of the contents of our house into the garage (which we had forgotten was also wet, but I digress). With furniture out, we could rip up all of the beautiful, original hardwood floors that we had just refinished. They were buckling and once we tore them up, we could see all of the water still sitting underneath. We hauled it all to the curb. Driving around the neighborhood now, all you see are piles and piles of debris being tossed from homes. Mattresses, couches, floors, carpet and once prized possessions creating mini mountains of memories along the streets.
The next wave of helpers came from our daughter's elementary school. The school itself took on several feet of water, but the district was handling the remediation and the teachers will not be allowed into their classrooms until the dry out process is complete. Instead of sitting around, our teachers and administration went to work on the homes of their student body. My bible study ladies came and packed up our kitchen; neighbors who had sold their homes several years ago came back and checked on us; strangers drove down the street offering us food, water and beer (because, Texas). Friends brought us meals and went to the grocery store for us. They drove to distribution centers and picked up boxes on our behalf. They delivered water, bleach, packing tape and good strong hugs. They let us cry and made us laugh. One of my closest friends drove in from Austin to help just as soon as the roads were open. People from out of state offered to help look up replacement value on our items to speed up the insurance process. Others want to adopt our school and replace what the teachers have lost. Care packages are arriving with activities for our kids. National organizations reached out to groups I am a part of and offered to help. The love and support just keeps coming. Thank you seems too small a phrase for all they have done for us.
---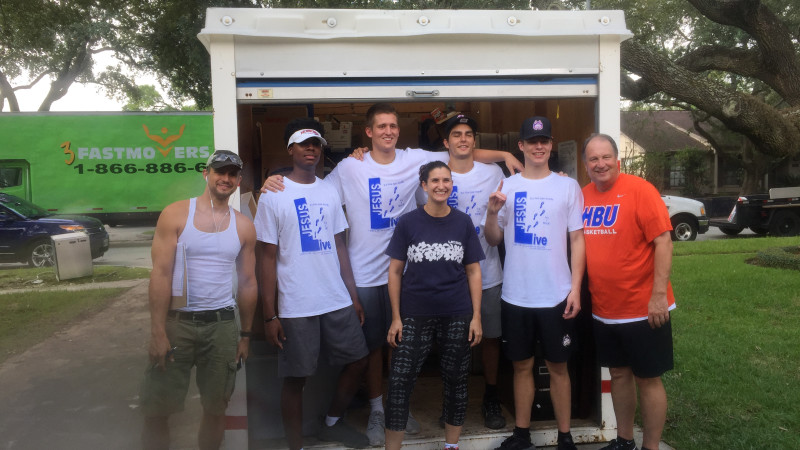 Amanda Sorena
---
If our story sounds familiar, that's because it is the story of thousands of Houstonians this week. We are not unique in the support we have been given or in the damage our home received.
People keep asking us how much water we got. The best answer I can give is, we got enough to touch everything. We got enough to touch other people's hearts to help us. We got enough that friends who have been through this process before quickly gave us practical, useful guidance on next steps. We got enough to touch our own hearts to know that this is hard, but not impossible. We got enough to feel love from around the world for our family. We got enough to know we are lucky. We got enough to change all of our perspectives. We got enough.
The next few months will be filled with a lot of uncertainty and fear. We know this is just the beginning of a long, challenging road full of tough choices and certain heartache. But even knowing all of this, it is hard not to still have hope. In the midst of this pain, people put aside differences to help strangers. No questions asked. People reached out and said "what do you need?" Better yet, they just showed up without warning and filled our needs before we had time to verbalize them. If they saw we were in a good place, they didn't go home, the moved on to the next family.
We have a long way to go and many Houstonians still have water in their homes and haven't even begun the clean up process. Thousands still fill our shelters and are coming in from surrounding areas.
Before long, we will fade from the national spotlight, but our city's needs will still be great. If this past week is any indication of what we can achieve when we work side-by-side though, I am confident we can traverse these waters together. #HoustonStrong
Originally Published on Mommy Nearest