The Lone Star Flight Museum is Houston's Best New Destination
If you are anything like me, you waited in anticipation all summer for the opening of the Lone Star Flight Museum, then a little storm named Harvey came to town and rearranged all of our intended plans.
The irony of Harvey delaying their grand opening is not lost on the museum. Lone Star was originally a private collection of aircrafts housed in a facility at Galveston's Scholes Field. When Hurricane Ike hit in 2008, they were able to save many of their planes by flying them out of the area, but the structure itself, the aircrafts left behind, and other aviation artifacts sustained significant damage. They began looking for a new home with higher ground and ultimately settled on a location near Ellington International Airport.
The new $38 million dollar, 130,000 square-foot state-of-the-art building was worth the wait and is a must-see for Houston area families. With its unique combination of history, artifacts, working planes, and education, it bridges the gap perfectly between the 1940 Air Terminal Museum and the Space Center Houston, just down the road.
Here's a quick breakdown of all you will find at the Lone Start Flight Museum—and why you should visit ASAP.
---
Hangars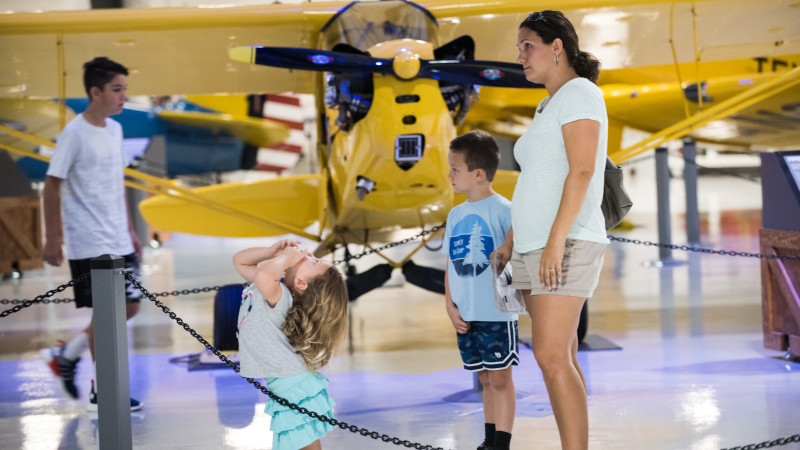 The Lone Star Flight Museum boasts an impressive collection of more than 40 historically significant aircrafts and over 1,500 aviation artifacts. One of the most intriguing aspects of the museum is that many of their planes still fly, as evidenced by the glistening oil pans under many of the craft in the hangar. There are two hangars—Heritage Hanger and Waltrip Hanger. You'll find everything from Cessna T-41 Mescalero to a Boeing B-17 Flying Fortress. We picked up a scavenger hunt sheet from the front desk, which helped keep the kids on task, and we were able to learn some history while appreciating the beauty of the planes themselves.
Insider tip: There are two overlooks of the hangers on the 2nd story. These areas are great for photos and to get a literal birds-eye view of the collection.
---
Aviation Learning Center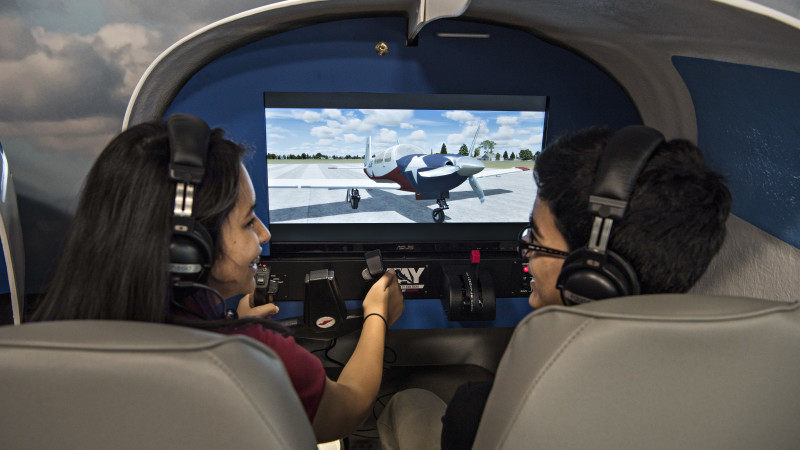 The Aviation Learning Center is the second of its kind in the United States. The STEM-based curriculum for this two-hour weekday class is designed for children in grades 5-12, and they'll get a taste of what flight school is like. Students start in the Learning Laboratory to learn aviation basics at some "ground school" workstations. From there, they move on to the Mooney Hangar for a preflight check of a Mooney aircraft. Finally, they end up in the Simulator Bay where they attempt to pilot a flight simulator. I know a few adults that would love to take that class, too!
You can also tack on a trip in the Learning Center's flight simulator on weekends starting at $5. You just have to be at least 10-years-old to go for a ride!
Insider tip: Classes are two hours long and can accommodate up to 36 students. Costs are $450 a session and can be reserved via their website. Ask your kid's school about a field trip!
---
Flight Academy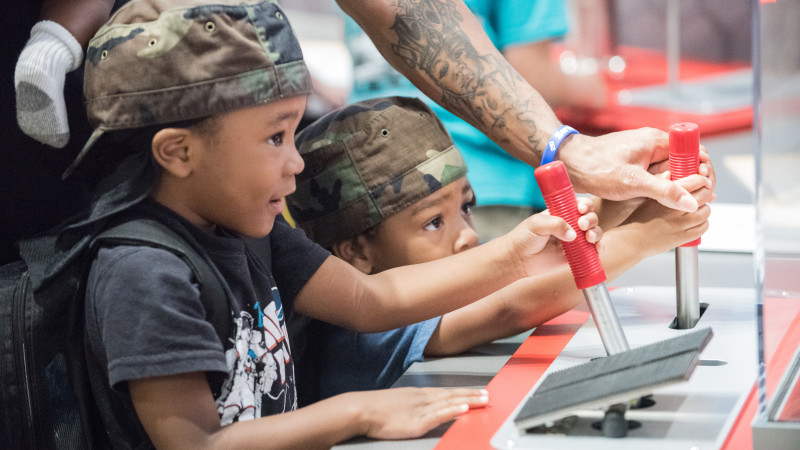 The Flight Academy was one of my favorite areas of the museum. It is packed with various hands-on STEM exhibits teaching the principals of flight, engineering aspects of planes, and experiments where you can see how wind resistance and weather conditions can impact a flight. We learned different symbols for cloud formations, where various parts of planes are located, and felt the difference between the weight of steel vs. carbon fiber. Our oldest loved going through all of the different displays and we even caught her watching the film on the principles and history of flight. For our younger kids, they spent the majority of their time playing in one of the three different cockpit replicas that come complete with flying sound effects.
Insider tip: They have two interactive hang-glider simulators where you can try to fly and land. It's super cool and way harder than it looks.
Texas Aviation Hall of Fame & Texas Aviation Heritage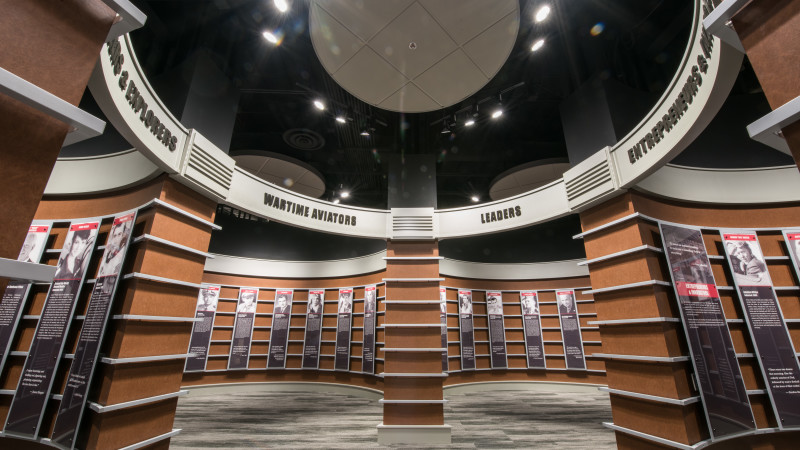 This section is a "Who's Who" of Texas flight history. Not only do they have a gallery with photos and information on each of the 71 inductees, they also have displays on the history of flight in Texas. I had no idea how many WWII training runs were done all over the state and the influence of the Texas aviators with NASA work. Your younger kids might not fully appreciate this area, but don't skip it!
Insider tip: We went around and counted how many women were in the Hall of Fame as well as looked at different people's names to try and learn at least one or two new things. The Scavenger Hunt also came in handy here for getting the kids to focus on an area that they might otherwise blow through.
---
Take a plane ride
Since many of the planes are operational, the museum sells flights in a few select historical aircrafts. Prices range from $250 to $995, depending on the type of aircraft, and include a 40-minute experience with 20 to 25 minutes of actual flight time. You have to be at least 12 years old and children ages 12 to 17 must be accompanied by a parent. These flights make great special gifts for the hard to buy for people in your life.
---
Special events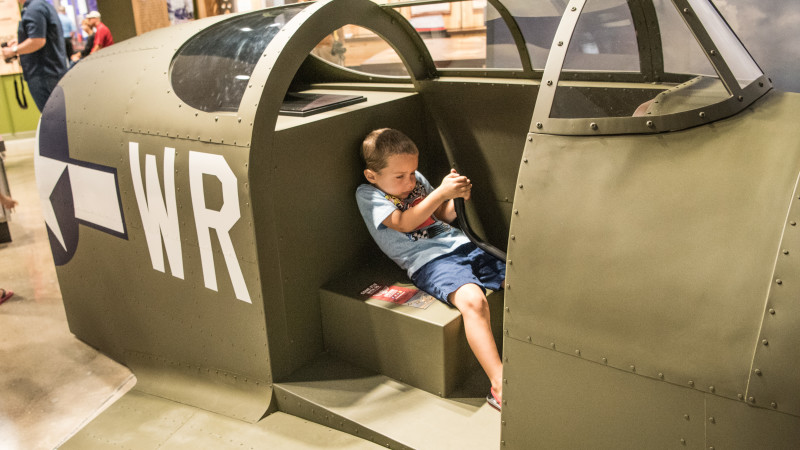 LSFM is still exploring and adding events to their calendar, so be sure to check their website for new offerings. They recently started "Fly in For Story Time," which includes a flight-themed story on the first Wednesday and Saturday of every month, followed by an activity. They also held special Santa pictures in December. I imagine as the museum grows and develops, they will begin to host even more unique events!
---
Hours & Admission
---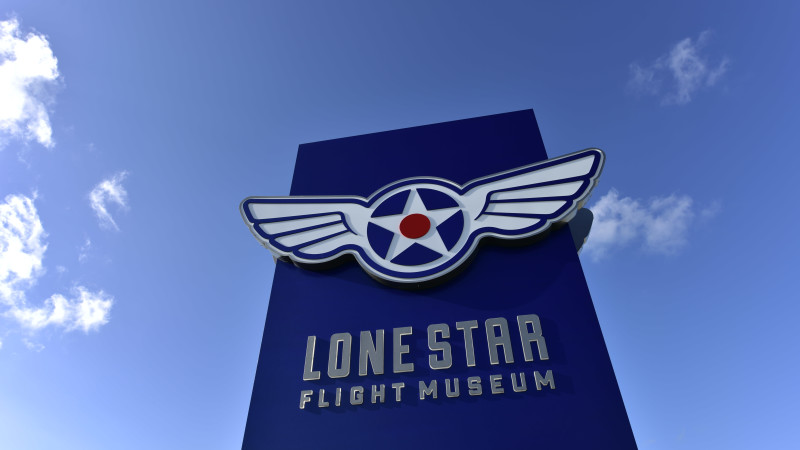 Location: Lone Start Flight Museum, 11551 Aerospace Avenue, Houston, TX
Cost: Adults $18, children (ages 4-11) $14, under 3 free. Costs go up by $2 a ticket if you buy at the door instead of online.
Membership: If you are planning to take the whole family, consider a "Flight Crew" membership for $140. It will get you unlimited admission for two adults and five kids as well as discounts on admission tickets for guests, member-only events and 15% off the gift shop.
Hours: Tuesday-Sunday, 9am-5pm.
All images courtesy of Lone Star Flight Museum
Originally Published on Mommy Nearest