25 Best Things to Do in Corpus Christi with Kids
Surfing, beaches, sea turtles, aquariums, museums, shipwrecks, pirates and….Selena? No, I am not describing some sleepy beach town in California. When you think of Texas, images of cowboys and oil come to mind, but with a coastline as big as ours, its time to expand our definition of what Texas is. Enter, Corpus Christi. Here are 25 reasons you should get a trip to Corpus and the Coastal Bend on your calendar ASAP, and get a different take on Texas.
---
1. The Texas State Aquarium is a must do in the Corpus area 364 days of the year. This state of the art, multi-story facility boasts thousands of animals representing more than 460 different species. In addition to the regular exhibits teeming with sea life, the aquarium offers daily wildlife presentations, a Living Shores touch-tank, a Stingray Lagoon and an interactive Saving Sharks exhibit.
2. The Water's Edge is one of Corpus's newest parks. The 30-acre green space has its own dog park, fitness area, great views of the waterfront and a cool new playscape for kids to climb all over. You can still find the North Bayfront fountains and shallow wave pool, which is always a kid favorite!
3. If you happen to be in Corpus during the months of mid-June to August, then you're in for a treat. Nearby North Padre Island is home of several sea turtle nesting sites and some hatchling releases are open for public viewing. Simply call the Hatching Hotline at 361-949-7163 to see when the next one might occur. Releases happen early in the morning, but it generally takes 20 to 45 minutes for the turtles to make the trek to the ocean, ensuring everyone gets a chance to see the little fellas go.
4. In Texas, we love our waterparks and Schlitterban has you covered with their Riverpark & Resort on Padre Island. The park is open for weekends starting in April and then daily through most of the summer until school starts back up again. If you're looking to maximize your waterpark time, consider staying on-site at the resort for added perks and pool time.
5. What's the best thing to do when visiting the Texas coast? Well, a beach day, obviously! From Corpus, you have some options. There is the downtown McGee Beach, but North Padre Island, Port Aransas, and Mustang Island are all within driving distance for an easy day trip.
---
---
6. If you were a teen in the 90s, especially in Texas, then I bet you know all the words to "Dreaming of You" by the Queen of Tejano Music, Selena. I am also sure you also haven't forgotten her tragic death in 1995 in Corpus Christi. You can find her grave at Seaside Memorial Park, but if you would rather celebrate the life she lived, then a visit to the Selena Museum is what you need. The museum itself was built by the Quintanilla family and showcases some of Selena's iconic stage costumes and memorabilia, including her red Porsche.
7. You can also pay homage to Selena is at the Downtown Seawall, where her memorial statue is located alongside the water. The seawall itself is a 1.5 mile stroll along the water and perfect for a quick jog or bike ride.
8. I love the idea of taking the kids fishing, but since we don't go often, we have none of our own gear. Visiting Bob Hall Pier makes it easy. The pier itself juts out 1,240 feet from the beach, giving you a shot at catching some deepwater fish that don't hang out by the shore. The fees are $2 a person/$2 a pole. You can also purchase bait and tackle at the pier. Vendors are always willing to lend their best fishing pointers if this is your first go around. That's my kind of fishing trip.
9. The South Texas Botanicals Gardens and Nature Center is a 182-acre informal education center. This is a great place to turn the kids loose to explore the Butterfly House, Orchid and Bromeliad Conservatories as well as the Rose Garden and seasonal Plumeria Garden. They'll also get a kick out of the "Monkey Mansion Tree House" and some of 60 different reptiles and 40 exotic parrots that call the nature center home.
10. Ahoy Matey! Start practicing your best #talklikeapirate skills to set sail out of Port Aransas on a Red Dragon Pirate Cruise. Reservations are required, but these 2.5 hour pirate ship excursions happen seven days a week and include sword fighting, a water gun battle, storytelling, treasure hunting, and if you're lucky, some dolphin watching!
---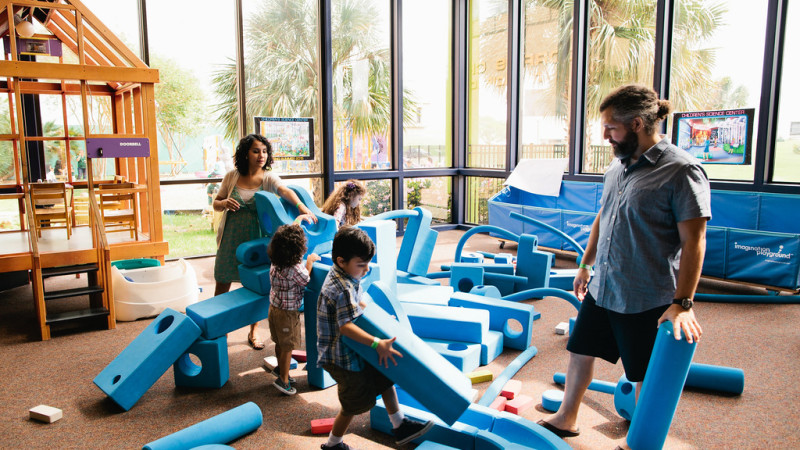 ---
11. If you didn't get your pirates fill on the cruise, then make a stop at the Corpus Christi Museum of Science and History and check out their exhibits on shipwrecks, Corpus Christi history and paleontology. Of course, like any good science museum, you'll also learn about earth sciences and coastal ecology, and take in an exhibit on exploring the nanoverse.
12. The small and quirky Texas Surf Museum is dedicated to enlightening the world about Texas surf culture. It is the only museum of its kind in the state and "just like the waves, is free to the public." Not to mention, there are a few fun photo ops with the boards.
13. The weather won't always cooperate, and in that case, you should visit Get Air Trampoline Park. Kids can run wild for hours here thanks to the numerous trampolines, dodgeball games, a foam pit, slack line and a ninja course. There's even dedicated toddler time for the littlest jumpers.
14. When literally bouncing off the walls doesn't cut it, grab a lane at Bowlero, which is bowling with an adult-friendly twist (i.e. you can enjoy a cocktail and restaurant-worthy eats!). Kids can bowl some strikes, hit the arcade and play a game of laser tag here, too.
15. Corpus and the entire Coastal Bend offers more natural beauty than just the ocean. If you consider yourself a bit of a nature buff, pay a visit to the Oso Bay Wetlands Preserve & Learning Center, which just opened the outdoor Pollinator Playscape, complete with a sensory garden and natural play elements for little ones. There are also two miles of walking trails where you're likely to see tons of local flora and fauna and another already-awesome playground on site.
---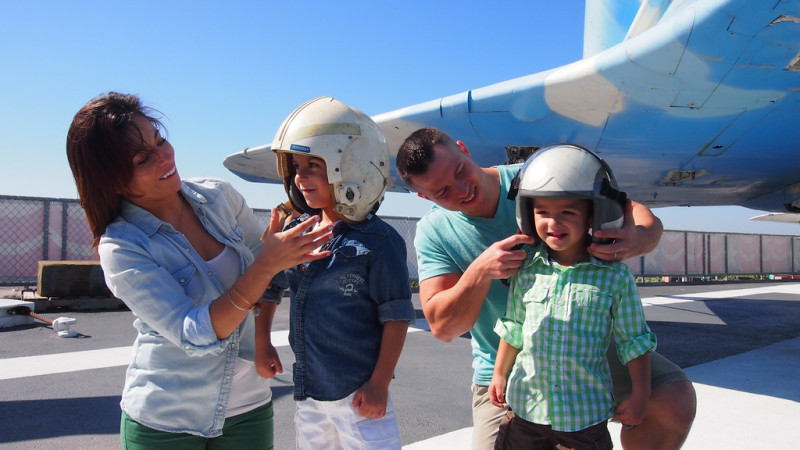 ---
16. Since 1992, the USS Lexington (otherwise known as The Blue Ghost) has called Corpus Christi its home. Commissioned in World War II, this Essex-class aircraft carrier is now a museum and theater. Self-guided and guided tours are provided year-round with opportunities to explore the Flight Deck, Upper and Lower Decks as well as the Hangar Deck and Galleries. There are also special seasonal events including a haunted house and attractions like the flight simulator, where you can see if you have what it takes to be a F/18 pilot.
17. Just a year ago, Corpus opened an epic Playground-For-All at Salinas Park. Visit the accessible playground to take a ride on the zip line, check out the gliders, play a tune on the musical instruments and lots more. It's definitely one of the top playgrounds in the region.
18. For a truly Texan adventure, make the short drive to King Ranchjust outside the city. The famous ranch spans 825,000 acres, and houses 35,000 cattle and 200 quarter horse. There are ranch tours and nature tours offered frequently, a museum full of ranching memorabilia and a saddle shop, where you can actually see the master saddle maker at work.
19. It doesn't get much more fam-friendly than Brewster Street Icehouse. Enjoy a beer, meal, live music and the outdoor playground that will keep your kid busy while you enjoy all of the above.
20. But if you're only in town for a bit, you've got to sample the seafood. Snoopy's Pier is a classic Corpus dining spot, with views of the water and a fried shrimp basket almost any kid would love.
---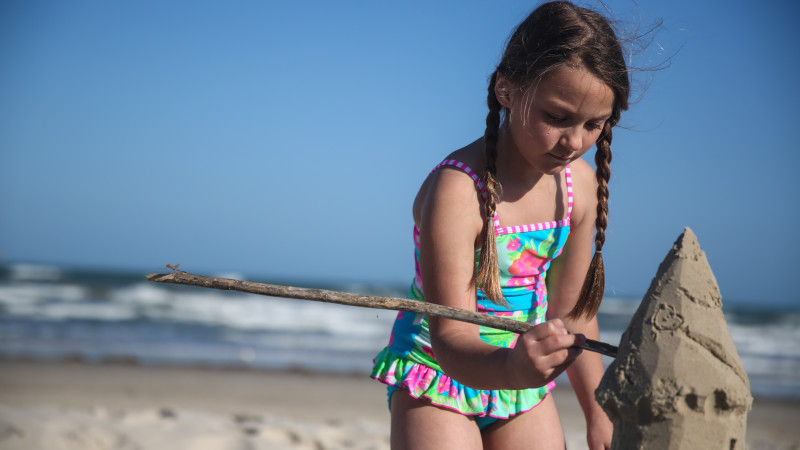 ---
21. Spots like Sno-Ball, Bourbon Street Candy and old-school Hamlin Soda Fountain are popular for a sweet treat. Oh, and we can't forget to mention La Paletera's fruit cups and frozen drinks.
22. If you've got older kids, or just consider yourselves more adventurous, Corpus, Mustang and Padre Islands are the perfect spot for water sports. Coastal Bend Kayaking, 361Kite and Chute 'Em Up Parasailing are a few of the spots to get you and yours on (or above!) the water.
23. A bit of a local legend, you can try to scope out Chip Cooper sand sculpting a masterpiece in Port Aransas in his sandpit at Avery's. If you're truly enthusiastic, book private lessons and learn from the master himself.
24. Admission is always free at Art Center Corpus Christi, where you can see a few galleries of locally-created art on display. And every Saturday beginning at 10am, and Wednesday at the Downtown Farmers Market at 5pm, families can join a free family art time just for them.
25. Padre Island National Seashore is truly special. There are 70 miles of protected coastline, dunes, prairies and wind tidal flats, which makes for lush local flora and fauna. It also happens to be one of the best spots for camping in the area, with five campgrounds available on a first-come, first-served basis. It's way out there from most amenities, though, so you'll need to come prepared.
All images courtesy of Visit Corpus Christi