Discovery Green in Houston is Getting a $12 Million Upgrade
If you're a longtime Houstonian, you know the impact that Discovery Green has made on the overall landscape of downtown. In 2008, they took an underdeveloped 12-acre concrete eyesore and transformed it into a premiere park that is now seen as the gateway to downtown. The park itself, along with robust family programming and special art installations, has made Discovery Green a destination for many of the city's families with 1.5 million visitors annually.
Now, ten years later, the Discovery Green Conservancy is coming together again to provide a $12 million upgrade to the already beloved urban oasis.
---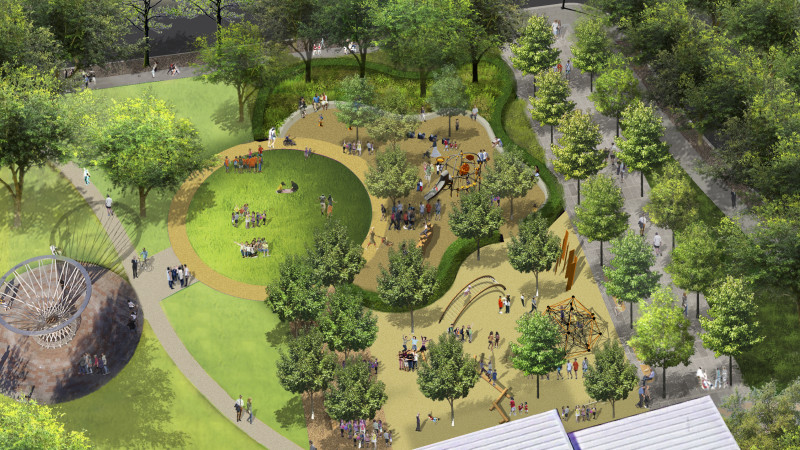 ---
We're pleased to share that the majority of the improvements will be focused on Discovery Green's John P. McGovern Playground. The play area will maintain its same footprint, but when it re-opens parents will find two distinct play areas. One for 2- to 5-year-olds as well as a section for older children ages five to 12. There will also be a hedge with a built-in fence surrounding the play area, which will surely help combat the former space's issue with containment. They are also adding a hill that will mirror the one found in the northeast corner of the park. Best of all, there will be a significant increase in play pieces themselves, which will go from the current nine up to 20.
When we asked Barry Mandel, the president of Discovery Green Park, what he thought parents would be most excited to learn about the upgrades, he said, "Parents will be most happy about shaded seating in each of the play areas for them to be able to watch their kids while at play." Overall, Mandel says, each one of the additions, "creates new opportunities for play." The entire construction process is scheduled to last seven months with a reopening sometime in early fall 2019.
---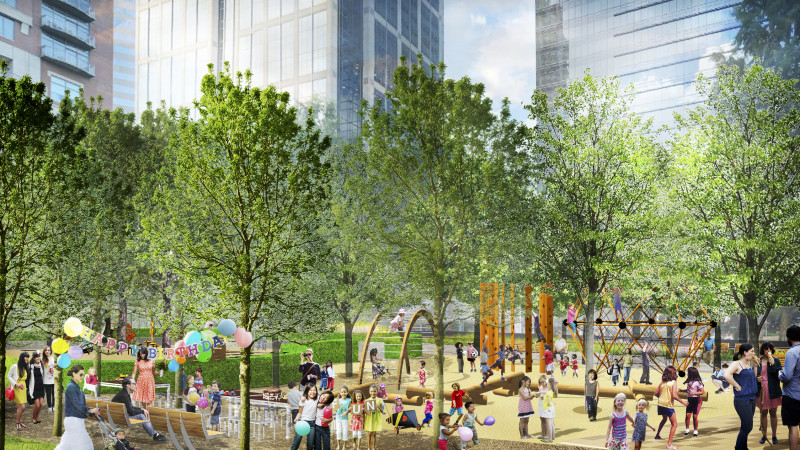 ---
Can't wait that long to visit? Don't worry! Discovery Green still plans to have play areas open for families during the construction period. They are temporarily relocating the Aerie Play Structure to the Sarofim Picnic Lawn and will be bringing in Yuri Suzuki's "Sonic Playground" in early March for a six-month visit. This interactive exhibit features half-dozen trumpet-style structures and is on loan from Atlanta's High Museum.
All images: Courtesy Hargreaves Associates