50 Things to Do with Houston Kids This Summer 2019
Despite the fact that Houston gets miserably sticky and hot, I'm still a fan of summer. During the school year, scheduled activities fill up our calendar and all sense of flexibility and spontaneity seem to go on the back burner. Not in the summer—the summer is for "adventuring."
Each year, I make a list of the new attractions and standard family favorites happening around the city, and we aim to enjoy each and every one of them from June through August. It's a handy tool for a random Wednesday morning when the kids are at each other's throats and you need something to break up the day and get you back on track. Here's what's on my list of the best things to do in Houston with kids this summer (and what you should add to yours, too!).
---
1. Summer is the perfect time to take advantage of free admission times at Houston's major institutions and get cultured! You can't go wrong with a visit to the Museum of Fine Arts, Houston Museum of Natural Science and Children's Museum of Houston.
---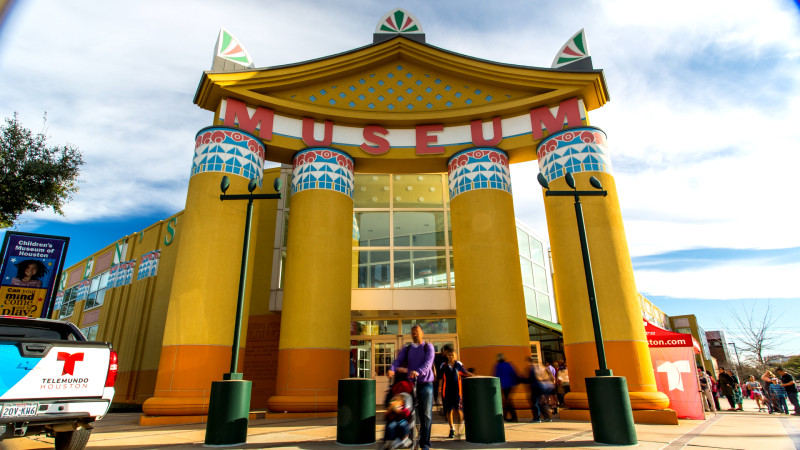 Visit Houston
---
2. If smaller crowds and lower prices are more your speed, consider going to one of these five underrated Houston museums to have some air-conditioned fun.
3. Houston has tons of awesome, free splash pads operated by the parks department, but those don't even include shopping center or big attraction fountains. Check out our favorites here. And let us know about any new favorites!
---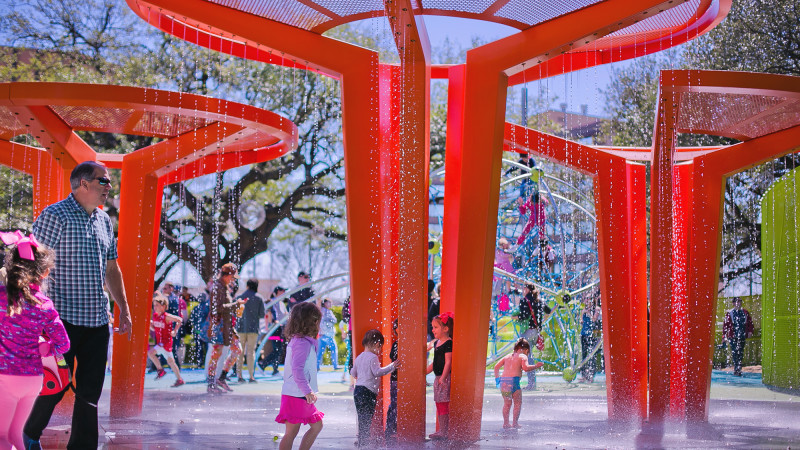 Levy Park splash pad by Morris Malakoff
---
4. Celebrate the 50th Anniversary of the moon landing at the HMNS's new Moon by Luke Jerram. The sculpture exhibit features a 120-dpi detailed NASA imagery of the moon's surface and is 23 feet in diameter with an approximate scale of 1:5000,000. It's open now!
5. MFAH is bringing another stunner exhibit in for the summer. William Forsythe: Choreographic Objects plays with your sense of space and time. The interactive exhibit is open to all ages, and the signature piece is comprised of a field of mechanized pendulums hanging from the ceiling that you step through, creating choreographed patterns. The exhibit opens May 23 and runs through September 15. Also, don't forget to see Vincent Van Gogh: His Life in Art, open through June 27.
6. Children's Museum Houston is bringing Hollywood to you this summer, with its Action-Packed Summer programming from May 25 to September 2. Kiddos can be the star of their own movie as they explore five movie sets (think Superhero City, Dino World, Wizarding Workshop and Space Trek)—each is decked out with props, costumes, sound studios and more. Whether your little one wants to be behind-the-scenes or in front of the camera, they'll have a blast living in the worlds of their favorite movies—and maybe learn a little something about filmmaking, too!
7. Pay a visit to the Space Center to see Journey to Space, the new exhibit that lets you immerse yourself in a seven-part quest and explore life in space, what's at stake in deep space travel, and imagine would life would be like in a future where Earth is no longer our only home. The exhibit is open from May 25 to September 2.
8. According to Visit Houston, our city has more than 56,405 acres of parks. Check out the newer Levy Park in Upper Kirby, Evelyn's Park in Bellaire (which has an awesome new interactive Alice in Wonderland sculpture) or any of the others from our list of the best playgrounds in the city.
---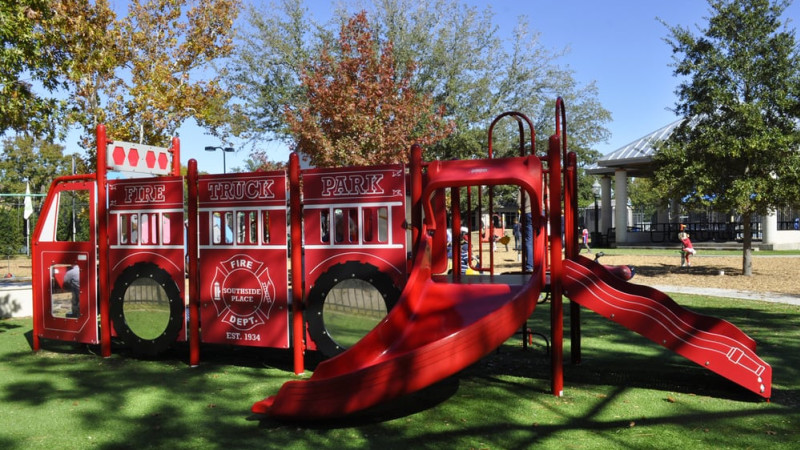 City of Southside
---
9. No summer is complete without a trip to the Houston Zoo. This summer, we're especially excited for their new Dinosaurs exhibit, which runs from May 25 to September 2. exhibit. You'll see 17 animatronic dinos hidden amongst lush, green plants—keep an eye out for T. rex or Stegosaurus. The zoo also has plenty of indoor spaces (meaning air-conditioned), a great nature playground and a splash pad, too. It is worth packing the swimsuit for a cool down moment.
10. Big Rivers Waterpark had its grand opening in 2018 and has made a splash in New Caney. Visiting this latest waterpark should be on your "must do" list, as it's said to have the longest lazy river, biggest waves and lots more splashy attractions. The challenge course also adds to the overall Grand Texas Theme Park experience. Big Rivers opens for the season on May 25.
11. Market Square Park will show flicks like Little Shop of Horrors (June 5) and Spaceballs (July 3) and on the lawn throughout the summer, along with concerts and blanket bingo. Check the calendar listings for details.
12. If you can't take the heat, search Kids Bowl Free to sign up for free bowling for your kids all summer long. Did someone say air conditioning? Ahhh.
13. You don't have to travel far for a beach getaway! Galveston is just a short drive from the city and packed with history and culture. If Galveston isn't your thing, here are six other beaches to try.
---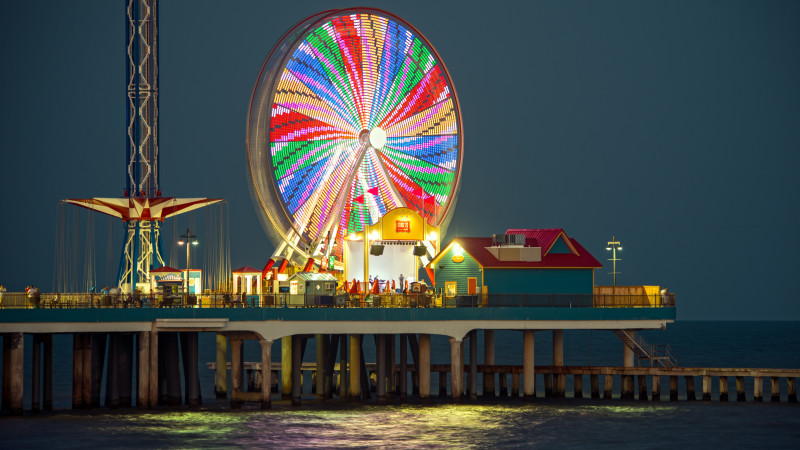 Galveston Island Convention & Visitors Bureau
---
14. Make your toddler or tween's (or yours—no judgment) dreams come true with tix to see Kidz Bop at Cynthia Woods Mitchell Pavilion in The Woodlands on June 9.
15. Retreat from the midday Texas heat and enjoy the dark, air-conditioned magic of the theater with your family. See Main Street Theater's You're A Good, Man Charlie Brown from June 11 to July 28.
16. If you've got transportation-loving kids, mark your calendars for the 1940 Air Terminal Museum Wings & Wheels. The museum opens up the gate, so you can see planes landing and taking off from Hobby Airport, and there are always plenty of planes and cars on the ground to explore. Upcoming dates are June 15, July 20 and August 17.
17. Celebrate Father's Day on June 16 with brunch at the Buffalo Soldiers National Museum, complete with exotic cars, motorcycles, museum tours and more. Tickets are on sale now!
18. There are countless reasons to spend time at Discovery Green over the summer—namely, the splash pad. But there's also Screen on the Green (catch Mean Girls on June 29 at 9pm), the Sonic Playground, free fitness programs and the HPL reading rooms.
---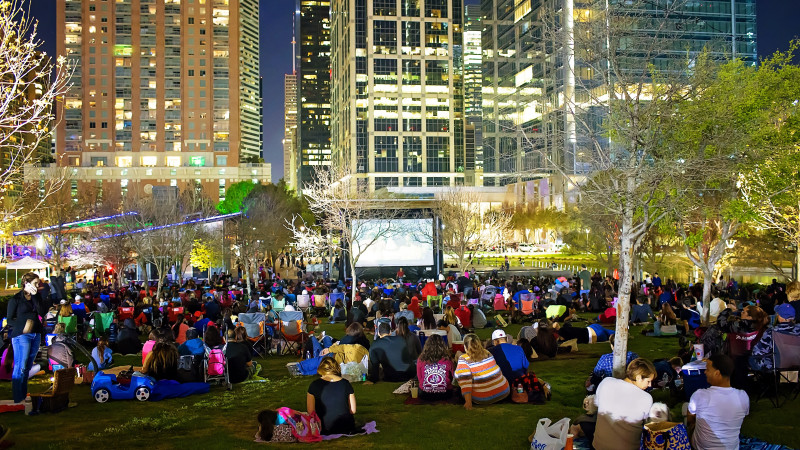 Katya Horner
---
19. Did you know the city of Houston has a number (37!) of free pools open from June to August? The city even offers a few free swim lessons—just register online. There are also daily admission pools, such as Bellaire Town Square Family Aquatic Center and Noah's Ark Pool at Quillian Center. No excuses to sweat here!
20. Prefer to see your movies indoors? Studio Movie Grill, Regal Cinemas and Cinemark have summer family programs that screen early morning kids' flicks for just $1 per ticket. Alamo Drafthouse Kids Camp lets you pick your price from $1, $3 or $5, with all sales going to local nonprofits!
21. Wet 'N' Wild Splashtown has undergone a rebranding and is now Six Flags Hurricane Harbor Splashtown. As part of the upgrade, they are debuting a new attraction this summer, the Wahoo Wave. This four-person thrill ride stands six stories tall and promises zero g-forces and a 30-foot plunge. The rest of the park is getting a Caribbean theme makeover with re-imagined ride entrances and new dining experiences.
22. Still want more water parks? We've put together a list of all of the best ones in the area. Start splashing away!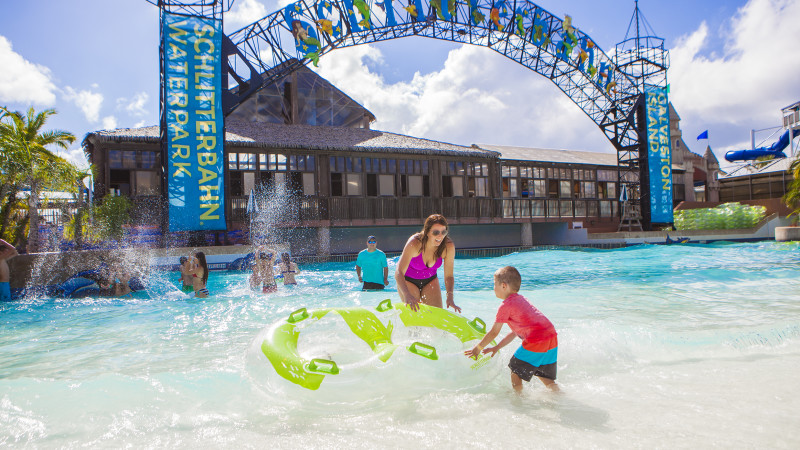 Schlitterbahn Waterparks and Resorts
---
23. Miller Outdoor Theater is also amazing and totally free! This season's shows include The Addams Family, Junie B.'s Essential Survival Guide to School, Seussical the Musical, Summer Symphony Nights and the Express Theatre's Children's Festival performances—and those are just the kid-centric shows!
24. Get your live music fix at the always-fun Kemah Boardwalk Rock the Dock series, which happens every Thursday night. Kids can hit the carnival rides while you enjoy the tunes.
25. Texas goes big for Independence Day. If you live inside the loop, experience one of the best celebrations at Freedom Over Texas on July 4. Jake Owen is the headlining musical act, and you can't beat those fireworks over Buffalo Bayou. If you're farther north, Splashtown hosts 4th of July Fireworks, too.
---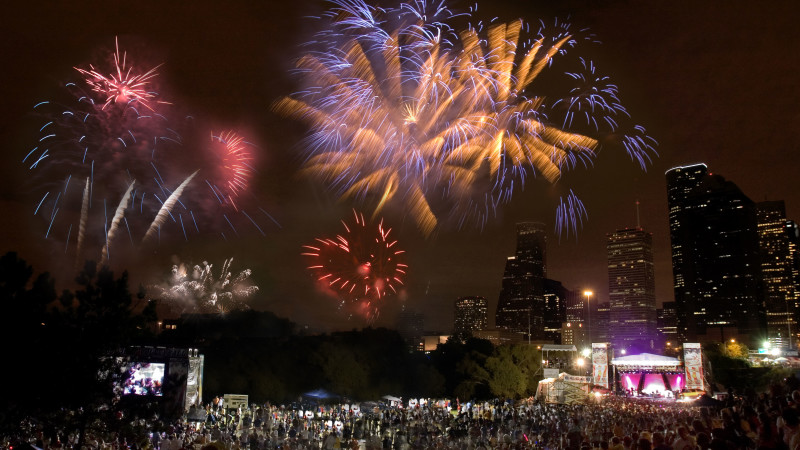 Visit Houston
---
26. Another cool experience for long summer days is the symphony. Upcoming shows include The Music of Queen (July 5 and 6) and The Music of Selena (July 12 and 13). They'll also be doing free concerts at Miller Outdoor Theater, and a few fun shows at Cynthia Woods Mitchell Pavilion in The Woodlands (How To Train Your Dragon, An Evening with Frank Sinatra & Ella Fitzgerald, and Indiana Jones And the Raiders of the Lost Ark). Plus, The Little Mermaid is back on the big screen, with the Houston Symphony orchestra providing the music, on August 31 and September 1.
27. Starting July 5, the Fort Bend Museum will host their Summer History Fridays program. Younger kids are welcome, but the programs themselves are geared specifically for kids ages five to 12. They'll cover topics like the Civil War, Victorian Mysteries, and 1940s Homefront. RSVPs are not required, but check their calendar to see which topics interest you the most!
28. Time to take a trip to Dallas, especially if you have little artists in the family. The Crayola Experience has officially opened at The Shops at Willow Bend in Plano, and is full of interactive, and colorful, activities to get your child's creativity pumping.
29. After trekking to Dallas, you might also consider a visit to San Antonio (where tons of family fun is happening this year!) or even just a sweet staycation at some of Houston's cool resorts, like the Marriott Marquis with its Texas-shaped lazy river or The Woodlands Resort, which has a low-key water park on site.
---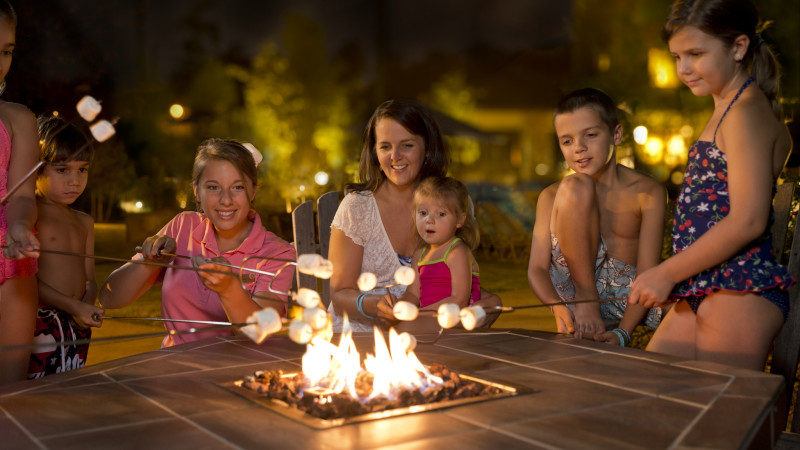 The Woodlands Resort
---
30. Bring your whole family, pup included, for the Houston World Series Dog Show at NRG Stadium from July 17 to 21. Visitors can meet different dog breeds (great if you're looking to adopt soon), see dogs dance, catch frisbees and even try out agility courses with your own four-legged friend.
31. The Houston Arboretum & Nature Center is a fantastic place to enjoy a bit of nature inside our fair city. They have trails and paths that are easy for kids to navigate, and a pond stocked with turtles. Just don't forget the bug spray!
32. There are a number of great story times (plus these free ones!) over the summer in Houston. One of our favorites is at the MFAH Rienzi House. You'll be broken into small groups, led to three to four different rooms in the house and read a story that somehow relates to that room. Think Angelina Ballerina in a real ballroom!
33. It's not summer without a very sweaty trip to see the World Series Champion Astros. If you're not ready for the major leagues, try seeing the Sugar Land Skeeters at Constellation Field. There is even a playground and splash pad inside the ballpark!
---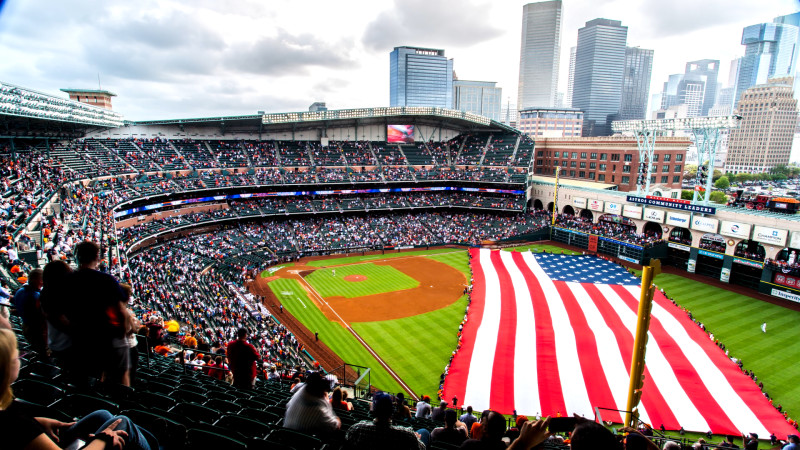 Visit Houston
---
34. We can't visit Hermann Park without riding the train, and for $3.50 a rider, we can afford to do so. Bring a snack and enjoy the manufactured breeze on the 18-minute ride.
35. You can find street art all over Houston buildings, and kids love hunting for new murals! We've done all the work to find the best ones for your next 'gram. If murals aren't your thing, then maybe one of these other funky landmarks are.
36. Austin isn't the only city with bats! The Waugh Bridge is home to a colony of Mexican free-tailed bats that are quite a sight to see. It's best to arrive at least 15 to 30 minutes before sunset to see the full effect of the bats leaving the bridge to eat.
37. We usually visit Moody Gardens in the winter to check out Ice Land and Festival of Lights, but summertime brings opportunities to explore the ropes course, on-site water park and the Aquarium Pyramid.
---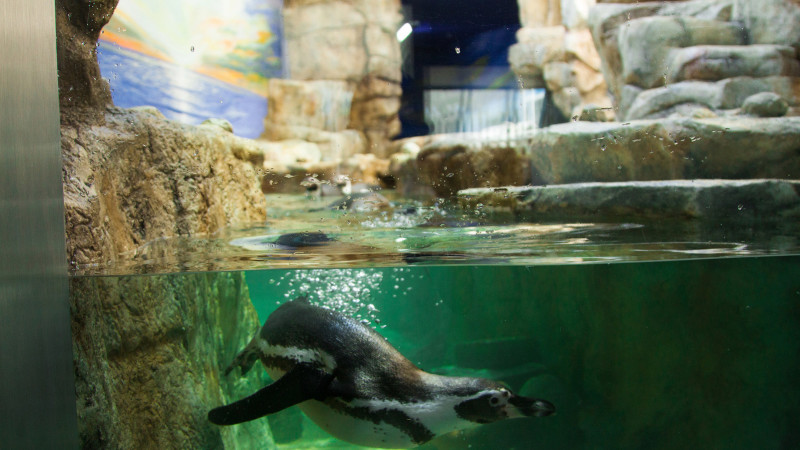 Moody Gardens
---
38. When it gets too hot, but the kids still need to work out the wiggles, it's time to go to Wonderwild, Monkey Joe's or any of our other favorite indoor play spaces. We especially love Urban Air's zip line and American Ninja Warrior-style fun.
39. And when you need to play indoors, but your pockets are feeling light after that big summer trip, you can play for free in the A/C at these 12 spots.
40. Visit real-life police horses for free! The Houston Police Department Mounted Patrol Facility is pretty awesome. If you bring along some apples and carrots, the horse are happy to be fed. You can even schedule a demonstration of their training. To learn how, visit their FAQ page here.
41. Lone Star Flight Museum is still a fun and educational novelty for us, so we'll be making plenty of visits while school's out. The museum has a whole summer guide, including a special summer passport (itinerary of tasks to be completed all summer long!), a scavenger hunt, flight simulator experience and even a chance to see vintage planes fly on Saturdays, weather permitting.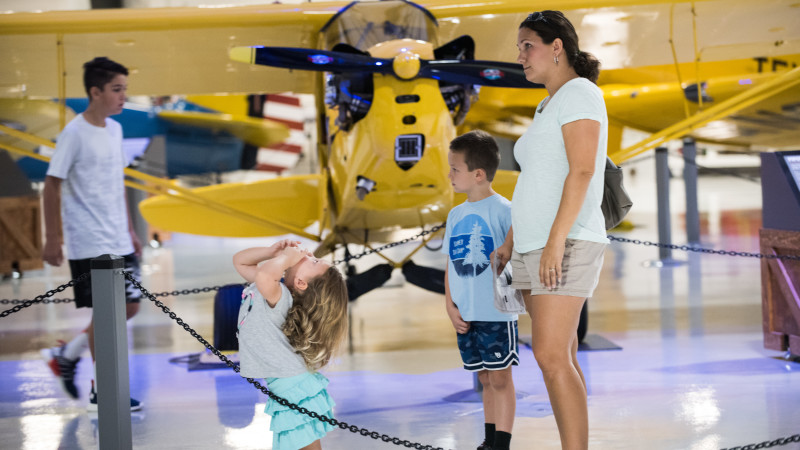 Lone Star Flight Museum
42. The Port of Houston Authority gives free 90-minute boat tours of the port. The boat holds up to 100 people, and tours can get booked fast, so check out their online reservation form for a date that works for your family.
43. The Bayou Wildlife Zoo is a real treat! It's an open range zoo, complete with a safari-like ride to see and feed all the animals. Watch out for those ostriches, though, they'll eat all your food if you let them.
44. Who says because we live in the city that we can't learn about country life? Blessington Farms, Froberg's Farm, Old MacDonald's Farm, Fruit 'N Such Orchard and All We Need Farm are all short drives from the city. Read all about our favorites here.
45. Dine al-fresco. Kids can get up and wander, and even play games and dance to live music at many of our favorite restaurants with patios.
46. You know you live in a hot place when malls build inside playgrounds and year-round ice rinks! Pretend it's Christmas in July on the rinks at both The Galleria and Memorial City Mall. Memorial City also has that great, free indoor play space.
---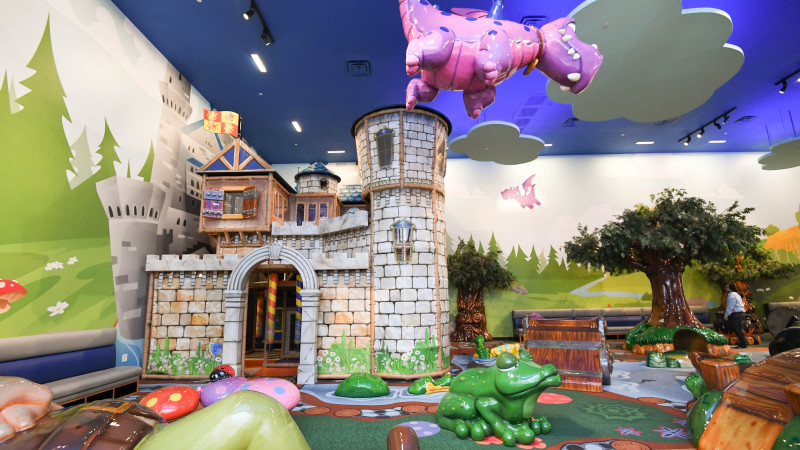 Angela Garza
---
47. For only $1.25 each way, the Houston METRORail can take you to many points of interest in Houston and save on parking. See our ideas for exploring the rail with kids. What kid doesn't love a good train ride?
48. Learning doesn't need to stop just because it is summer time. Avoid brain drain and visit one of these (fun, we promise) spots in and around Houston for a dose of Texas history.
49. When it rains (and it will rain), these are our favorite go-to spots to escape the storms.
50. Have you ever burped the bayou? We have, and we can't wait to do it again. In fact, there are a number of hidden, off-the-radar spots in Houston worth checking out.
Main image: Adobe Stock/Artem