5 Awesome Pumpkin Patches in the Houston Area
There is nothing we love more than photos of kids in pumpkin patches (ok, maybe babies in blue bonnets, but that's a different season all together). Pumpkin patch season has finally arrived in Houston, and we've picked the best options both in and outside the loop. Did we miss your family's favorite pumpkin patch? Let us know in the comments.
---
Dewberry Farm, Brookshire
Dewberry Farm7705 Farm to Market 362
Brookshire, TX
If you're looking for a farm day trip, we suggested heading out to Dewberry Farm to pick your pumpkins. Located just west of Katy, Dewberry goes all out for fall. They've got an eight-acre corn maze to explore, along with eight acres of pumpkins to pick. Families can take a wagon ride to the pumpkin fields, climb the hay mountain or play at Fort DewHickey, plus dozens of other attractions! They also feature Punkin Hollar, a darkened space showcasing more than 500 lit, carved pumpkins. The farm costs $12 for adults and kids ages three and older; some attractions are additional fees. Check the website for ticket options.
When: Weekends from September 24 to November 13
; Saturday, 10am-sundown, Sunday, noon-sundown.
Tip: Mid-October is the busiest time. If you want to avoid the crowds, consider going in September/early October or November.
---
Nature Discovery Center, Bellaire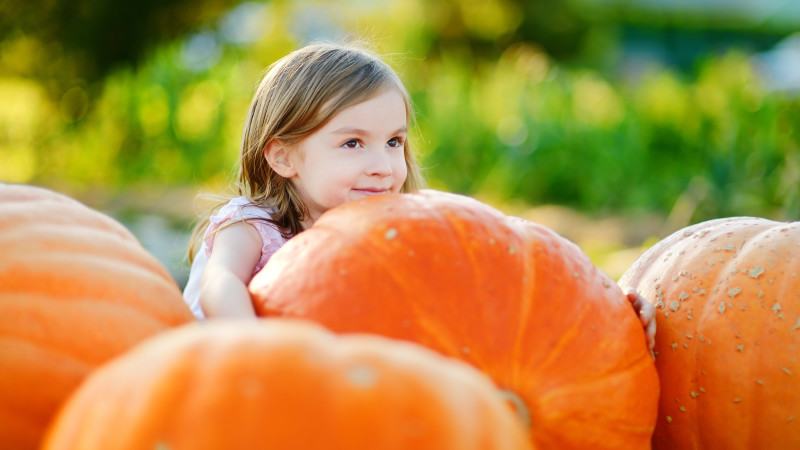 Nature Discovery Center7112 Newcastle St
Bellaire, TX
Every year, the Nature Discovery Center puts on a pretty sweet Pumpkin Patch Festival. Admission itself is free, but you can buy passes to play games, get food, go on a hay ride around the block and a lot more. There is a pumpkin patch for photos and, of course, picking out that perfect pumpkin for your front porch!
When: October 15 and 16; 11am-4pm
Tip: Parking can get crowded, so arrive early!
St. Andrew's Episcopal Church, Pearland
This local church is nicknamed the "pumpkin church" for a good reason. Saint Andrew's Episcopal Church in Pearland is a popular spot for fall family photos every single year. There's even a countdown on the church's website for the arrival of fall's favorite gourd. Funds raised from this patch are used for mission trips.
When: Daily from September 24–October 31;10am-8pm.
Tip: On October 23 at 6:30pm, there's a free trick or treating event in the pumpkin patch open to the community.
---
St. Luke's United Methodist Church, Inner Loop
Located right off Westheimer, it is easy to get in and out of St. Luke's United Methodist Church quickly with some great photos. They have a number of big trees around the patch, which provide shade to capture non-squinty pictures. The youth choir puts on excellent kid-friendly productions each spring and summer, and funds from the patch go to help them! They just announced the spring 2017 production will be Seussical the Musical!
When: The patch opens on October 8; Monday-Saturday, 10am-6pm, Sunday, 9am-6pm.
Tip: The church keep wagons and a little step stool on hand at the checkout tent that you are welcome to borrow for your photos. They also have stickers at check out—a great way to get little ones to stay still for pictures!
---
St. Philip's United Methodist Church, SW Houston
If you're in SW Houston, there's a good chance that you're familiar with St. Philip's United Methodist Church's pumpkin patch. Located off Beechnut, you can spot this patch from down the road. Every year, the church works with a grower in New Mexico for a pumpkin delivery big enough to fill an 18-wheeler truck! The money earned from pumpkin sales is used for the church's community outreach programs and repairs.
When: The patch opens on October 8 and lasts till October 31; Sunday-Friday, 1-7pm and Saturday, 10am-7pm.
Tip: In years past they have also had some fun fall-themed decorations around the pumpkins for extra cute photo opps.
Photo credit: Amanda Sorena, Fotolia/MNStudio, Fotolia/nadezhda1906
Originally Posted on Mommy Nearest