Hidden Houston: 7 Off-the-Radar Spots to Explore with Kids
When people from out of state ask me what I like about living in Houston, it is hard to answer. Sure, we have world-class food, museums, art and parks. We also have an amazing medical center and are one of the most diverse cities in the country. We are the fourth largest US city and you can't really run out of things to do here. But between visits to Donovan Park and romps around the Houston Children's Museum, there are also a few surprising destinations for families to explore. Here is a list of hidden Houston treasures that are worth checking out, and will make people ask you "That's in Houston?"
---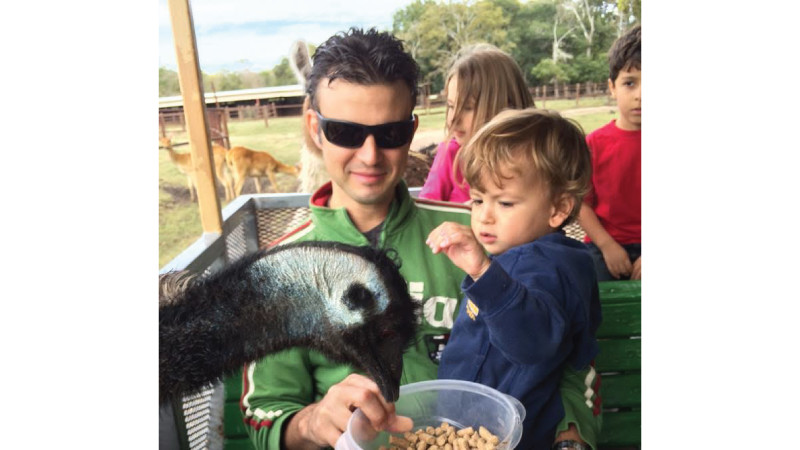 Bayou Wildlife Park5050 FM 517 Rd
Alvin, TX
While a trip to the Serengeti would be a dream come true for our kids, Alvin, Texas is a whole lot closer for a safari-life adventure. The Bayou Wildlife Zoo is one of four zoos in the state of Texas that offers a 45 minute open air tram ride where you can feed animals and see more than 500 different creatures and 60 different species including cattle, deer, antelopes, camels, Oryx, ostriches and more. They even have a white rhinoceroses and some ring-tailed lemurs. The zoo's animals roam freely over the 80-acre habitat and get up close and personal with guests along the ride. They also offer a petting zoo and pony rides for kids under 90 pounds. Adults are $20, kids ages two 11 are $10, and children under the age of two are free.
Insider tip: This place is cash or check only. No credit cards! You are also allowed to bring in your own food for picnic lunches.
---
Burping The Bayou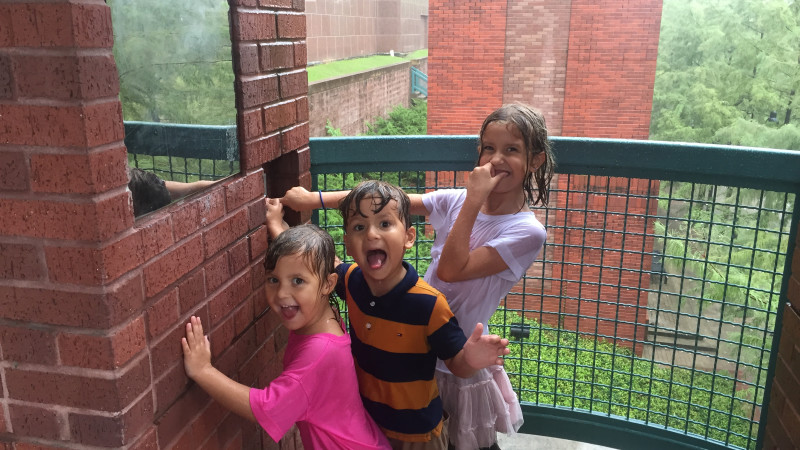 Downtown Aquarium410 Bagby Street
Houston, TX
Next time you visit the Downtown Aquarium, take your kids on a secret mission detour. There is a mysterious red button located on the Preston Street Bridge near the aquarium. It is completely unassuming, but begging to be pressed. If you want to get the most fun out of it, don't tell your kids what the button does and ask them if you think they should press it. It's fun to watch them squirm at the thought of doing something out of bounds! After pressing the button, run to the middle of the bridge to see a big bubble erupt moments later. My kids couldn't get enough of burping the bayou and pressed the button over and over again with endless giggles. I think this was exactly what creator Dean Ruck had in mind when he installed the button for added aeration to the waterway. He loved the idea of adding some intrigue to an otherwise normal bridge, and we love it too.
Insider tip: If you want to make a whole excursion out of just burping the bayou, consider riding the METROrail downtown. Just don't go on a rainy day like we did!
---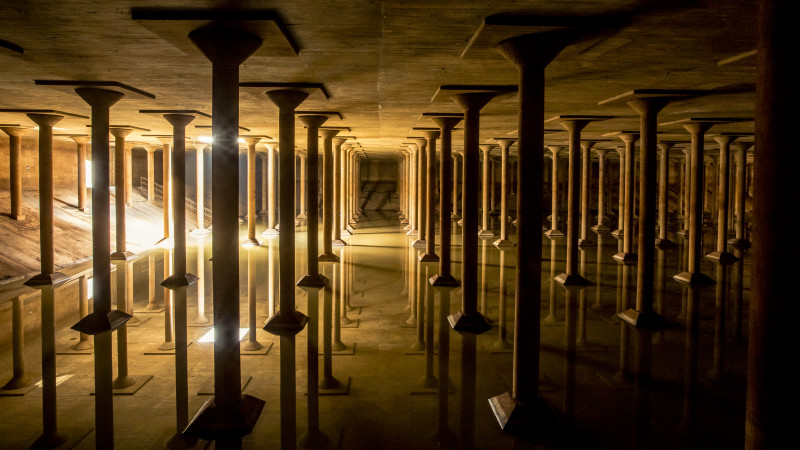 Buffalo Bayou Park1800 Allen Pkwy
Houston, TX
From 1926 to 2007 the Cistern at Buffalo Bayou Parkserved as a 15 million gallon drinking water reservoir for the City of Houston. After much discussion on what to do with the decommissioned space, the Brown Foundation, Inc. helped secure more than $1.7 million in grants to turn it into a public art space. While no performances have taken place there yet, the 87,500 square-foot underground cistern is open for docent lead tours. They say there is a 17 second echo inside. Tours are between $2 and $5 and tickets must be purchased in advance here.
Insider tip: Kids have to be over the age of nine to go on this tour, which lasts approximately 30 minutes.
Insider tip: The scene can get a bit more pub like in the late evenings, so best to go for lunch or brunch with the kids!
---
Twilight Epiphany Skyspace at Rice University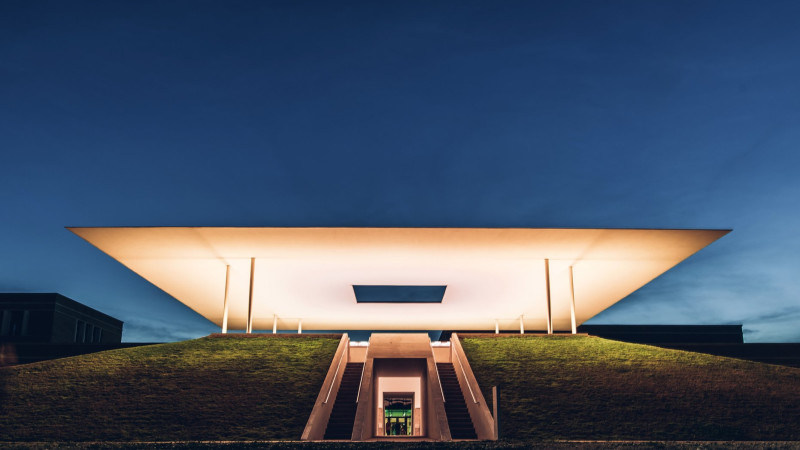 If you have visited the Museum of Fine Arts Houston, then you are already acquainted with artist James Turrell's light work in the tunnel connecting Caroline Wiess Law Building with the Audrey Jones Beck Building. Did you know about his public piece on the Rice University Campus though? The Twilight Epiphany Skyspace was built in 2012 and can accommodate up to 120 people on two levels. The structure really comes alive at sunrise and sunset, when a series of LED lights project onto the ceiling with colors that compliment the natural sky. There is a literal skylight where you can watch the artificial lights interplay with the sky, both changing colors and progressing. Free reservations are encouraged via this site.
Insider tip: While I loved the presentation, it is not exactly "exciting" for very small kids as the light changes are subtle. Expect to get up and move around with them or leave a bit early if they get too squirmy. People were coming and going during our trip, so as long as you are quiet, it's fine. Plus it's pretty awesome to see the color changes from outside too.
---
Labyrinths
Did you know that Houston has over two-dozen labyrinths hidden around town? Unlike a maze, labyrinths are designed with a specific path in mind for a walker to follow and are ancient tools for prayer and meditation. As you can imagine, for this reason many are found at local churches. Some of the more accessible labyrinths include ones at Faith Lutheran Church, St. Paul's United Methodist Church, University of St. Thomas and Freedmen's Town Labyrinth. Houston artist Reginald Adams has a unique passion for labyrinths and incorporates them into many of his works. Occasionally he does workshops on this art form, so be sure to follow him on Facebook. You can search for all of the Houston area labyrinths on the World Wide Labyrinth Locator, which is actually a thing believe it or not!
Insider tip: You can discover events and walks happening in the city by following the Facebook page for the Houston Labyrinth Walkers.
---
Sam Houston Port of Houston Tour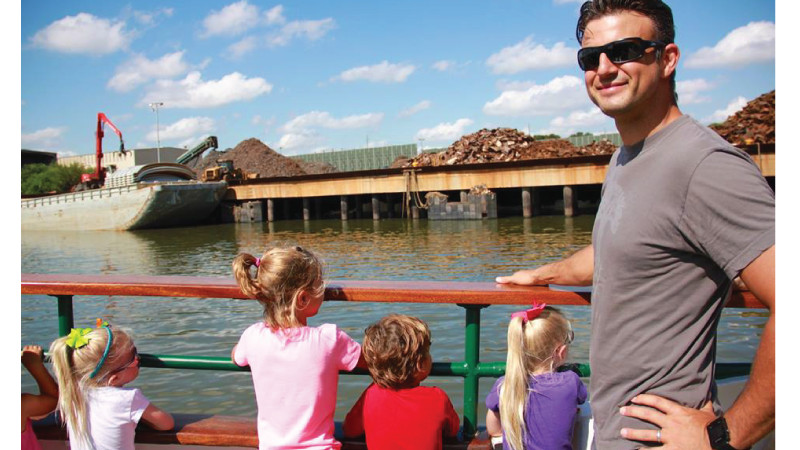 It's easy to forget Houston is a major port city. Only 10 miles from downtown you will find the Port Authority of Houston and the ship channel, which have been in operation since 1914 and still handle nearly 230 million tons of cargo a year. It's the number one port in the U.S. Gulf Coast and a hub for 150 public and private companies. Pretty impressive. The best news for parents in search of a fresh activity? They have free boat tours! The Sam Houston Boat Tour happens twice daily at 10am and 2:30pm. The tours take 100 people out at a time through the channel and explain the history and inner workings of our port. You might see cargo ships, tankers, carriers and much more on your 90 minute ride. There is also often a variety of wildlife. We had fun checking out the flags from the various vessels in the port that day.
Insider tip: This tour is free, but you do need to make reservations well in advance here. There is an internal cabin with seats and you are welcome to walk around the decks outside for a better view. One the way back, you also get one small complementary beverage, which may have been my kids' favorite part.
Photo credits: Visit Houston, Amanda Sorena, katie wheeler
Originally Published on Mommy Nearest