30 Things Every Houston Family Has to Do This Spring
Spring, while brief in Texas, always sneaks up on us. Azaleas and bluebonnets are blooming, but only for a short time. And it's one of those rare seasons when being outside in Houston can be just plain pleasant. So between dining al fresco and enjoying walks around the park, we found a few other exciting activities to help you make the most of the season, from festivals and freebies to shows and new openings.
---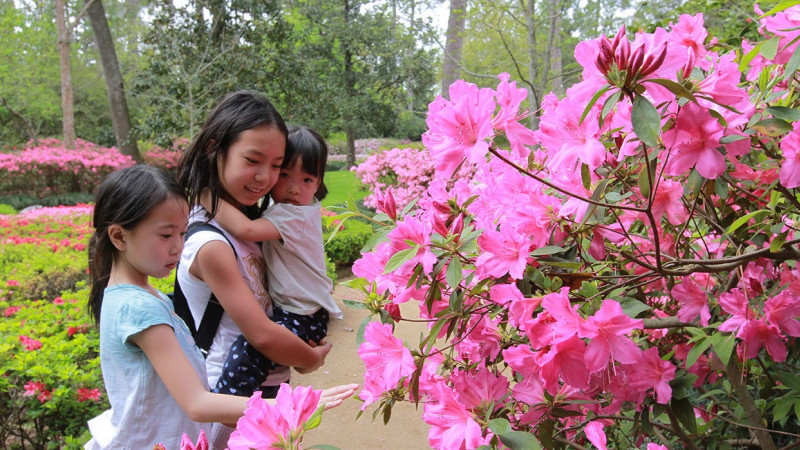 The Museum of Fine Arts, Houston
---
1. As the weather warms up, Discovery Green has you covered. With activities daily (kayaking on Kinder Lake! STEM Saturdays! Toddler Tuesdays!), it's a quick and easy way to fill your day with something fun. There's also a new outdoor roller rink, so you can skate under the stars this spring.
2. If you have school-aged children, spring break might be the best time to check out the rodeo! Don't forget to check out our tips for your visit, and download the Rodeo Houston app before you head out.
3. Take part in the time honored tradition of driving the kids around town for the perfect bluebonnet photos. You can make a trip out of it by venturing to Brenham, or stay local and get a few sweet photos without leaving the city limits.
4. During spring break (March 12 to 19), the Bayou Bend Collection and Gardens, has activities happening daily. Tour the Ima Hogg house, and enjoy the Spring Story Zone and crafts. Admission for kids is free during, plus the beautiful azalea trail is also in full bloom and begging for photos!
5. Drop-in activities are perfect for parents who didn't (forgot) to plan for the break. The Museum of Fine Arts, Houston offers drop-in art sessions inspired by works on display. The Children's Museum of Houston also has a packed schedule with Xtreme Spring Break activities.
---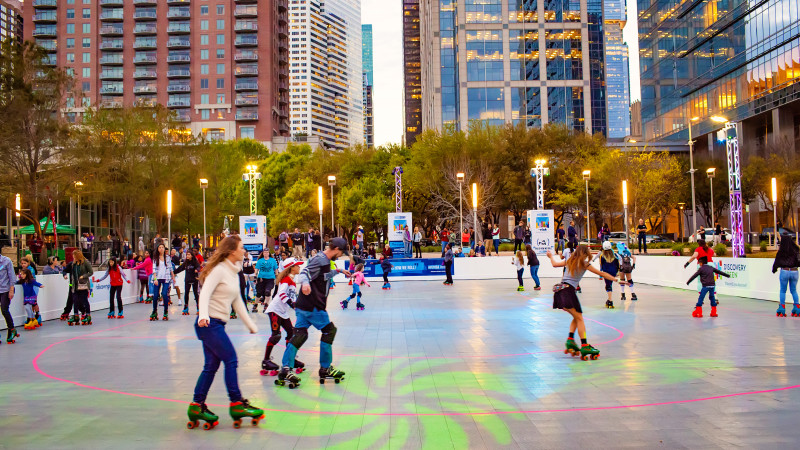 Discovery Garden/Katya Horner
---
6. The Houston Museum of Natural Science has a pretty epic new exhibit, Gladiators: Heroes of the Colosseum. You'll step behind-the-scenes of the fights to learn more about the gladiators and their arena. There will also be artifacts on display never before seen outside of Italy!
7. See Ramona Quimby take the stage in Main Street Theatre's play based on the novels of Beverly Cleary! At MATCH through April 1, this humorous play about Ramona trying to be a grown up is perfect for kiddos kindergarten and up.
8. Visit the George Ranch Historical Park for a glimpse into the history of ranching and frontier life in Texas. The ranch is hosting a special spring break programming through March 18, but you can visit March 25 to learn about the roles of women in ranching or for an Old Fashioned Easter on April 15!
9. Reserve your seats at a local theater like the iPic in River Oaks for a serious treat, and see the live action Beauty and the Beast.
10. Escape the city to visit one of the many farms around Houston to welcome the new season. Try strawberry picking at Froberg's Farm and pony rides at  Old MacDonalds Farm. If you want to do something even more off the beaten path, contact Farmer Stacey at All We Need Farm about visiting her goat dairy.
---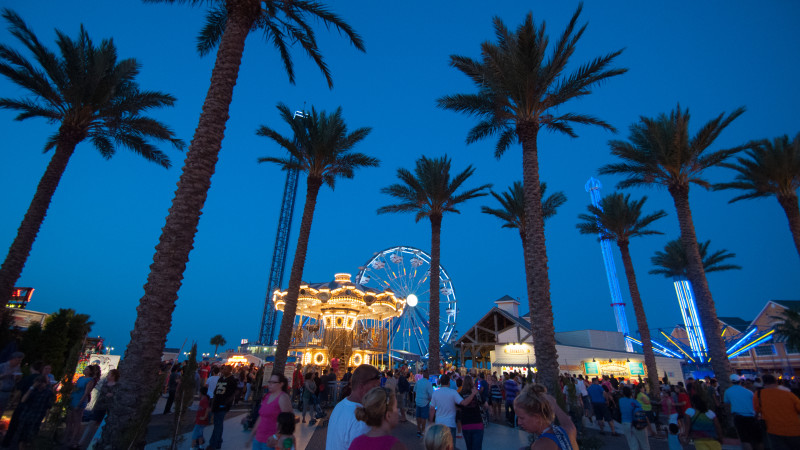 Kemah Boardwalk/Visit Houston
---
11. Every third Saturday of the month, the 1940 Air Terminal Museum hosts Wings & Wheels. The gates are open for a great view of Hobby Airport, and you can see classic cars right next to the airplanes. Each event has a different theme, so check their website for the latest information!
12. Spring is the perfect time to take some day trips and explore Texas. Galveston and Brenham are both easy drives with plenty of attractions for kids.  Brazos Bend State Park is also a fun day spent with the alligators.
13. Hit the Kemah Boardwalk or Pleasure Pier in Galveston for some classic carnival-style fun. It's probably best to get your amusement park fix before the triple digit temperatures hit anyway.
14. You should also make the most of fun along the bayou before things get swampy. Rent bikes, kayaks or canoes, play at the Nature Play Area and see one of the best city views from Eleanor Tinsley Park.
15. Every month, the Houston Center for Contemporary Craft invites the public to partake in a bit of hands-on fun. The April 1 session is with artist Lisa Hardaway where visitors can create a hand-woven bookmark. After you make your piece, stroll through the gallery to see what's on display.
---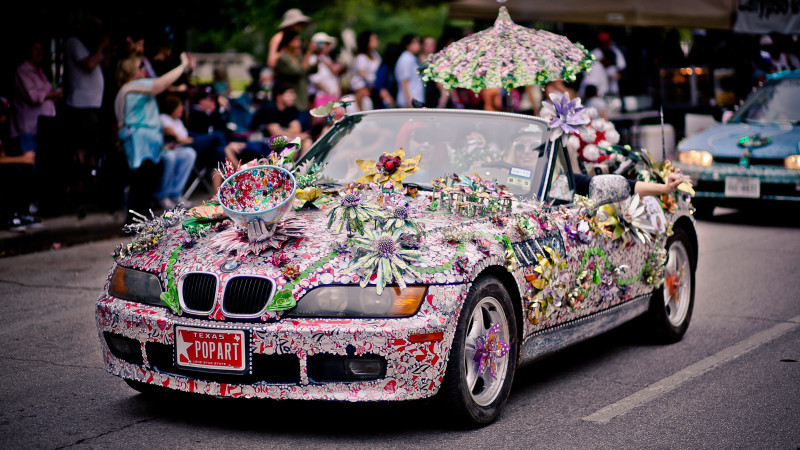 Art Car Parade/Morris Malakoff
---
16. Games, circus acts, rides, food and entertainment—the Houston Children's Festival has it all. The event itself (April 1 and 2) is a fundraiser for Child Advocates here in Houston, which has raised more than $5.4 million for the cause. Check out the daily schedule of events to plan your visit here.
17. The Bank of America Screen on the Green is also back this year with Moana on April 8 and the new Ghostbusters on May 6. Movies start around 8pm, but come early with blankets and chairs!
18. It's the 30th year of the Art Car Parade in Houston! The parade (April 8) is always a treat, with each car weirder and more awesome than the next. You can find a map of the parade route here to determine the best viewing spot. You can also get a peek at the cars on April 6 at Discovery Green!
19. You'll have multiple chances to hunt for eggs at Blessington Farms this Easter! On April 8, 9, 14 and 15 head to the farm for egg hunts, Easter Bunny photo ops, hop on a hay ride and snuggle with some sweet animals!
20. The Creative Kitchen brings its Kids Food Festival To Go to the Children's Museum of Houstonon April 15. You'll learn all about the foods that fuel our bodies and how to make healthy choices during a Balanced Plate Scavenger Hunt!
21. Miller Outdoor Theater is gearing up again with more daytime performances! Catch Charlotte's Web on April 19 and 20, Swing, Jive and Pop! Into Dance on April 26, and Freedom Train—all about the underground railroad—on April 27. All of these shows are free and awesome ways to introduce your kids to live theater.
---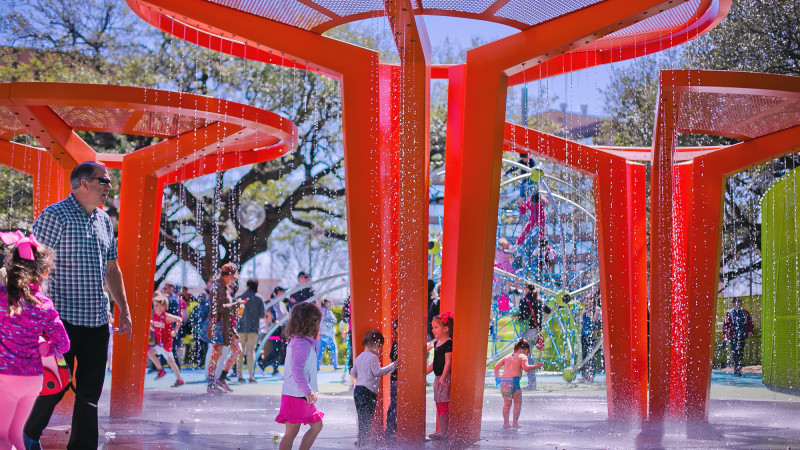 Levy Park/Morris Malakoff
---
22. Levy Park in Upper Kirby is finally open and looks like a total blast! There is room to run, water features, tunnels and a whole lot of discovery to be made. Evelyn's Park is also set to open in Bellaire on April 22, and we can't wait to see what they've done with the space!
23. If two new green spaces aren't enough for you, Midtown Park is also expected to open this spring! It will include a great lawn, wetland stream and trail, dog park, an interactive water feature and a playground with a climbing sphere, sound tubes, misters and swings.
24. Willow Water Hole is becoming one of our favorite spots in town. There are great trails and bluebonnet patches, plus a two-day kid-friendly music festival. On April 22 and 23, you can find zydeco, big band, rock, r&b, blues, latin, jazz and just about anything else you could want to hear.
25. Reduce, reuse and recycle at the Earth Day Bash at the Children's Museum of Houston on April 22.
---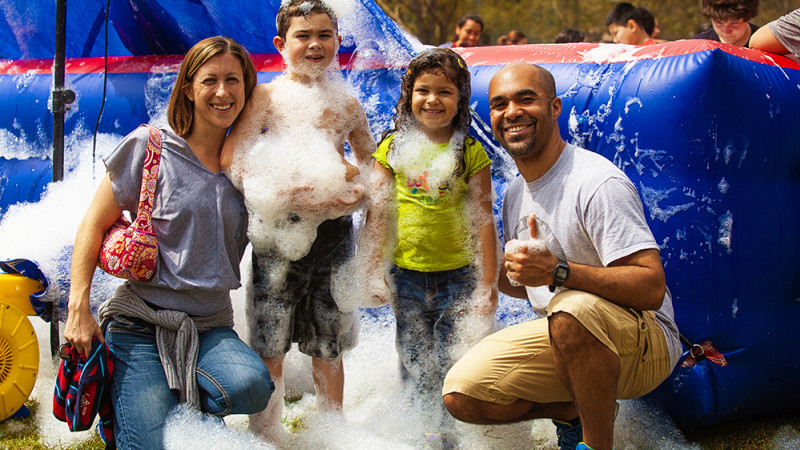 Discovery Garden/Katya Horner
---
26. Join March of Dimes at the annual March for Babies at the University of Houston on April 23! Mommy Nearest will be there, and it'll be a fun day raising money for an excellent cause!
27. FUNomenal Family Festival at the Discovery Green returns on April 29 with the ever-popular Baby Olympics (yes, it's exactly what it sounds like!), kid-friendly live music, foam parties and much, much more.
28. Make the trip south of the city to visit the Space Center Houston this spring. There's a cool exhibit Math Moves on display, which lets visitors use their entire body to explore mathematics.
29. On those not-so-hot days, take advantage of the weather and go mural hopping! You'll get cute photos of the kids and be able to explore the city.
30. By May, it will officially be splash pad season. Unlike the pools, the city's water features don't necessarily wait for Memorial Day to start cooling us off. A quick call will confirm that your favorite is open for business, and you can get splashing any day you want.
Originally Posted on Mommy Nearest