Where (and How) to Get the Best Bluebonnet Photos in 2017
There is a small patch of bluebonnets planted on a sidewalk near my parents' home. When spring arrives in Houston, I keep an eye on that small garden and as soon as those little blue flowers start to bloom, I know it is time to scout bluebonnet locations for our annual photos. For 2017, it looks like our season is going to be early and the best time to snap those photos will be in the next few weeks.
I must confess, our photos often look like we made a trek to the beautiful bluebonnet fields in Brenham, Texas. Nope! For the past several years, I've found bluebonnets spots in the heart of Houston, and set up our own mini shoots without leaving the city limits. Here are a few of my tips on how to fake it and get a shot worthy of your living room wall.
---
• Trees hide traffic. Look for spots that have some foliage in the background. It makes it seem like you are in the woods somewhere, not on a corner of a bayou with traffic rushing by.
• Bust out the good camera. If not for this, then when? If you have a tripod, even better. If you aren't familiar with the manual settings, just keep it in auto and hope for the best.
• Bring some props. Benches, yellow chairs, chairs wrapped with cheap yellow fabric, bubbles, pinwheels, umbrellas…whatever the kids might want to fiddle with that also adds some pop to a photo. I also let them pick the non-bluebonnet wildflowers to hold. We use our wagon to drag all of the stuff there since we are never walking very far.
• Go with friends! We have had success taking photos with another family. One parent snaps the photos while the other runs around in the background getting kids to smile and wrangling the others. This also significantly increases the odds that you can be in the photo with them!
• Dress in solid colors. I like to dress the kids in bright colors like whites, blues or purples to go with the florals. They don't need to be matching, but it helps with group shots if they are at least complementary. Never hurts to put them in cowboy boots either. #Texas
• Look for worn areas first. We try not to trample the patches and leave them pretty for others. Chances are there are already some worn out areas and paths, so stick to those. No need to reinvent the wheel.
• Keep an eye out for creatures. This may go without saying, but be on the lookout for fire ants and snakes. Now, I have never seen a snake taking these photos, but the idea still freaks me out. Another reason why I like us all to be in boots!
• Find the light. If you can swing it, go first thing in the morning or in the evening light. One year we couldn't get our acts together early enough in the day, so we took a beach umbrella to make a small shadow for the kids to sit under. It worked well, but it was an effort to keep it out for the frame of the picture! Cloudy days are good bets too.
• Treats are key! Nothing gets a kid to smile like the promise of jellybeans at the end of this endeavor. I also try to keep the photo sessions short. My goal is one good picture of each kid and a group shot. I have to be flexible with their moods and pushing it rarely results in any of us being happy.
Now on to the good stuff! I have done some scouting, and found the best spots in Houston for 2017.
---
Almeda and S. MacGregor
There is a patch of grass at the corner of Almeda and S. MacGregor near the zoo that had great bluebonnets last year and looks promising for this season. You can go early in the morning and park at Fuddruckers. From there, it is a short walk across the street. While the intersection itself is busy, the grass area is large and you can keep the kids away from the street. There are also a number of trees in the background to help give it the illusion of not being in the middle of the city.
---
2000 N. MacGregor Way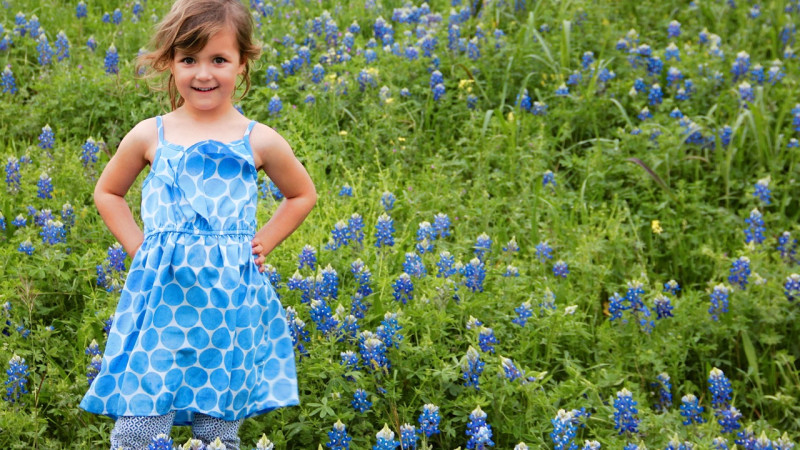 Amanda Sorena
There's a white pump station on MacGregor Way that has parking and access to the bayou trails with a number of great bluebonnets. (Here is a pin on Google Maps.)  If you are heading away from the zoo on MacGregor toward 288, you will see the fenced-in white building on your right. If you park and head left, you will find a hillside patch of bluebonnets with the bonus of the Bill Coats Bridge in the background. If you don't want the bridge, head to the right up the path for more bluebonnets and trees. This patch gets a gold star in my book especially for little kids because it is literally 20 feet from your parking spot to the flowers.
When we discovered the bluebonnet patch at Willow Waterhole, it felt like hitting the jackpot! Located in SW Houston, Willow Waterhole is a 291-acre park and water reserve for flood control. If you are coming down Chimney Rock, you will pass Westbury High School and see some signs for Willow Waterhole. Turn left on Dryad Drive and pass the Westbury Little League fields. Continue down the gravel road until you come to the yellow gate. You'll see the Willow Waterhole Greenway sign and The Schwartz Gazebo. The bluebonnets are located on the hill on the backside of the gazebo. There are some gravel paths, and if it has rained recently it can get muddy. There are a few different patches here and depending on the shot you want, you can even get some of the water from the reserve in the background.
---
Houston Arboretum & Nature Center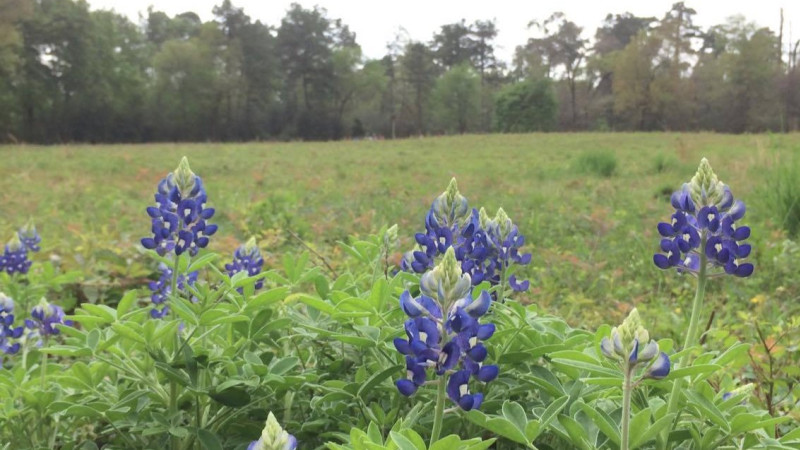 Houston Arboretum & Nature Center
4501 Woodway Drive
Houston, TX
A number of years ago, the Houston Arboretum & Nature Center had some beautiful bluebonnets planted on a path near their meadow and the meadow pond. I spoke with them this week and they have replanted those flowers and are just now starting to see blooms. It's their hope (and mine) that they once again have a big bloom! This spot requires a bit of a hike, so if you decide to venture out to the Arboretum, this is one to maybe skip all of the extra gear and just bring the camera. Start out at the Nature Center and take the inner loop trail to the left and follow the signs to the North Meadow Trail. The majority of the bluebonnets are blooming where the North Meadow Trail meets the Outer Loop.
---
Near Cornerstone Elementary in Sugar Land
We have not personally checked out this site yet, but my friends in Sugar Land confirm that Cornerstone Elementary school is usually a pretty safe bet for bluebonnet sightings! The Telfair subdivision in general has a fantastic wildflower photo reputation and is on our list for future photo opps.
---
Hit or miss
One of the great (and difficult) things about wildflowers is their unpredictability! Sometimes they pop up in unexpected places, and other times they don't bloom at all. In my search for patches this year, I didn't see any yet in Memorial Park, but it is possible I am just too early. Other typical spots are White Oak Bayou at TC Jester between 610 Loop and Ella Blvd. There have also been sightings in past years at Hermann Park, Memorial Drive and Terry Hershey Park. You can follow Texas Bluebonnet Sightings on Facebook or the map of Texas Wildflower Sightings for more location ideas. I can't wait to see all of the photos start to pop up in my feed!
Main image: Amanda Sorena