Circle Makes Managing Your Kids Screen Time Easier Than Ever
A few months ago, I sat through a PTO presentation with our elementary school's counselor on various apps kids use and their potential pitfalls. Prior to the meeting, I thought I was pretty savvy about kids and technology, and understood how some apps were problematic for bullying or made kids more susceptible to online predators. At the end of her hour-long talk, though, I was shocked! I realized I had a lot to learn about Internet responsibility and safety when it came to my children's online life.
My three kids are young—I have an eight-year-old daughter and five-year-old twins—but even at this stage they speak fluent iPad and know how to navigate our Roku player with all of its various channels. Up until now, we have been semi-lax on parental controls and monitoring their media diet intake. We have general "no-go zones" and guidelines on how much screen time they get, but have not played around with any more formal filtering devices. And, if I'm being honest, we are even more unrestricted during the summer. I know that we should shut the TV off and do something different, but it is easy to lose track of just how much time they have spent looking at a screen.
Meet Circle with Disney, a simple and sleek device designed to pair with your wireless network and help parents manage content and screen use for every member of the family through an easy-to-use app. The price is right, too: The Circle unit retails for $99 and the app is free. I was extremely excited to try out Circle and play around with all of its settings. Here's why Circle is one of the smartest ways to manage your family's content and time online.
---
It's easy to set up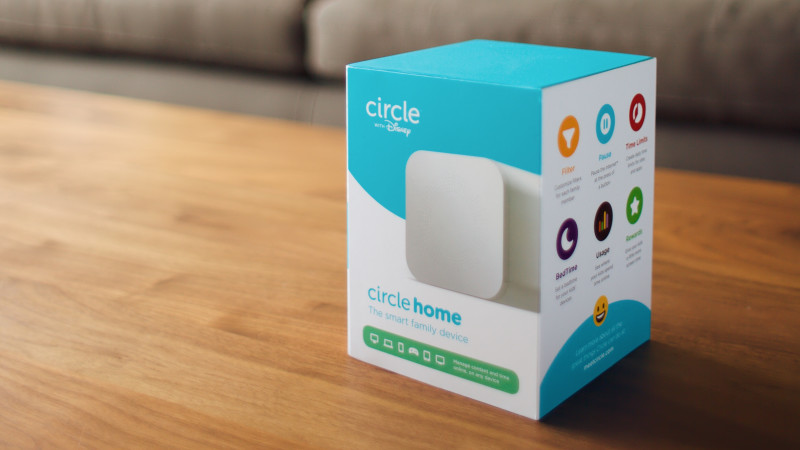 Circle with Disney
The set up of Circle itself was very quick and easy. I even completed it solo without the assistance of my very competent tech support team (aka my husband). After I downloaded the Circle app, I followed the instructions to pair it with my home WiFi. Keep in mind that the Circle unit needs a power source and to be located next to your router.
Once it's paired, the next step is to create profiles for everyone in your household. Initially, I set up individual profiles for each family member picking from their default profile categories of Pre-K, Kid, Teen, Adult, or None. I ran into a snag pretty quickly, though. Our kids aren't old enough to have their own devices and much of what they use is shared. When they do get screen time, they are almost always using it at the same time, watching the same thing. I spoke to a friend who has been using Circle for quite some time and she had a simple solution—create shared profiles for the kids. Our Circle has profiles for myself, my husband, one for the twins, one for all three kids and one for our oldest. There are options to set bedtimes on devices, daily screen time allowances, limit access to particular apps and more.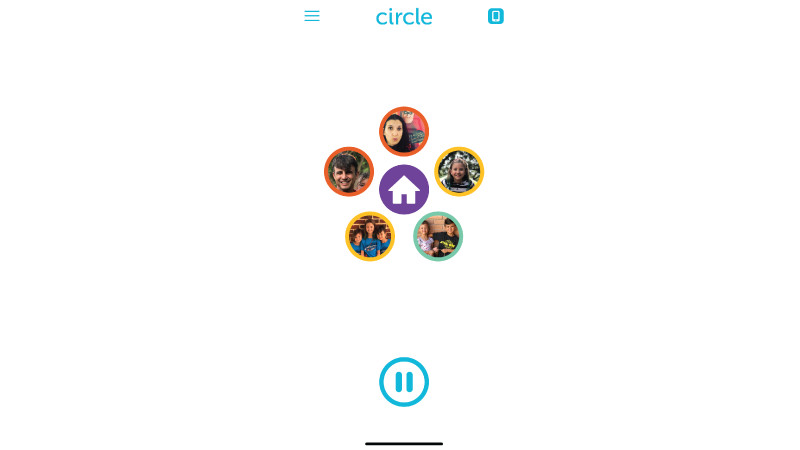 Once you're set up and running, you can assign different devices to different profiles. For example, my phone and laptop are under my profile, but the iPad is under the kids' shared profile. I keep the Roku player under the kids' account during the day, but switch it over to Home, with no restrictions at night. Assigning and reassigning devices is very easy with a few clicks within the app.
---
Testing it out
There were a number of features that Circle offers that I was eager to test out—and I was curious to see what my kids would think. First up: I set a two-hour limit on screen time during the weekdays and four-hours for weekends. Sure enough, halfway through a Netflix marathon the kids came running to find me. Right on cue, the Roku player displayed a connection error as they had maxed out on screen time! Sorry, kids. (It's easy enough to change a few settings to give them more time if you need a couple more minutes to yourself!)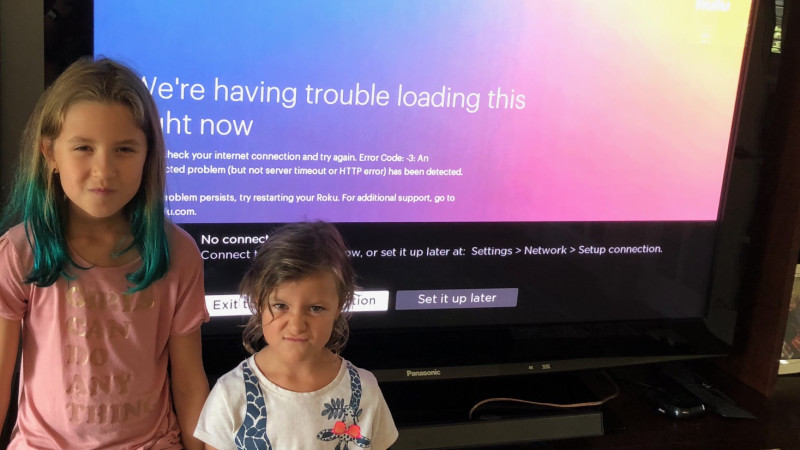 Amanda Sorena
Prior to installing the Circle, I would often find the kids on YouTube watching endless "surprise egg" videos. While I don't get the appeal of those shows, I was more annoyed by YouTube's recommend video section—the videos aren't necessarily subject to the filters I've set, so the kids have been known to click on non-age appropriate videos. If they are on the iPad, I'd much prefer them to use one of the 10,000 apps we've downloaded rather than an endless stream of random videos. Circle allowed me to manage apps I don't want them using. Under their profiles, I have things like YouTube disabled along with the ability to go into the App Store or my email accounts. These options are customizable for each profile. You can also create custom filters for specific websites (this makes more sense if/when they have laptops) as well as add any new apps they are playing to their profiles.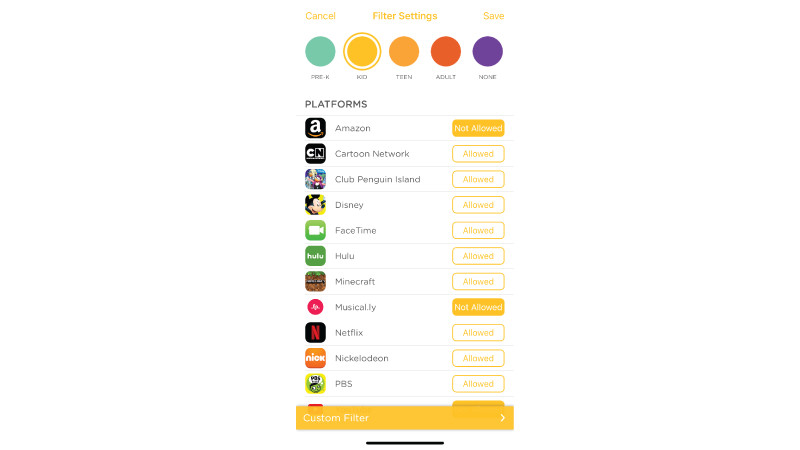 For example, my kids love the Toca Boca apps. This is not one of the apps in the default, but once they started playing it, it automatically showed up under their "usage" log. From there, you can add it to their platforms. You can set time limits for specific apps, too, which is amazing. Say your kid, like mine, has been spending too much time for your taste on Minecraft, you can disable that app—and that app alone—for a few days. I love that you can do this without having to take away the whole iPad (which always causes a fight in my house). If you're looking for a way to encourage a particular app's usage, you can set it as "unmanaged" and it won't count against your child's screen time. Want to play that Math app or the Spanish App? Go for it, kids—playing those won't count against your screen time totals for the day!
---
My favorite features
Thanks to Circle, I was able to pause the Internet at any given time, such as dinner, and immediate pause whatever screens they were using. You can pause individual devices or pause the Internet to the whole house at once. Apparently, me yelling for 10 minutes to come to the table is not nearly as effective as hitting that pause button mid-show! (Even better, after a few days of using this feature, my kids stopped grumbling and gladly came to the dinner table.)
While my kids are not currently allowed to take any screens into their rooms with them at night, I love the idea that I can set a "bedtime" on the devices, so they will shut off at a particular time and be paused until the next day. This way, I know they're not sneaking in screen time after the lights go out. You can also schedule "off time" for when devices will be in time out, so to speak. It's great to use if you want your kids to focus on homework, non-screen play or good old-fashioned family time!
---
Tracking usage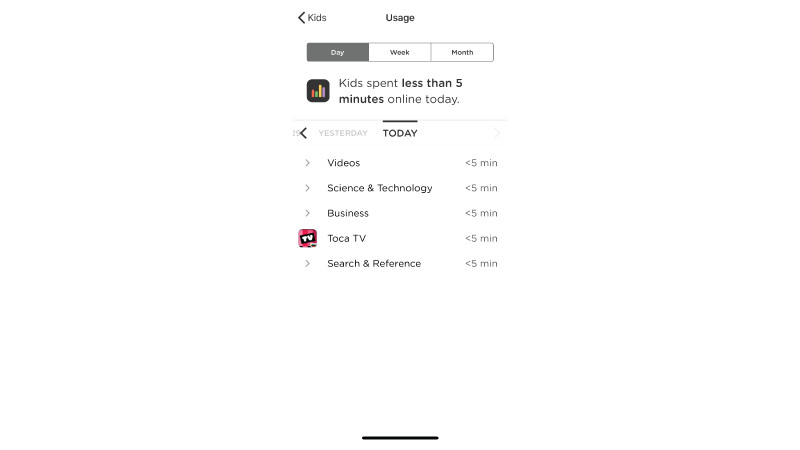 Before Circle, I had no idea just how much time we were all spending online. Thanks to the usage feature, I can not only see how much screen time they have had in any particular day, week, or month, but can see how they are spending their time online. It tracks the sites they visit, the apps they use, and the amount of time they spend on each one. Remember, this tracks you, too. I was embarrassed at my social media usage and have made a vow to cut that number down!
The Circle Go setting
The settings you have set for your children's profiles only work while you are on the home network, not if you take that device out in the world. Thankfully, there's is a program called Circle Go that gives more flexibility for managing content outside of the home. The service costs $4.99 per month for up to 10 devices and works for any network they join, even 4G LTE. It's a great feature for when your kids are at a friend's house, on vacation or surfing on their cell phone while you're out and about.
---
Things to keep in mind
Circle tracks any device that runs off your WiFi, which is a surprising number of gadgets. That being said, it doesn't track if you are watching DVDs or playing non-WiFi based video games. The device also only pairs with one home WiFi network. If you happened to have different networks in your home, you would have to make sure that the devices the kids use and the Circle were on the same one.
While Circle does collect a fair amount of data on your family in order to properly filter and operate (the device saves your profiles and settings, logs of visited sites, and your set up information), most is stored locally and doesn't go onto the "Cloud." According to the Circle website, registration information, usage metrics and app crash reports are the only data points that go to the "Cloud." They are adamant that they do not sell your information to third parties.
---
The bottom line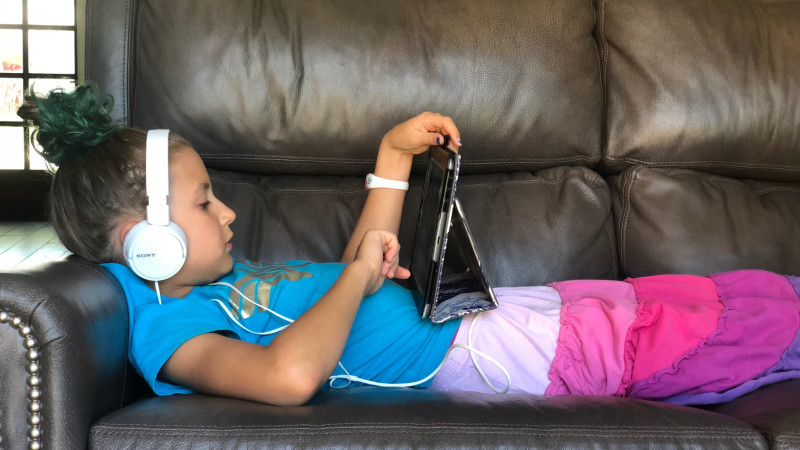 Amanda Sorena
Circle helped us plant the seed with our children that we will be managing their online activity and we expect them to be responsible. Being more intentional about our media consumption can only have a positive impact on our family and, ultimately, lead to more quality time together (instead of us all sitting on the couch using our own devices!).
I loved how flexible and easy-to-use Circle was and how you can customize the settings as much or as little as you like. The device also grows with your family. As my kids get older, there are some features I will definitely be putting into place.
Just keep an eye on your settings: One night, I forgot to reassign the Roku player to the Home profile and found myself locked out of Netflix and Hulu because the kids had maxed out for the day. Whoops. I guess the Circle works, sometimes, too well!
(This post is sponsored by Circle with Disney.)
Originally published on Mommy Nearest