Six Flags is Now the Largest Water Park in Houston
Six Flags Hurricane Harbor Splashtown21300 Interstate 45
Spring, TX
Six Flags is back in Houston, y'all! It may not be the AstroWorld reboot we've been dreaming of, but with over 40 thrill-seeking rides and attractions, Six Flags: Hurricane Harbor Splashtown is now the largest water park in the Houston area and breathing new life into the formerly-named Wet 'N Wild Splashtown that's been a Spring mainstay for more than 35 years.
So, what's different? For starters, season passes and gold memberships don't just offer unlimited access to Hurricane Harbor Splashtown—they also offer entrance to other Six Flags-branded theme parks, including Six Flags Fiesta Texas in San Antonio or Six Flags Over Texas in Arlington. (There are also perks like membership rewards and in-park discounts!)
As for the 48-acre park itself, everything is getting an overall refresh with a new Caribbean theme. They've painted the slides, installed new bridges and walkways—some even with sprayers to save little toes from being scorched!—and giving the lounge area a makeover (think single and double-decker cabanas). Other upgrades: the park is also now offering free WiFi, and you will be able to use the Six Flags app to order food. Huge time saver.
---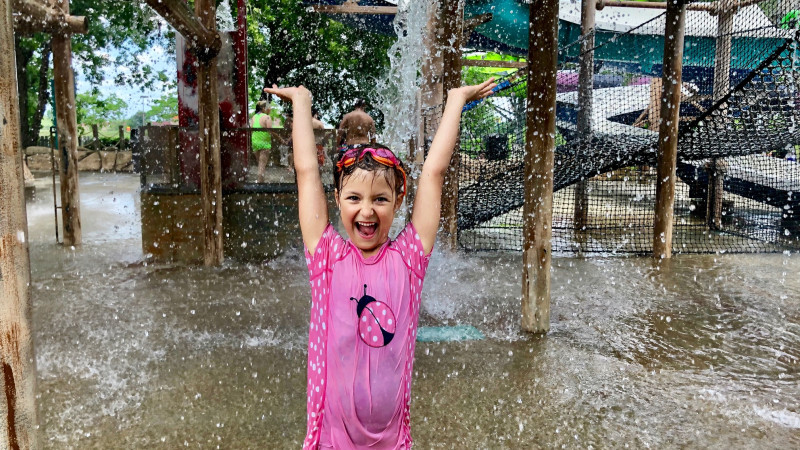 Amanda Sorena
---
The biggest new attraction—coming at the end of June—is a new ride, the Wahoo Wave. This six-story water slide plunges visitors down a 30-foot plunge before sweeping them up in a massive water wall and sliding them into the pool below.
In addition to Wahoo Wave, there are three other family-focused rides for kids (42" and up) to check out, as well as eight thrill rides that'll give your taller, stronger swimmers run of the park. Kids of all abilities can always take a break in Hurricane Bay or Paradise River—our kids couldn't get enough of the rope swing, cliff jump, and ropes courses.
Amanda Sorena
---
Even though there is plenty at the park for the over 48″ set, your littlest ones are not forgotten. Coconut Bay is all about the tiny kids, with water levels no deeper than two feet, plenty of lifeguards on hand, four mini water slides and a play structure. The three-story Tree House, right off the path of the Paradise River, is another big hit. It produces endless squeals when the 1,000-gallon bucket dumps water all over the climbing nets and slides. (Bonus: kids under two are free, so that's a lot of fun at no added cost!).
Of course, with a full day in the sun, you're going to get hungry. Try the BBQ Beef Sandwiches at J.B.'s BBQ, pizza (gluten-free options are available) at Peg Leg Pete's, or burgers (veggie and gluten-free options also available) at Surfside Grill. You can also find chicken strips, funnel cakes and chicken sandwiches at one the other three dining options of Mike's Chicken Shack, Mermaid Meg's and Strutters Chicken. Did we mention there are a few bars around the park, too? Just remember to pace yourself before trying to go down the Big Spin.
---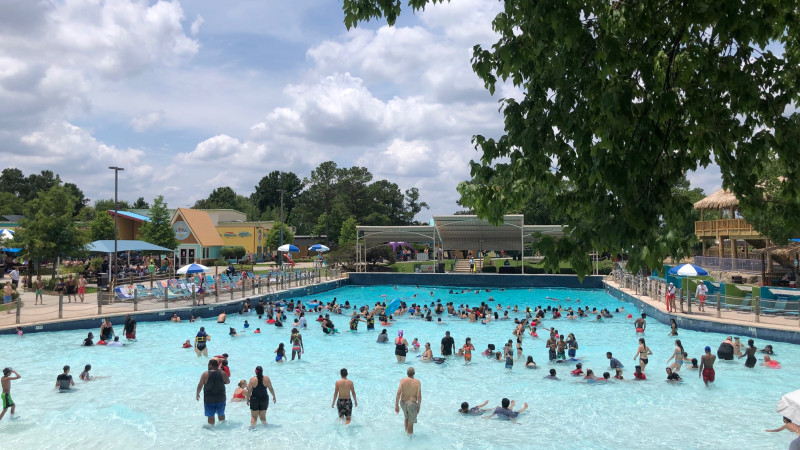 Amanda Sorena
---
Tips & tricks:
• While we were able to stake out a table with all of our swim gear, we took full advantage of the lockers to keep our valuables safe. You have unlimited access to the locker, so we had no problem retrieving our wallets when we needed them.
• There are also multiple free life-vest stations around the park if you feel like you need even more safety.
• Parking is $10, but if you are a member you get a discount.
• You can't bring any outside food or drinks in, but they do have a picnic area right off the parking lot if you wanted to pack a cooler for your car and pop-out for lunch instead of purchasing their options.
• They charge to rent rafts for the lazy river, but we ended up floating on our own and didn't miss them.
• Also, be sure to check out their calendar for fun events like 4th of July Fireworks or Labor Day Luaus.
• If you forget anything important like sunscreen or towels, they have plenty of sun-themed accessories for sale inside the park.
Main image: Six Flags