A Love Letter to Our Favorite Houston Splash Pads
Houston is hot in the summer. Really hot. Like when you walk outside at 7:30am you already need to take a shower because you are drenched in sweat H-O-T. This whole ridiculous heat thing starts in May and doesn't really end until September.
If you have little kids, this poses a problem for multiple reasons. For starters, you cannot stay inside all summer or you will go crazy. Also, depending on the ages and swim levels of your kids, going to a pool can be more challenging than it's worth. Plus, pool hours don't always mesh with kids' naptimes or open early. I discovered splash pads when my oldest was around 16 months old and we fell in love. These glorified sprinklers were the perfect solution for our summer cool down needs. If you aren't already familiar with their magic, here's a few things to consider.
---
• Many splash pads are open early in the morning and are free.
• It doesn't require a lot of planning to go to a splash pad. Just grab a suit and go!
• Your kids don't need to know how to swim to enjoy a splash pad.
• Visiting a splash pad is not a all day activity, but it can easily kill a summer morning.
• It's an easy spot to meet up with friends on short notice.
• Houston has so many that you'll never get bored of trying different ones out!
Now, familiarize yourself with a few of our Houston-area favorites. Did we miss your family's go-to splash pad? Let us know where to find it in the comments. (You can also find a complete list of free, public splash pads and spray parks here.)
---
Gateway Fountain at Discovery Green, Downtown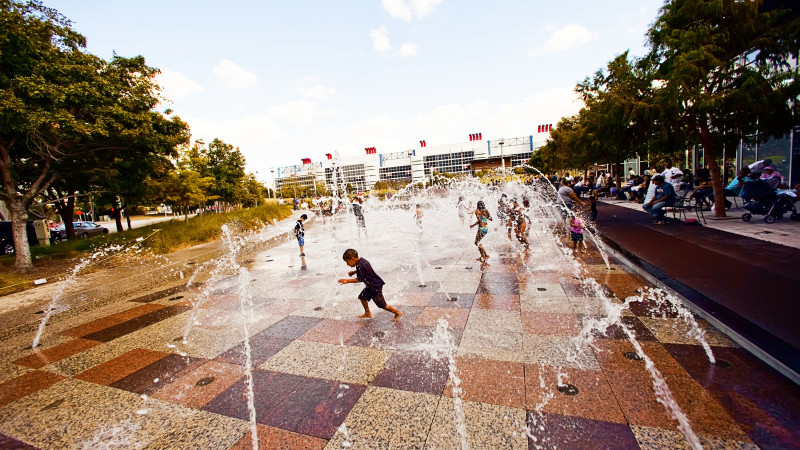 Discovery Green1500 McKinney Street
Houston, TX
What to know: Swim diapers are required for infants, and the Discovery Green encourages the use of water shoes for splashing around here. There are plenty of public restrooms for changing, and the kids can easily play in the park or enjoy a picnic in the grass when they're finished cooling off.
---
Ervan Chew Park, Montrose
Ervan Chew Park4502 Dunlavy Street
Houston, TX
What to know: This is one of my family's favorite splash pads! Parents and caregivers will find benches and shade. And the splash pad is right next to a park and dog park—perfect for families with four-legged members. There is a hidden mural on the backside of the splash pad, which is a fun surprise. Be warned though, the only restroom is a port-a-potty!
---
Hermann Park, Museum District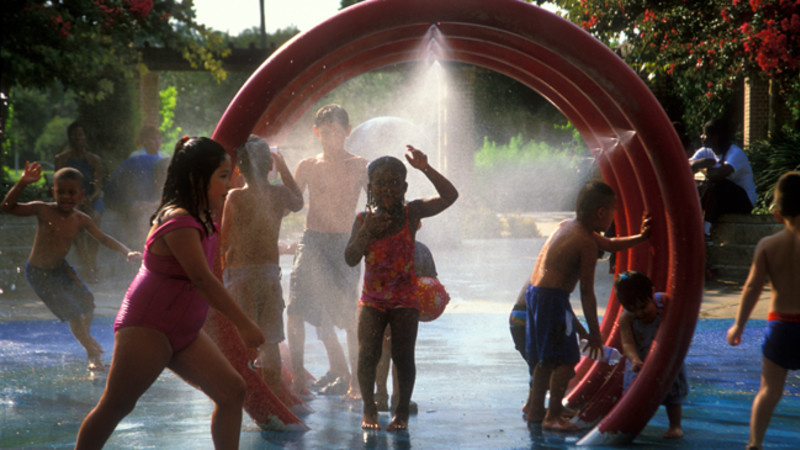 Hermann Park6001 Fannin Street
Houston, TX
What to know: Located just outside of the zoo and near the Playground for All Children, this splash pad is perfect to cool off after a morning of feeding the ducks. Its location in the heart of the Museum District means you can easily tack on a trip to your family's favorite museum this summer (ahhh air conditioning).
---
Downtown Aquarium Splash Pad, Downtown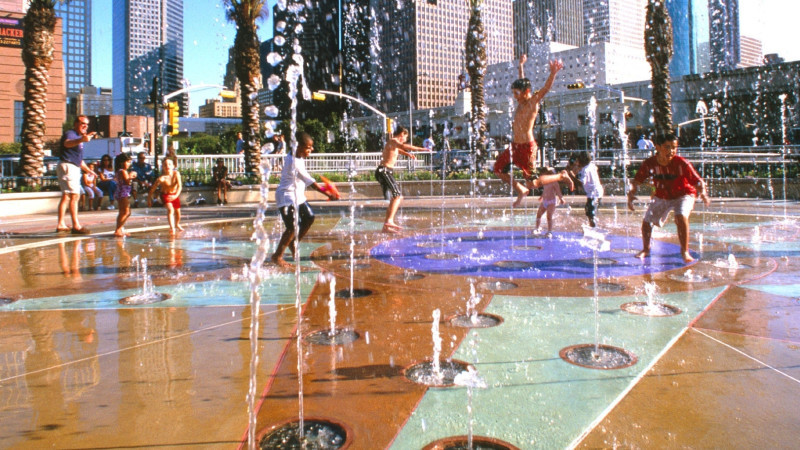 Downtown Aquarium410 Bagby Street
Houston, TX
What to know: There is a small splash pad outside at the Downtown Aquarium and you can access it for free! There are public restrooms to change in and out of clothes, plus this splash pad play can easily become more if you decide to explore the aquarium's rides and eats inside.
---
Hackberry Park, Alief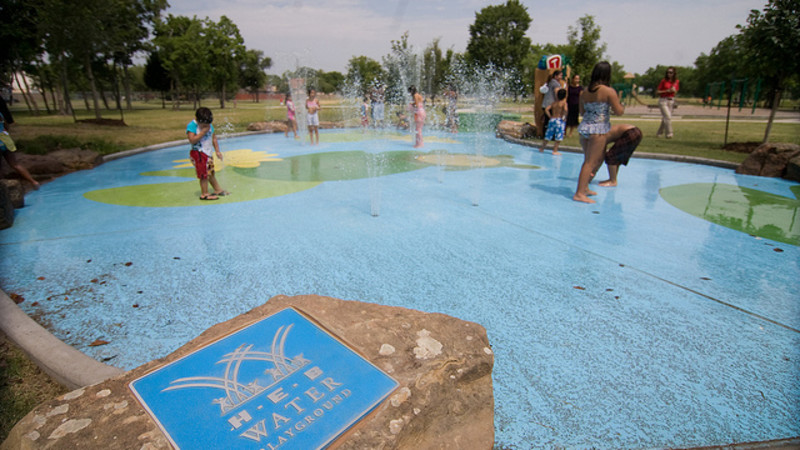 Hackberry Park7777 S Dairy Ashford Rd
Houston, TX
What to know: This 1,200-square-foot splash pad in Alief is whimsically decorated with turtles, lily pads and plenty of in-ground sprayers. While it's not always the most glamorous looking, it's a kid and neighborhood favorite!
Outside of Houston
---
Southdown Park, Pearland
2150 Countryplace Parkway
Pearland, TX
What to know: You can easily squeeze in some extra outdoor playtime since this splash pad is right next to a big park. This one also stays open until October 1 every season! (Because we still need splash pads until October here.)
---
River Park Splash Pad, Sugar Land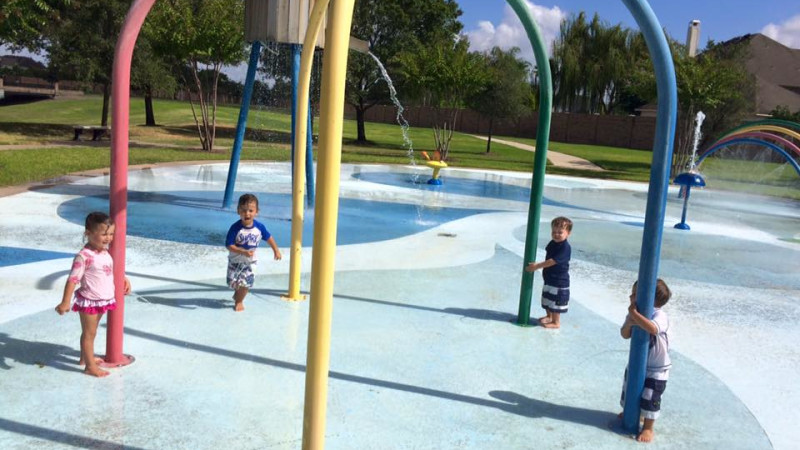 5875 Summit Creek
Sugar Land, TX
What to know: Our kids had a blast at this splash pad. It is big and features dumping buckets, fountains and mist rainbows! Plus, this park opens bright and early at 7am, so we can easily get our day started here.
---
Lents Family Splash Park, Spring
540 Cypress Station Dr
Houston, TX
What to know: Located next to a playground, a one-mile walking trail and a great dog park, this would be the perfect place to cool off after a family hike.
Photo credits: Visit Houston/Jim Olive, Katya Horner, Hermann Park, Visit Houston/Jim Olive, Ultimate Alief, Amanda Sorena
Originally published on Mommy Nearest