Trail Rider Camp
When: March 2, 2017
More than 3,000 trail riders from 13 different groups make the journey to Houston to kick off the rodeo with Go Texan Day. However, if you want some one-on-one time with them to talk about the journey and get an up close encounter with their horses, consider visiting the camp the night before. Many of the riders overnight at Memorial Park and maps can be found here of their campsites. Daily schedules for each of the different trail rider groups can be found online too. One of them is bound to be near you!
---
Go Texan Day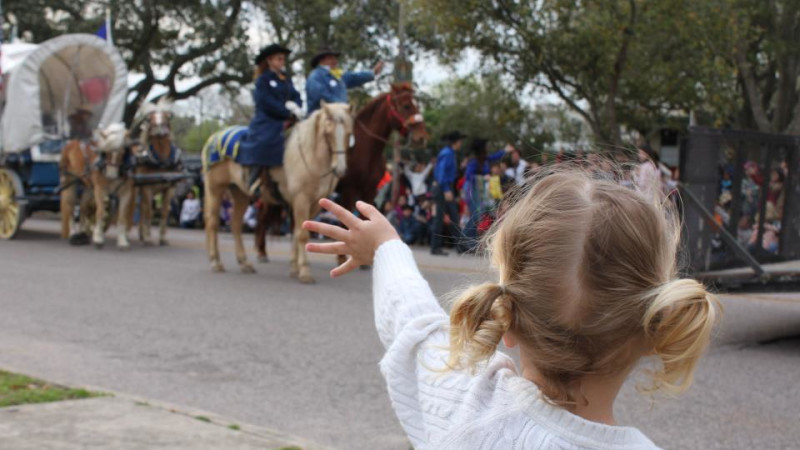 Amanda Sorena
When: March 3, 2017
As our former mayor Annise Parker once said, "Go Texan Day is the day Houston dresses the way people outside Houston think people in Houston dress." This loosely translates to: time to bust out your boots, hats, sparkly tops and all the fringe. Most school-aged kids are encouraged to dress up on Go Texan Day, but adults get into the act too. This is also the time when all of the different trail rider groups are traveling through the city towards NRG. Nothing like a traffic jam due to a covered wagon! There are countless places across the city to catch the trail riders. Many elementary schools will have scheduled stops. You can find all of the information here to see where to catch the action near you. Of course, the main parade starts at 8:30am downtown and is always a treat.
---
BBQ Competition
When: March 2–4, 2017
The rodeo begins with three days of 250 BBQ teams competing to call themselves the best in Texas. You can buy tickets to attend the competition, but here is the catch—they won't get you into any of the tents to eat BBQ! Getting into a tent is strictly a "you have to know someone with tickets or be a sponsor" kind of deal. My advice is, if anyone ever asks if you want to go with them into a tent, say YES and have a fantastic date night. Each tent is different, but expect to find copious amounts of BBQ to eat, music, dancing and whole lot of beverages. If you just want to go to take in the scene, that's fine too. Tickets are $15 for adults and $5 for children and will get you some complementary food at the Chuck Wagon as well as a show from an artist at the Miller Lite Stage.
---
Houston Livestock Show & Rodeo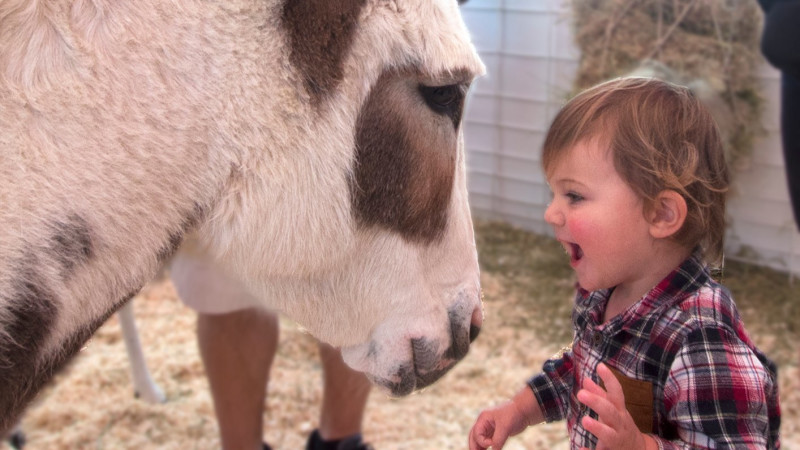 Houston Livestock Show & Rodeo
When: March 7–28, 2017
Of course, the main event is the rodeo itself! It lasts for 3 weeks and has endless things to do. There are three main components:
Livestock show: Inside NRG Center, you'll find the Houston Livestock Show. This is where you can walk all of the stocks with youth and ranchers getting their animals prepped and ready for auction and competitions. You see a birthing area where all of the pregnant animals are kept. Sometimes you can catch a live birth or just stop by and admire all of the baby animals. There are a number of educational displays for AGVENTURE– think chickens, bunnies, bees and livestock. There is also a petting zoo inside and pony rides, though the rides will cost you extra. All of the market place items are on sale here, too. Anything from clothing to tractors is ready for purchase. General admission ticket or being a ticket holder to that day's concert gets you in!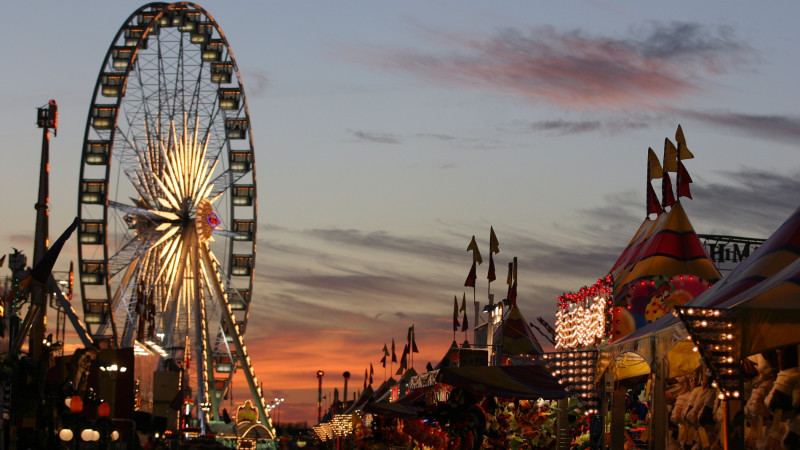 Flickr/Texas.713
Carnival & The Junction: Outside is where you will find all of the carnival rides and food. There are always big tents full of deep fried items. If you're looking for a deal, try to get pre-sale a half-price carnival pack or a Carnival Food Card. Aside from the rides, The Junction is where all of the action is. The Fun on the Farm attraction, Stars Over Texas Stage, a petting zoo, tractor-pull and pig races are all found here. You can also pay for camel rides, pony rides or sign up for mutton bustin' (aka riding a sheep). Entry here is also included in your general admission or if you are holding a ticket to that night's concert.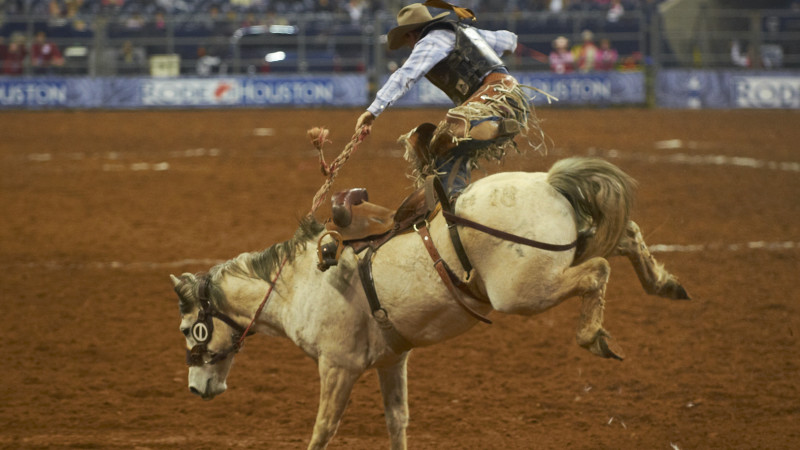 Flickr/Larry Goodwin
Main arena rodeo & concerts: The big spectacle is the evening rodeo, of course. Each night in the main NRG Arena real cowboys and cowgirls are competing in rodeo events for big money. Shows get started at 3:45pm on weekends and 6:45pm on weekdays. Events include Tie-Down Roping, Bareback Riding, Team Roping, Saddle Brock Riding, Steer Wrestling, Barrel Racing and Bull Riding. You will also get to see the Chuck Wagon Races and my two personal favorites—Calf Scramble and Mutton Bustin'. I nearly died the first time I saw a 5 year old ride across the arena on a sheep and then several years later I signed our daughter up to do it. Consider me converted. After each night's rodeo, there is a concert and the line up is diverse and always exciting. This year is no different with performers like Alicia Keys, Alan Jackson, The Chainsmokers, Sam Hunt, Luke Bryan, Willie Nelson, Blink 182 and more. Tickets to this can be pretty affordable ranging from $18 on up. Being a ticket holder to the concert gets you in to all of the other areas of the rodeo, too!